Building Relationships with Students can make your job as Schale's most important Sensei a whole lot easier. By increasing Relationship ranks, you can unlock stat bonuses, bond stories, and Live2D at the Memorial Lobby.
Various in-game interactions will allow you to get closer to your favorite Students little by little—until you can eventually complete their bond stories and all corresponding Relationship bonuses.
Cafe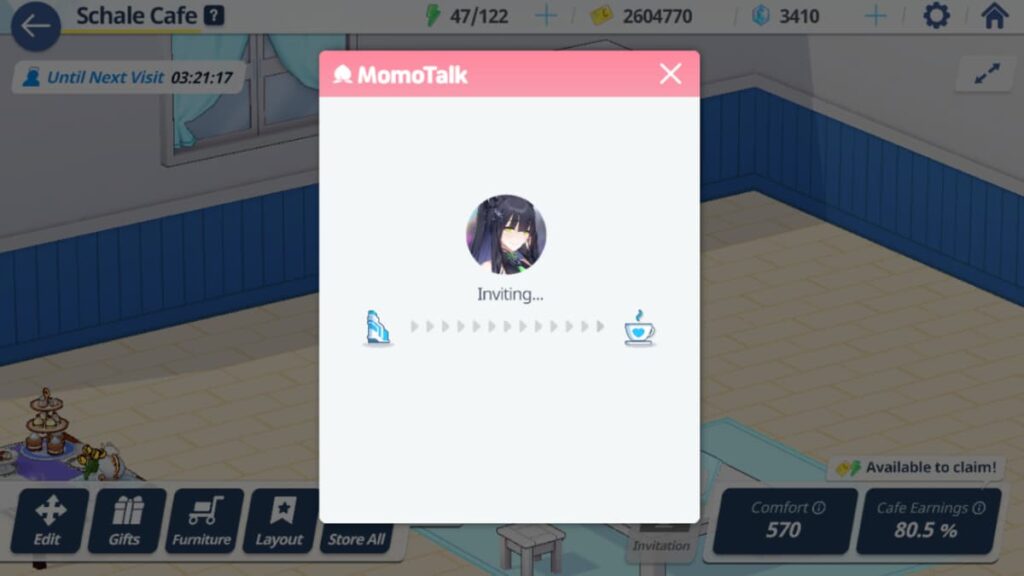 The Cafe menu is located at the bottom left of the home screen, which you can unlock after completing Mission 2-1. There are various things you can do in this space, including the option to interact with visiting Students!
Random students visit twice per day at 11 AM and 11 PM PST. If you have recruited the visiting Student, a speech indicator will appear on their heads. Click on them to interact and gain Relationship points, which you can do once every three hours. On the other hand, if you haven't recruited the Student, you can't interact with them at the Cafe—even if they visit.
Related: How to reroll in Blue Archive
Invitation
Click on Invitation at the bottom of the screen to invite your favorite Student to visit, so you can interact with them and farm Relationship points. There's a 20-hour cooldown for this feature, so make sure to use it when it's available!
Gifts
The Gifts menu is at the bottom left of the Cafe screen, beside Edit. Clicking on it will show the Gifts you have in your inventory. Drag one to your favorite Student to give them a present and earn Relationship points.
Lesson
As a Sensei, conducting Lessons can help build your Relationship with students. Head to the Lesson menu beside the Cafe on the bottom left of the screen, which will unlock after completing Mission 2-4.
You'll be prompted to select a Location to conduct Lessons. Two areas are open by default, while you can unlock the rest by recruiting more Students from specific schools.
| Location | Requirement to Unlock |
| --- | --- |
| Schale Office | No requirement |
| Schale Residential Hall | No requirement |
| Gehenna Hub | Recruit 8 Gehenna Students |
| Abydos Main Building | Recruit 3 Abydos Students |
| Millennium Study Area | Recruit 10 Millennium Students |
| Trinity Square | Recruit 11 Trinity Students |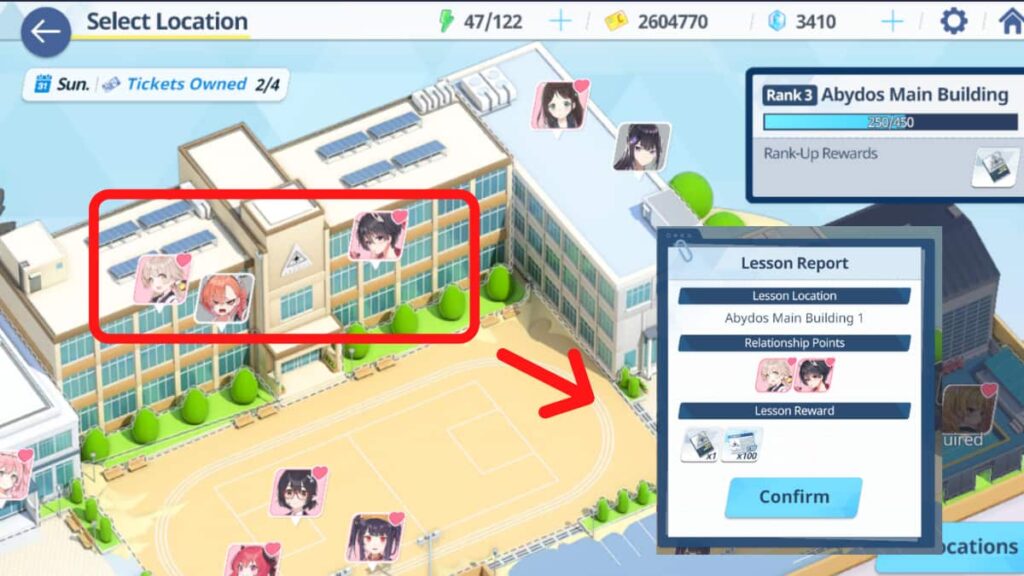 Each Location is divided into areas that house certain groups of Students that change every day. You'll only receive Relationship points for Students that you have recruited, which is indicated by a heart on the upper right of their icons.
For example, in the image above, Hifumi, Neru, and Tsubaki are in the Abydos Main Building 1. But because the account above hasn't recruited Neru, only Hifumi and Tsubaki earn Relationship points after conducting a Lesson.
Check out our guide on How to redeem Coupon Code in Blue Archive to catch free rewards whenever they come around!