Borderlands 3 is almost a year old, so the good people at Gearbox are going to be holding a six week long long mini-event extravaganza! Starting on July 30th, you'll be able to participate in a wide-variety of events that will test your mettle. If you've been playing for a while, then you might recognize some of these, but there's going to be some interesting new wrinkles to keep things fresh throughout the event.
Every seven days there will be a new event to try out up until we get close to the actual launch date of Borderlands 3 which was September 13th, 2019!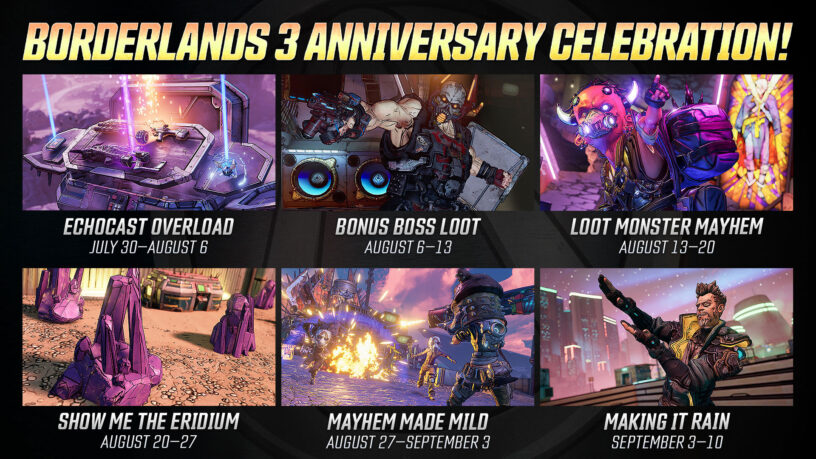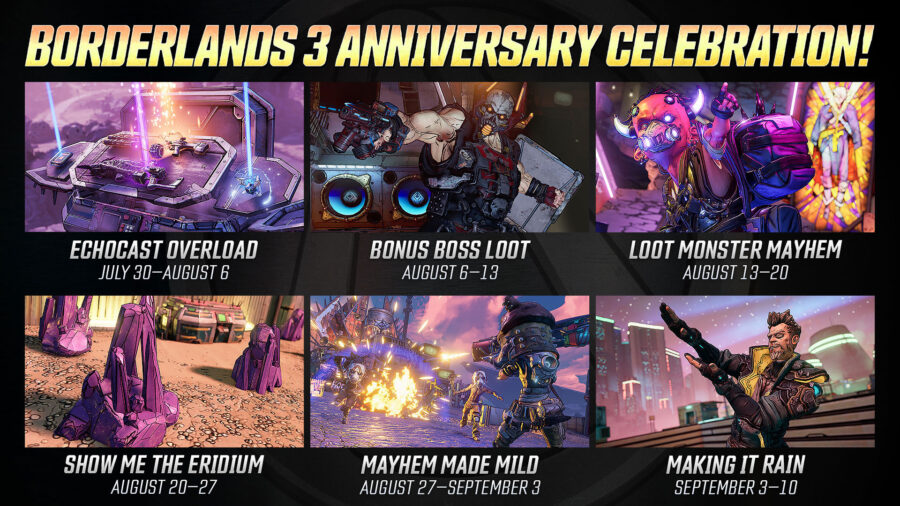 There are six events in total which will allow you to obtain some pretty sweet loot:
ECHOCast Overload (9 AM PT July 30 to 8:59 AM PT August 6) - You have a better chance of obtaining loot during Rare Chest Events via the ECHOcast Twitch extension! I believe this was one of the first mini-events we had in the game.
Bonus Boss Loot (9 AM PT August 6 to 8:59 AM PT August 13) - Most of the bosses you'll encounter have an increased chance to drop some legendary loot!
Loot Monster Mayhem (9 AM PT August 13 to 8:59 AM PT August 20) - The spawn rates for Loot variant enemies will increase.
Show Me The Eridium (9 AM PT August 20 to 8:59 AM PT August 27) - An increase on Eridium drops and it also features an Eridium item discount!
Mayhem Made Mild (9 AM PT August 27 to 8:59 AM PT September 3) - This is a really interesting one because it will give you all easy modifiers in Mayhem Mode. That means you can crank up the difficulty if you haven't maxed out yet.
Making It Rain (9 AM PT September 3 to 8:59 AM PT September 10) - Slain enemies will drop more in-game money!
You do not need to have any of the DLCs to participate in these events, so if you put down the game before, it's going to be a good time to pick it up again and see what you might have been missing.