The Borderlands 3 Porcelain Pipe Bomb Grenade is currently one of the most broken items in the game right now. It can shred any huge boss extremely quickly and requires no talents or special weapons other than this to do it. If you want to grab a ton of Legendaries, make sure to get it and try it out before it is likely nerfed! This guide features everything you need to know about where and how to locate it!
How it Works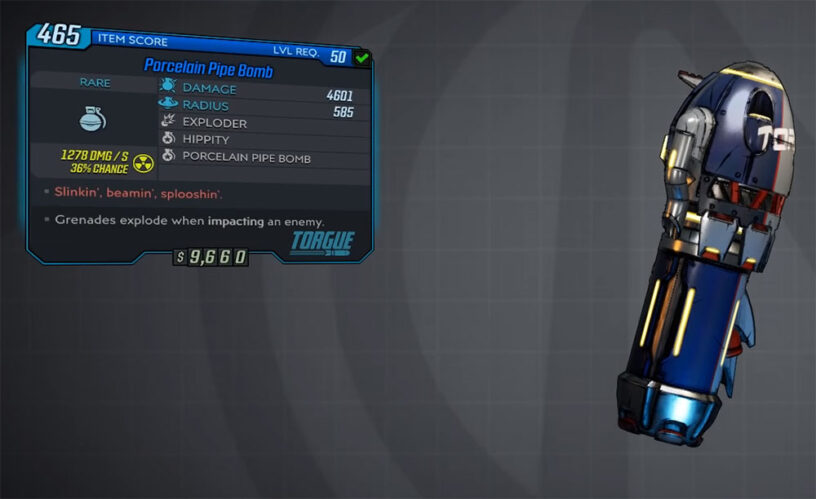 This grenade does an extreme amount of damage insanely quickly. There's something about it that the damage it deals will be repeatedly done to the monster if you explode it onto them. Most people have been farming the Graveward boss in Eden-6, but apparently it should work on any boss! If you've got talents or anything that buffs your grenade or radiation damage that can be helpful for eviscerating targets even quicker. You can see it in action in the following video:
How-to Get It
You will need to be far enough into the story that you've reached Eden-6. This is the swamp like planet where the Jakobs gun manufacturers reside. About half-way through the storyline there, you'll be able to get a side mission called, Raiders of the Lost Rock. It should be available to you once you've liberated a town for Jakobs. The location of the quest can be found on a bulletin board in the town of Reliance. Here's a look at exactly where-to find it:
You will help out Dr. Miles Brown, here's the description of the quest:
Help the famous xenogeologist, Dr. Miles Brown, locate his prized specimens. And if need be, liberate them from any filth organisms that might have befouled them with their disgusting appendages.
Nothing to difficult, just follow the steps and you end up killing King Gnasher to finish the quest. Once you complete the quest, Miles will give you the grenade as a reward! I would make sure to get this done pretty quickly if this is something you want to take advantage of because it's likely going to get nerfed.