The Season 3 Reloaded Trophy Hunt Event has begun in Call of Duty: Modern Warfare 2 & Warzone 2. The updated challenges come with a slew of free rewards as long as you participate. Interested in the limited-time event and the rewards? Then you've come to the right place. I've listed all the challenges you need to complete to unlock the exclusive camo down below.
All Trophy Hunt Challenges in Modern Warfare 2 & Warzone 2
In the last iteration of the Trophy Hunt Event, you had to collect Trophies and exchange them for rewards. This time around, you simply need to complete specific kill challenges using different weapon classes in the game. Select any weapon of your choice from a category and attempt the following tasks:
Assault Rifles: Get 250 operator kills
Battle Rifles: Get 30 headshot operator kills
Submachine Guns: Get 3 operator kills without dying 20 times
Shotguns: Get 30 hipfire operator kills
Light Machine Guns: Get 30 operator kills while mounted
Marksman Rifles: Get 25 longshot operator lills
Sniper Rifles: Get 30 longshot operator kills
Handguns: Get 50 operator kills
Launcher: Get 40 operator kills
Melee: Get 30 operator kills from behind
Related: All Warzone 2 Ranked Play Rewards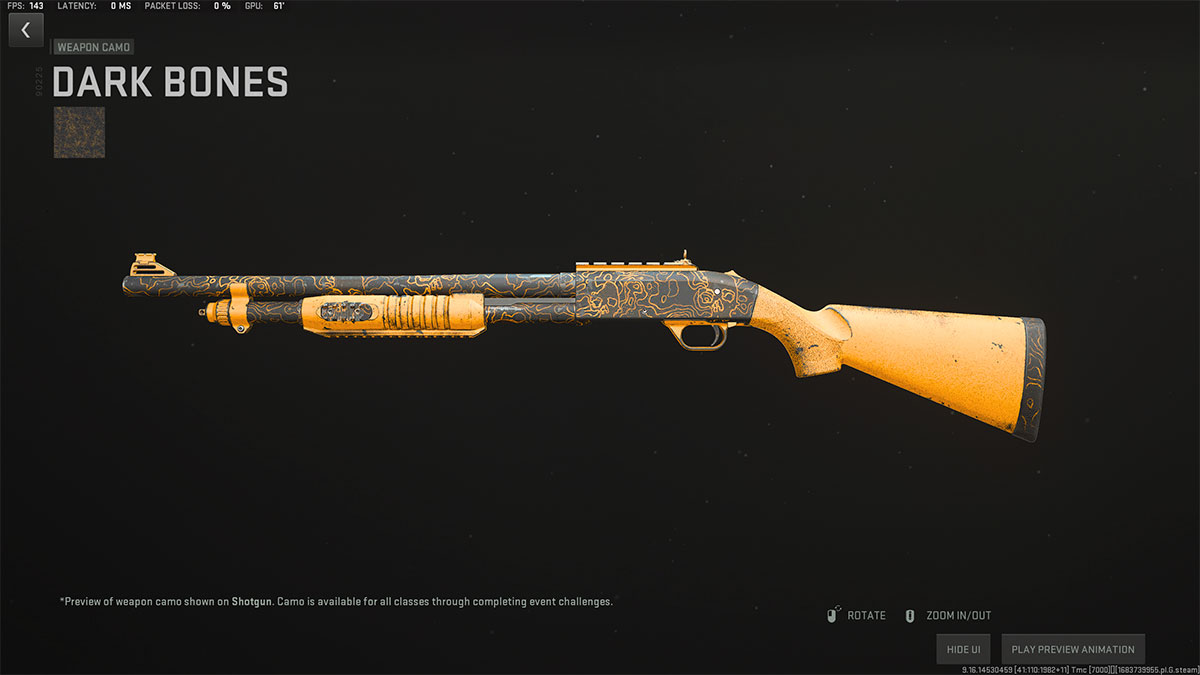 After completing the mentioned challenge for a weapon category, you'll unlock the Dark Bones camo for all weapons in that specific category. For instance, I completed 250 kills in MW2 Multiplayer using my M4 Assault Rifle and received the Dark Bones camo for all the Assault Rifles in the game.
Furthermore, if you complete all ten challenges listed above, you'll receive another Reloaded Trophy Hunt LTM camo and a unique weapon charm to rock on all your weapons in Modern Warfare 2, Warzone 2, and DMZ. If you're truly interested, make sure to get these rewards before Season 3 ends in early June.
For more Modern Warfare 2-related content, check out our guide on Where to find Tempered Plate Carriers in Warzone 2 right here at Pro Game Guides.