The Armaguerra 43 Submachine gun was introduced into Call of Duty: Warzone with the Season 2 update. The weapon provides players with a powerful close-to-mid range option to pair with an Assault Rifle or Sniper. Here are the best Armaguerra 43 attachments and class setup for Warzone.
Best Armaguerra 43 Loadout Warzone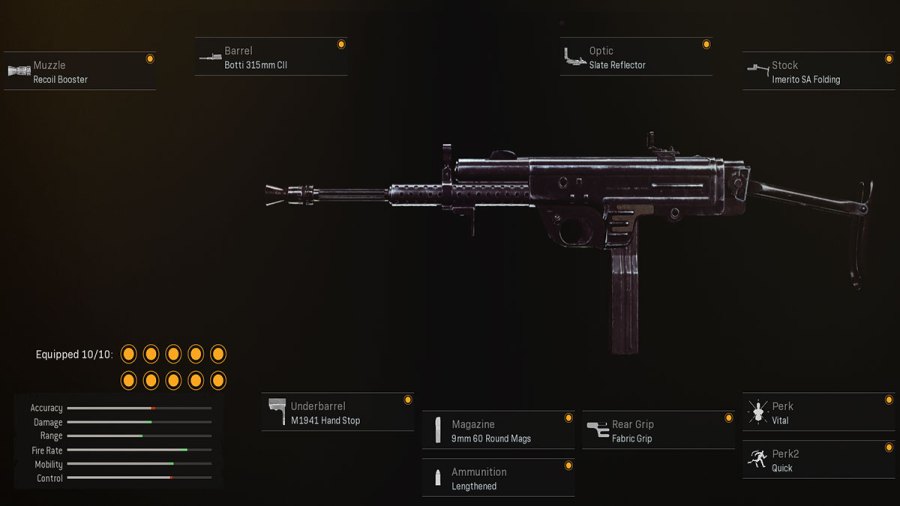 Muzzle: Recoil Booster
Barrel: Botti 315mm CII
Optic: Slate Reflector
Stock: Imerito SA Folding
Underbarrel: M1941 Hand Stop
Magazine: 9mm 60 Round Mags
Ammunition: Lengthened
Rear Grip: Fabric Grip
Perk 1: Vital
Perk 2: Quick
This Armaguerra 43 build aims to enhance the gun's effectiveness over range and its mobility. The Recoil Booster muzzle attachment is a staple for all Vanguard SMGs as it increases the fire rate. The Botti 315mm barrel seems as the only viable option and it boosts the damage and range of the gun.
Related: Best Vargo 52 Loadout and Class in Call of Duty: Warzone
To increase the weapon's mobility, we've used the SA Folding stock and the Fabric rear grip. If you are comfortable with the recoil of the Armaguerra 43, you can swap the M1941 underbarrel for the Mark VI Skeletal. Moreover, you can also try out the 8mm Kurz 70 Round Mags for improved damage and bullet velocity, which comes at the cost of mobility, fire rate, and control.
Best Armaguerra 43 Class Warzone
Secondary Weapon - Armaguerra 43
Lethal - Throwing Knife
Tactical - Stim
Perk 1 - Cold Blooded
Perk 2 - Overkill / High Alert
Perk 3 - Combat Scout
Stay tuned to Pro Game Guides for more Call of Duty content. In the meantime, head over to our article on How to use the Deployable Buy Station in Call of Duty: Warzone.