The Swiss K31 is an immensely popular Sniper Rifle in Call of Duty: Warzone. The Black Ops Cold War Sniper and its biggest competitor, the Modern Warfare Kar98k, received a major nerf a while back that tremendously reduced the flinch resistance on both of these weapons.
Even after the changes, the Sniper remains one of the best long-range weapons in the game. Here's a guide to the best Swiss K31 attachments and class setups in Warzone Pacific.
Best Swiss K31 Loadout Warzone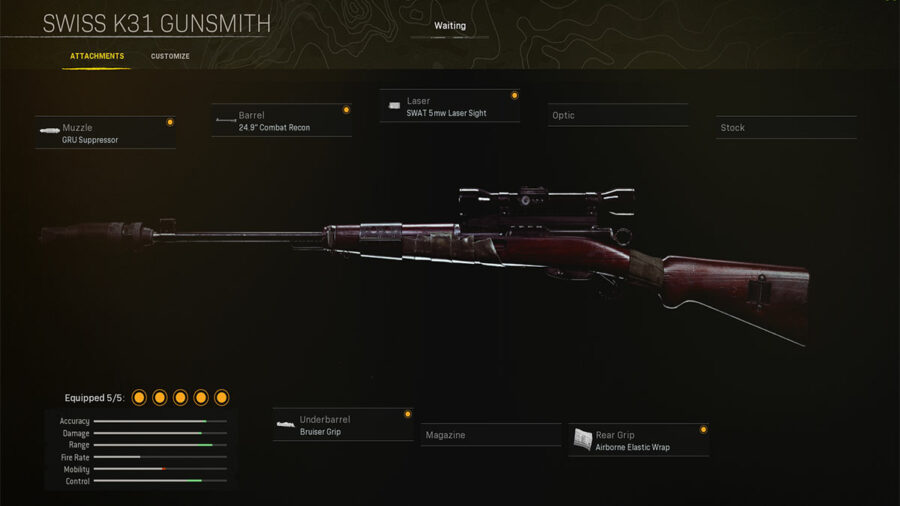 Muzzle: GRU Suppressor
Barrel: 24.9" Combat Recon
Laser: SWAT 5mW Laser Sight
Underbarrel: Bruiser Grip
Rear Grip: Airborne Elastic Wrap
The aforementioned attachments are for the best Swiss K31 build with maximum range, bullet velocity, and accuracy. It is the most used Swiss build and performs great over longer ranges. Some players replace the Bruiser Grip underbarrel with the 7 Rnd magazine for two extra bullets.
Related: Best Uzi Loadout and Class in Call of Duty: Warzone
Best Swiss K31 Quickscope Class Warzone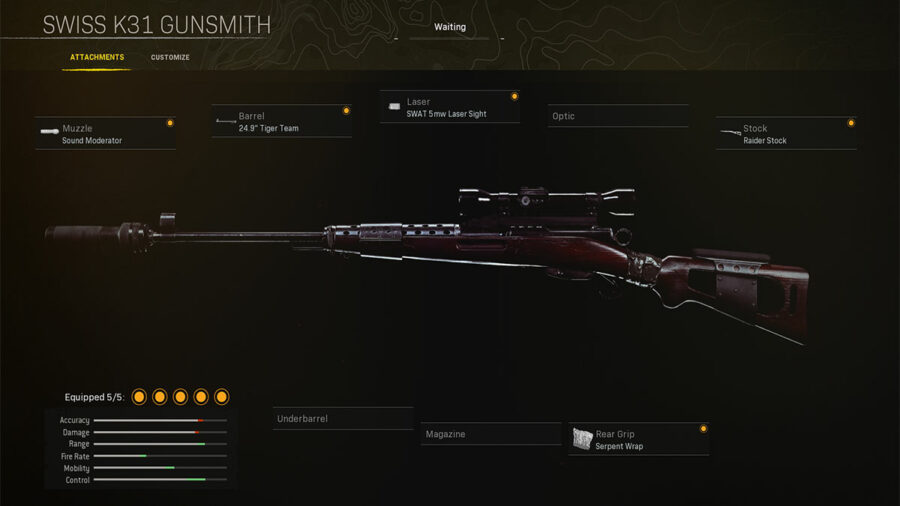 Muzzle: Sound Moderator
Barrel: 24.9" Tiger Team
Laser: SWAT 5mW Laser Sight
Stock: Raider Stock
Rear Grip: Serpent Wrap
Unlike the previous meta Swiss K31 loadout, this particular build focuses more on improving the aim-down-sight (ADS) speed and mobility of the Sniper. For maximum ADS speed, we've used the Serpent Wrap, 5mW Laser, and Sound Moderator.
The Raider Stock is a special attachment that improves sprint-to-fire speed, allowing you to take shots quicker from a running state. Finally, you may use the Combat Recon barrel for the highest bullet velocity boost, but the Tiger Team barrel improves the fire rate for faster follow-up shots.
Best Swiss K31 Class Warzone
Primary Weapon - LAPA / XM4 / Cooper Carbine
Secondary Weapon - Swiss K31
Lethal - Frag Grenade
Tactical - Stim
Perk 1 - Cold Blooded
Perk 2 - Overkill / High Alert
Perk 3 - Amped
Stay tuned to Pro Game Guides for more Call of Duty content. In the meantime, head over to our article on – How does Nebula V Bomb Killstreak work in Call of Duty: Warzone Pacific.