The Uzi is one of the few competitive Modern Warfare Submachine Guns in Call of Duty: Warzone. While there are faster killing SMGs available, this gun is a good choice for players who prefer an accurate, low recoil weapon. Follow this guide on the best Uzi attachments and loadouts in Warzone.
Best Uzi Hipfire Loadout Warzone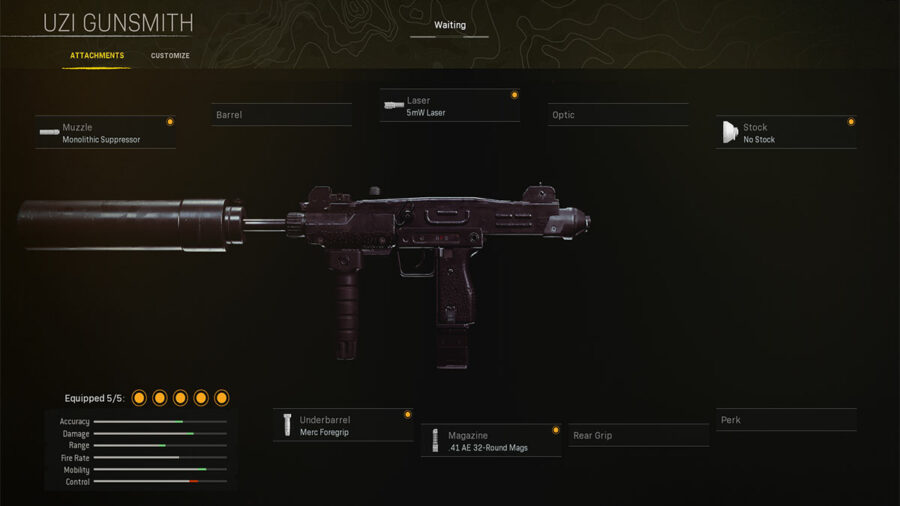 Muzzle: Monolithic Suppressor
Laser: 5mW Laser
Stock: No Stock
Underbarrel: Merc Foregrip
Magazine: .41 AE 32-Round Mags
The attachments used here are for an aggressive build, suitable for players who want a run-and-gun weapon. Since the base damage range of Uzi is decent (15 meters), we have used attachments that boost the weapon's sprint-to-fire time, movement speed, and aim-down-sight (ADS) speed.
The laser and underbarrel attachments tighten the hipfire spread. However, the most crucial attachment is the .41 AE rounds that help with damage and range, which greatly improves the time-to-kill of the SMG. This Modern Warfare Uzi build is a perfect close-quarters weapon for any map, be it Caldera or Rebirth Island.
Related: Best 3-Line Rifle Loadout and Class in Call of Duty: Warzone
Best Uzi Loadout Warzone - Sniper Support
Muzzle: Monolithic Suppressor
Barrel: FSS Carbine Pro
Laser: Tac Laser
Underbarrel: Commando Foregrip
Magazine: .41 AE 32-Round Mags
Equipping the longest barrel, the FSS Carbine Pro, maximizes the damage range and bullet velocity of the Uzi SMG. This makes for a consistent, easy-to-control, and mobile sniper support class. While the Tac Laser is equipped for faster ADS speed, you may replace it with a close-range optic, like the G.I. Mini Reflex, for better visibility.
Best Uzi Class Warzone
Primary Weapon - Automaton / Cold War AK-47 / SP-R 208
Secondary Weapon - Uzi
Lethal - Throwing Knife
Tactical - Stim
Perk 1 - Cold Blooded
Perk 2 - Overkill / High Alert
Perk 3 - Combat Scout
Stay tuned to Pro Game Guides for more Call of Duty content. In the meantime, head over to our article on – All Armored Transport Truck Locations in Call of Duty: Warzone Pacific.