There are two versions of the AK-47 Assault Rifle in Call of Duty Warzone, but the Cold War AK-47 sits at the top thanks to its versatility and effectiveness. You can use the AK 47 in virtually any way possible and make it work.
This guide showcases the best AK 47 loadout and attachments in Warzone. We've discussed every possible weapon build—long-range, Sniper support, and SMG.
Best AK 47 Loadout Warzone for Long-Range
Here are the best AK 47 attachments for a long-range AR build:
Muzzle - GRU Suppressor
Barrel - 20" Spetsnaz RPK Barrel
Optic - Axial Arms 3x
Underbarrel - Spetsnaz Grip
Magazine - Bakelite 60 Rnd
The above AK-47 build includes the classic set of attachments for an accurate, long-range AR class. You may also swap a few attachments here and there. For example, you can use the Liberator barrel instead of RPK for less reduction in mobility. However, the former is not as accurate as the latter.
45-Round ammo is also viable as it does not affect the aim-down-sight (ADS) speed . Furthermore, you could use the normal Suppressor instead of the GRU, if necessary. It doesn't hurt ADS speed, but it reduces the effective damage range and recoil control.
Best AK 47 SMG Loadout Warzone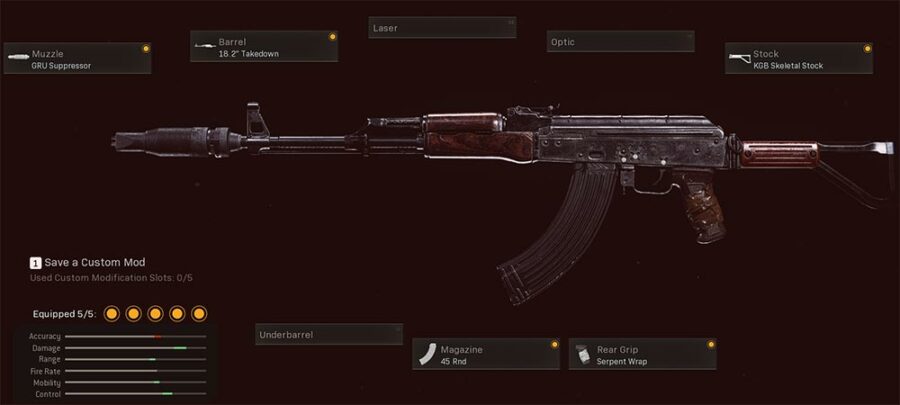 The following attachments can be used for an AK 47 SMG / Sniper-support loadout:
Muzzle - GRU Suppressor
Barrel - 18.2" Takedown
Stock - KGB Skeletal Stock
Magazine - 45 Rnd
Rear Grip - Serpent Wrap
The Takedown barrel offers the maximum possible damage range without hurting ADS speed. Moreover, the Serpent Grip boosts the ADS speed even more.
The iron sights are fine for an AK 47 SMG build. However, you may swap the stock or rear grip for the Microflex LED optic if you want to run an AK 47 Sniper-support class.
Best AK 47 Class Setup Warzone
Primary Weapon - Cold War AK-47
Lethal - Throwing Knife
Tactical - Stun Grenade
Perk 1 - Cold Blooded
Perk 2 - Overkill / Ghost
Perk 3 - Amped
For more on Call of Duty, visit the Best XM4 Loadout and Attachments in Call of Duty Warzone article on Pro Game Guides.