The BAS-P Submachine Gun has a high fire rate and top-tier mobility features. Introduced with the Season 1 content update, the weapon can be unlocked via the new Battle Pass. If you plan to level up and use the BAS-P in Multiplayer, try the following two loadouts for the gun.
Best Victus XMR Loadout in Modern Warfare 2
Best BAS-P Accuracy Loadout in Modern Warfare 2
Muzzle: Bruen Pendulum
Laser: VLK LZR 7mW
Optic: Cronen Mini Pro
Underbarrel: XTEN Drop Grip
Magazine: 50-Round Drum
As the heading implies, this BAS-P loadout is built for accuracy and recoil control, which makes this gun shine in close-mid ranges. Since the SMG has significant horizontal and overall recoil, we've used the Bruen Pendulum Muzzle and XTEN Drop underbarrel to improve accuracy. Next up, equip the Cronen Mini Pro, one of the best low-zoom optics in MW2.
The fast fire rate of the BAS-P SMG makes you run out of bullets very fast. Therefore, use the 50-Round Drum magazine so you don't have to reload as often. Finally, the VLK laser attachment is equipped for improved mobility stats, including aim-down-sight (ADS) speed, sprint-to-fire (StF) speed, and aiming stability.
Best BAS-P Hipfire Loadout in Modern Warfare 2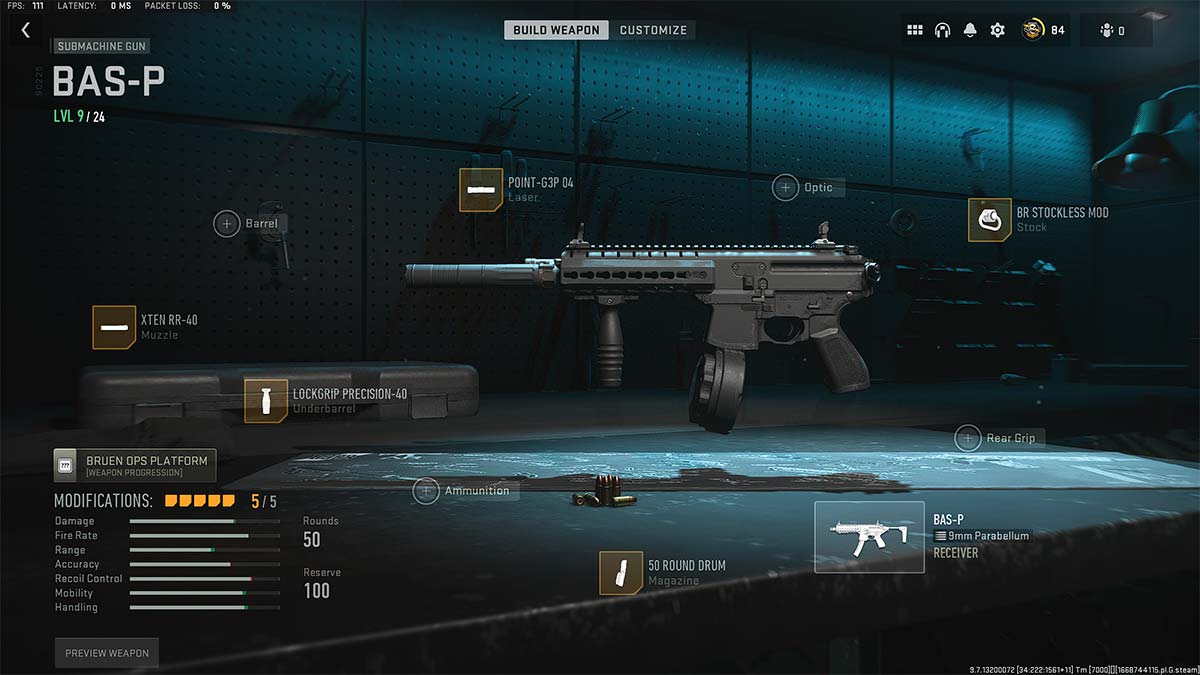 Muzzle: XTEN RR-40
Laser: Point-G3P 04
Stock: BR Stockless Mod
Underbarrel: Lockgrip Precision-40
Magazine: 50-Round Drum
If you're the type of player who likes to use a run-and-gun SMG in MW2 Multiplayer, this BAS-P build is perfect for you. The attachments here are different than the previous build and help tighten the hipfire spread of the weapon, reduce the StF speed, and boost the movement speed. Moreover, the XTEN RR-40 suppressor also slightly increases the weapon's damage range and bullet velocity.
Related: Best M13B Loadout and attachments in Modern Warfare 2
Best BAS-P Class Setup in Modern Warfare 2
Primary Weapon: BAS-P
Secondary Weapon: Combat Knife
Tactical: Stim
Lethal: Semtex
Perk Package

Base Perk: Double Time and Battle Hardened
Bonus Perk: Fast Hands
Ultimate Perk: Ghost / Quick Fix

Field Upgrade: Dead Silence
Stay tuned to Pro Game Guides for more Call of Duty: Modern Warfare 2 and Warzone 2 content. In the meantime, head over to our article on Best Victus XMR Loadout and attachments in Modern Warfare 2.