Since the addition of several new guns to Call of Duty Warzone, players wonder if the Grau 5.56 is still good. Straightforward, the answer is yes. That's because the Grau is the easiest-to-control Assault Rifle (AR) in the game and boasts a solid damage output.
The following article will guide you through the best Grau loadout and attachments in Warzone. We have included the two most viable versions of the Grau AR—Long-range and submachine gun (SMG).
Best Grau Loadout Warzone for Long-Range
Muzzle - Monolithic Suppressor
Barrel - Tempus 26.4" Archangel
Optic - VLK 3.0x Optic
Underbarrel - Commando Foregrip
Magazine - 60 Round Mags
The Monolithic Suppressor is the ultimate muzzle attachment for any Modern Warfare weapon in Warzone. It provides sound suppression and boosts damage range while slightly reducing aim-down-sight (ADS) speed.
The longest barrel, Archangel, is equipped for maximum damage range, bullet velocity, and recoil control. All of these benefits come at the cost of reduced movement and ADS speeds. However, these changes are acceptable for a long-range weapon build.
Commando Foregrip is what gives the Grau the title of "no recoil weapon" in Warzone. It makes the gun stable so that you can beam enemies over long distances, and you will need the 60-Round mag for that.
Related: Best Cold War AK-47 Loadout and Attachments in Call of Duty Warzone
Finally, we recommend using the staple VLK optic for three times zoom. However, some players are more comfortable with the iron sights. Grau's iron sights are arguably the best and cleanest in CoD Warzone. As such, you may swap the optic for the Tac Laser for faster ADS speed and better stability. The best Grau 5.56 loadout can be used with any mobile SMG of your preference.
Best Grau SMG Loadout Warzone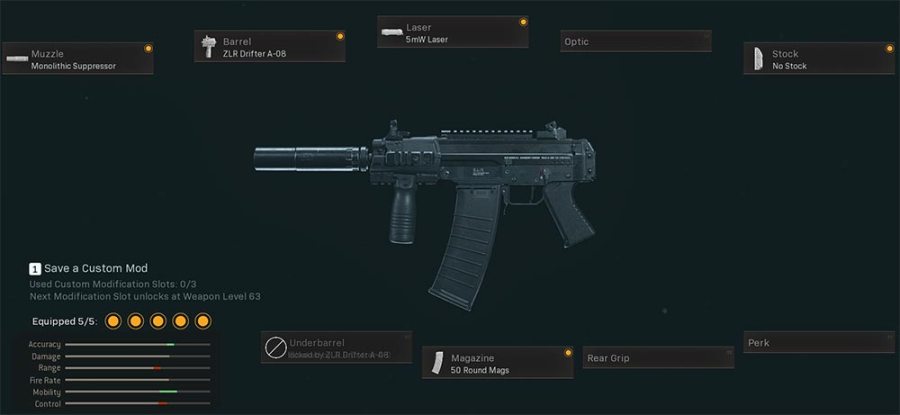 Muzzle - Monolithic Suppressor
Barrel - ZLR Drifter A-08
Laser - 5mW Laser
Stock - No Stock
Magazine - 50 Round Mags
The Grau SMG class may seem like a niche version, but it's pretty viable in Warzone. The ZLR barrel and No Stock together take the ADS and movement speeds of the weapon to the skies. Furthermore, the barrel has an integrated underbarrel for recoil control and spares you an attachment.
The 5mW Laser boosts sprint-to-fire time and hip-fire accuracy of the weapon. Although this Grau build is viable, it can be outperformed by powerful SMGs. Also, keep in mind that this loadout doesn't work over long distances. You can pair the Grau SMG loadout with a Sniper Rifle of your choice.
Best Grau 5.56 Class Setup Warzone
Primary Weapon - Grau 5.56
Lethal - Thermite
Tactical - Stun Grenade
Perk 1 - E.O.D.
Perk 2 - Overkill / Ghost
Perk 3 - Amped
For more Call of Duty content, check out Best XM4 Loadout and Attachments in Call of Duty Warzone on Pro Game Guides.