Many consider the Modern Warfare HDR to be the king of Sniper Rifles in Call of Duty: Warzone. It boasts a high damage output and great effectiveness over long range. Its downsides include slow aim-down-sight (ADS) speed and blocked visibility when scoped-in.
Regardless, the weapon has always been a preferred choice among Sniper Rifle users. Here's a guide to the best HDR attachments and class to use in Warzone Pacific.
Best HDR Loadout Warzone Pacific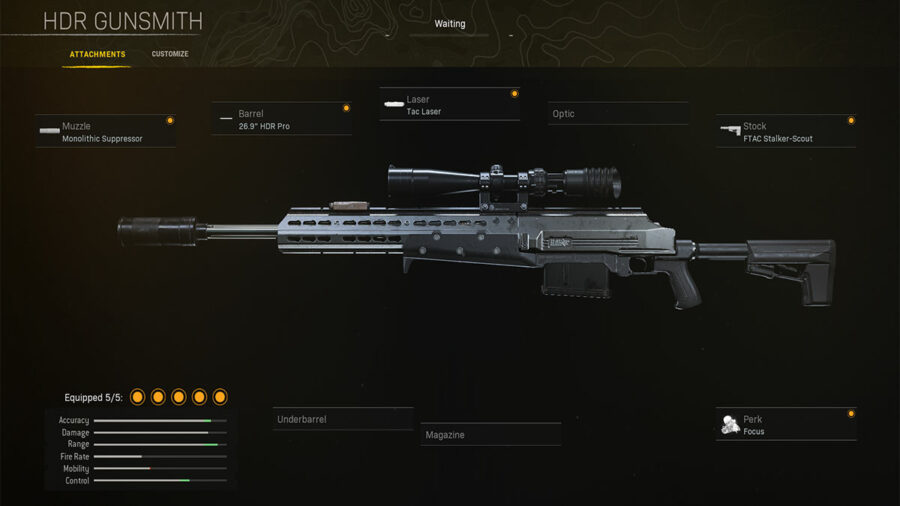 Muzzle: Monolithic Suppressor
Barrel: 26.9" HDR Pro
Laser: Tac Laser
Stock: FTAC Stalker-Scout
Perk: Focus
Related: Best AX-50 Loadout and Class in Call of Duty Warzone
The Monolithic Suppressor and HDR Pro barrel help with the weapon's damage range and bullet velocity. These two attachments reduce the ADS speed, which can be regained by equipping the Tac Laser and Stalker-Scout stock. Finally, equip the Focus perk for added flinch resistance.
Alternatively, you can use the FTAC Champion stock instead of the Stalker. That's because the former helps with aiming stability instead of ADS speed. Furthermore, you can swap the perk attachment for the Variable Zoom Scope optic for greater magnification.
Best HDR Class Setup Warzone
Secondary Weapon - HDR
Lethal - Frag Grenade
Tactical - Stim
Perk 1 - Cold Blooded
Perk 2 - Overkill
Perk 3 - Amped
Stay tuned to Pro Game Guides for more Call of Duty content. In the meantime, head over to our article on Best M1916 Loadout and Class in Call of Duty Warzone.