In Call of Duty Modern Warfare 2, players unlock and customize various weapons with different attachments to build a proper loadout. The FSS Hurricane SMG is one of the strongest weapons in the game, and you'll need to know how to unlock it first. You'll also need to know the best Lethal, Tactical, and Perk combinations to build a loadout. Here's the best FSS Hurricane loadout in Modern Warfare 2.
Modern Warfare 2 best FFS Hurricane build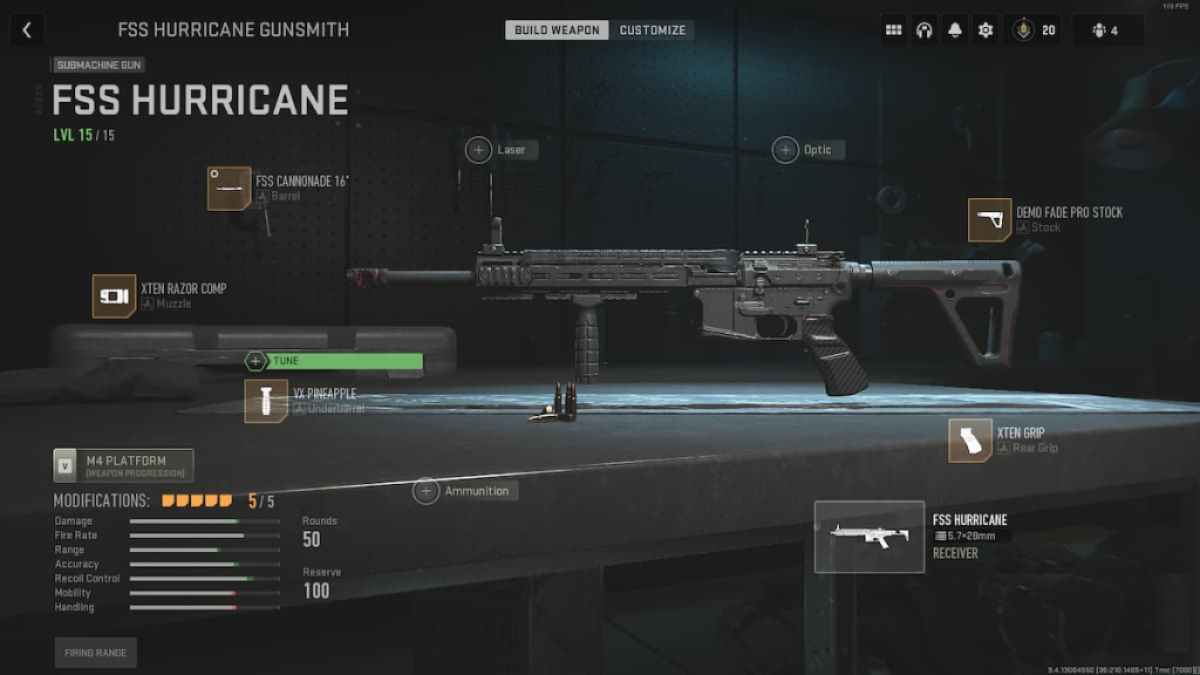 The FSS Hurricane is a part of the M4 Weapon Platform, and you can unlock this weapon by progressing to Level 16 with the FTAC Recon. Once you unlock the weapon, you'll be able to use the attachments to build a good loadout.
Muzzle: XTEN Razor Comp
Barrel: FSS Cannonade 16″ Barrel
Underbarrel: VX Pineapple
Stock: Demo Fade Pro Stock
Rear Grip: XTEN Grip
Players can also swap a few attachments from the list above to improve other attributes. For example, you can change the Rear Grip for an Optic for a better view. Similarly, you can switch out the Underbarrel for Laser or Ammunition. Make sure to level up the FSS Hurricane to Level 20 to unlock Weapon Tuning.
Related: How to fix NIAMEY-LEE error in MW2
Modern Warfare 2 best FFS Hurricane loadout
After setting up your FSS Hurricane loadout, you'll need to select a Secondary weapon, Tactical, Lethal, and Perks. Here's the best loadout setup for the FSS Hurricane SMG.
Primary: FSS Hurricane
Secondary: .50GS
Tactical: Shock Stick
Lethal: Thermite
Perk Package

Basic Perks: Double Time and Battle Hardened
Bonus Perk: Hardline
Ultimate Perk: Overclock

Field Upgrade: Inflatable Decoy or Dead Silence
Wondering what else is coming to Modern Warfare 2? Check out All 6v6 Modes in Modern Warfare 2 and How to get the Oni Operator in Modern Warfare 2 on Pro Game Guides.