LMGs, in Modern Warfare 2 and Warzone 2, are versatile platforms that can serve a number of purposes depending on their build. Some LMGs are better for aggressive playstyles, while others serve better as point defense tools. While the RAPP H can play both roles pretty well, it is at its strongest being an area deterrent via intense suppressive fire. Due to its high rate of fire and predictable recoil, the RAPP H is the ultimate defensive weapon. Here are the attachments you should use to hold the line with this guardian LMG.
Best RAPP H Loadout Warzone 2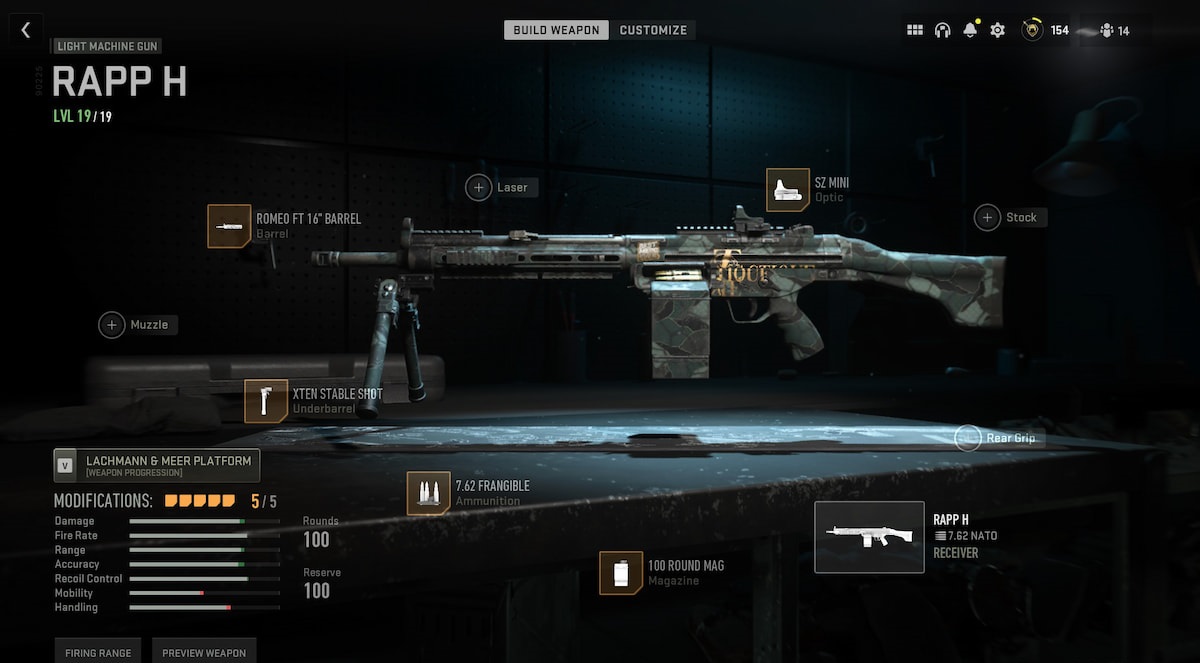 The attachments we've chosen for the RAPP H dramatically improve its ability to guard important defensive positions and suppress enemy assaults.
Muzzle: Romeo FT 16" Barrel

Tune for Damage Range and Recoil Steadiness

Optic: SZ Mini

Tune for Far Eye Position and Flinch Resistance

Underbarrel: Xten Stable Shot
Ammunition: 7.62 Frangible

Tune for Damage Range and Bullet Velocity

Magazine 100 Round Mag
The use of 7.62 Frangible rounds may seem like an odd inclusion at first, but they'll prevent enemies from moving carelessly if you are unable to secure the kill initially. Frangible rounds double the time it takes for your health to regenerate, making it perfect for making the enemy keep their heads down.
The 100 Round Mag is there so that you have to reload as little as possible. The sound of a LMG firing is sometimes enough to keep the enemy at bay. When it isn't, the massive magazine allows you to spray down all that dare enter your line of sight.
The Xten Stable Shot underbarrel bipod takes care of all the recoil issues you may have with this setup. Try to always find a place to setup shop in a defensible location if you can help it. You'll typically only fire this gun while its bipod is deployed.
Tuning is focused around improving the gun's Damage Range and Bullet Velocity, rather than its ADS (Aim Down Sight) speed or recoil, as both are unnecessary to focus on when used properly.
Best RAPP H Perk and Equipment Setup for Warzone 2
The RAPP H's ideal supporting setup focuses on sizing up its one real weakness: mobility. As such, we recommend a versatile, light secondary weapon for moving around the battlefield so that the RAPP H's heavy bulk does not slow you down.
Tactical: Stim, Stun Grenade
Lethal: Frag Grenade, Sentax, Drill Charge
Perk package:

Overkill or Battle-Hardened for two primary weapons or resistance to crowd control
Double Time for improved mobility
Fast Hands for faster weapon swaps and reloads
High Alert or Quick Fix for improved awareness or sustainability under fire

Field Upgrade: Deployable Cover and Munitions Box for setting up improvised defense points and additional ammo.
For more quality guides and information on Warzone 2.0, check out our guide on How does the DMZ work in Warzone 2.0? right here on Pro Game Guides.