DMZ is a game mode in Warzone 2.0 which is based on the extraction shooter formula popularized by games like Escape from Tarkov. Players land on random points in the large map of Al Mazrah, collect resources, complete objectives, and eliminate players—all while trying to get to extraction in one piece. The following is all you need to know about how the DMZ mode operates in Call of Duty: Warzone 2.0.
What is DMZ in Warzone 2.0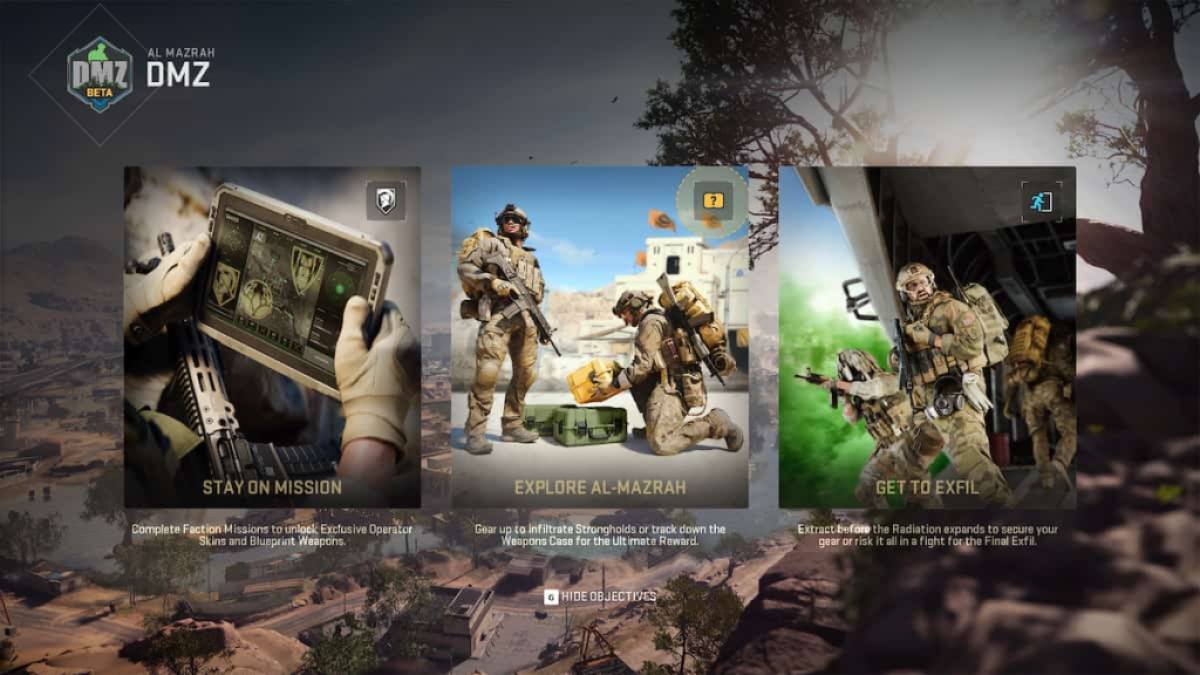 The DMZ mode in Warzone 2.0 is an extraction survival shooter based on the sprawling map of Al Mazrah. Players drop in on random spawn points on the map, and must try to survive and make it to extraction. Along the way, you and your team can complete objectives from various Factions or participate in World Activities marked on the map for extra cash and loot. Apart from that, loot can be picked up from loot caches or found as ground loot in buildings.
Related: How to use the Buy Station in DMZ
The main gameplay aspect of the DMZ is survival. Not only will the map be teeming with AI hostiles, but there is also always the threat of other players hungry for your loot. In the DMZ, dying means losing all non-permanent loot you may have collected so far in your game progress. Therefore, you must always weigh the risk-to-reward factor and opt for extraction when needed.
What are Factions in the DMZ in Warzone 2.0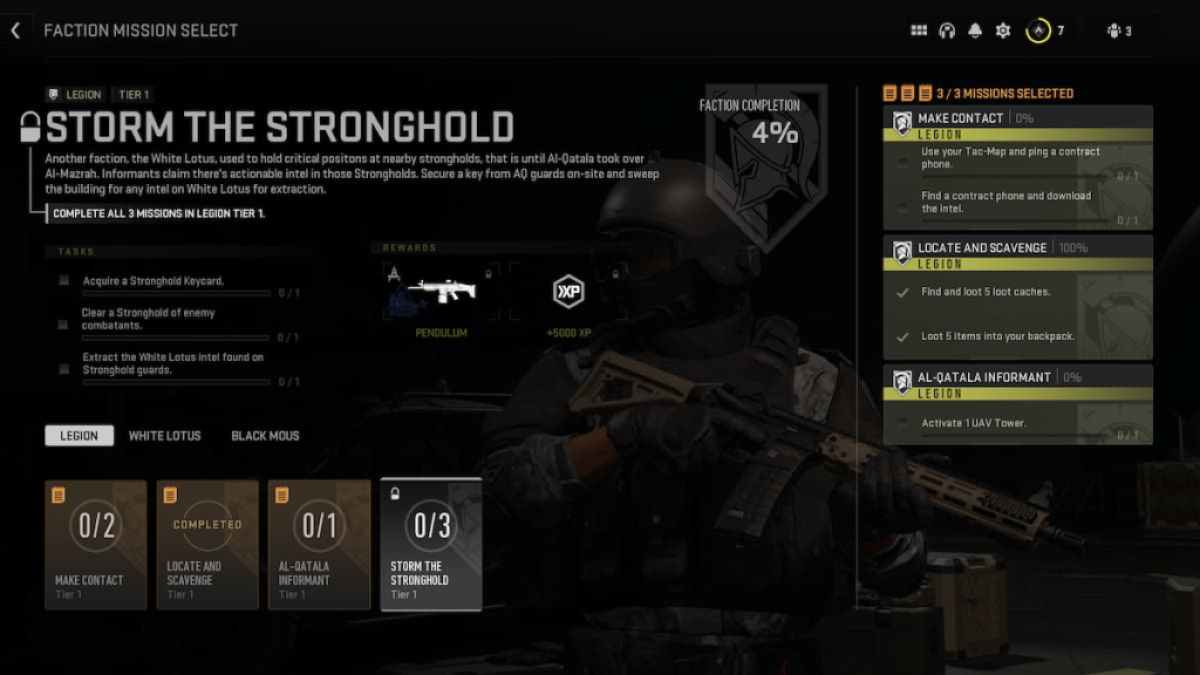 There are three Factions in the DMZ: Legion, White Lotus, and Black Mous. These Factions will have a set of missions for you to complete in-game. The missions can be anything from opening a specific number of loot caches to clearing enemy Strongholds. Completing Faction Missions will grant players lots of XP and unique weapon blueprints to use permanently. Initially, you will only have access to Legion Faction Missions. However, by completing multiple missions, you can gain access to further Faction Missions by the White Lotus and Black Mous.
Contracts and World Activities in the DMZ Warzone 2.0
Similarly to Battle Royale modes, you will have an array of Contracts and World Activities in the DMZ, which you can carry out for extra cash and XP. The following are the types of activities you can participate in, both as a solo player or with a team.
Contracts
Elimination
Hostage
Secure Intel / Geiger Search
Cargo Delivery / Shipment
Hunt
Destroy Supplies
World Activities
Safes
Hidden Caches
UAV Towers
SAM Sites
Strongholds
Related: How to customize your Loadout in DMZ
How does looting work in the DMZ in Warzone 2.0
Looting is a key aspect to focus on while battling in the DMZ in Warzone 2.0. Unlike in Battle Royale, all the items you pick up in your gameplay go directly into your backpack, including ammo, collectibles, cash, or any equipment. After successfully extracting from the DMZ, you can access these items from your Storage and equip them for future deployments. However, all non-permanent items are lost from your inventory upon death.
How do Loadouts work in the DMZ in Warzone 2.0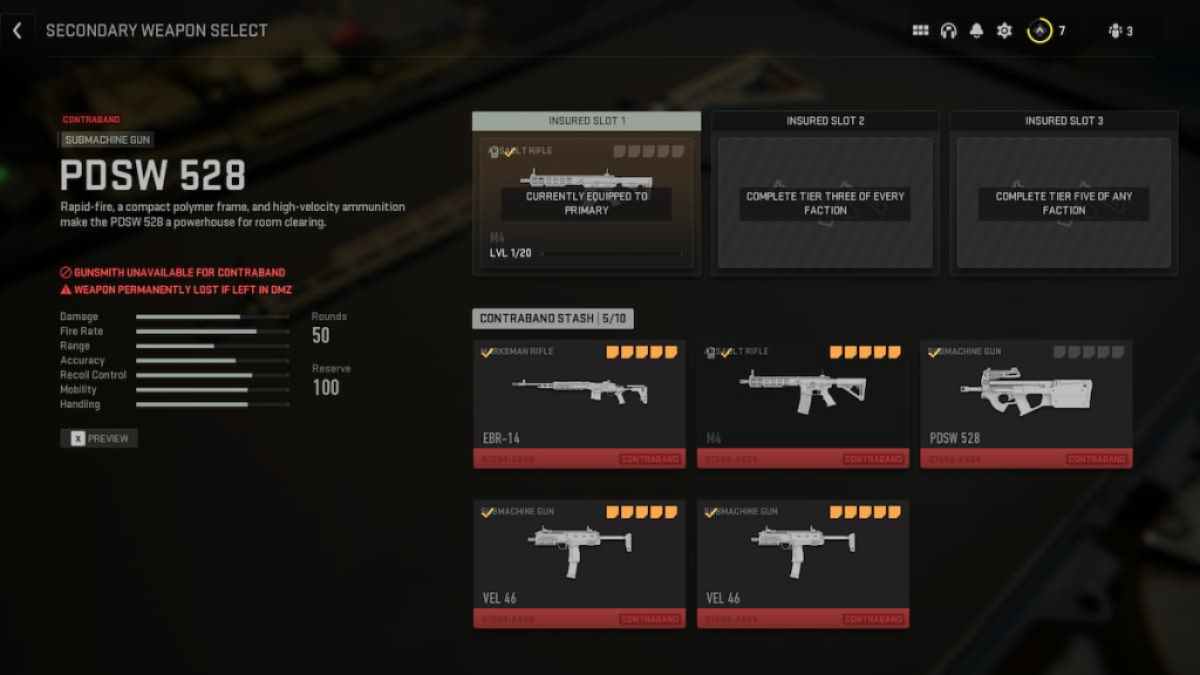 Loadouts function differently in Warzone, too. In this game mode, players can equip their loadout with the following items:
Two Primary Weapons
Lethal
Tactical
Field Upgrade
At the start of the game, players will get access to Contraband Weapons. These are weapons that players can pick up in-game from looting or scavenging from enemy backpacks. You will lose Contraband Weapons from your inventory if you die on the battlefield before extraction. However, players can also unlock Insured Weapon slots by completing Faction Missions. Insured Weapons are not lost upon death but are locked from usage for a certain duration.
Looking for more Warzone 2.0 content? Check out How to get 'Mortal's Bane' Weapon Blueprint in Warzone 2?, right here on Pro Game Guides.