Call of Duty Modern Warfare 2 is finally here, with players dropping in hot to take on the various game modes full of high-octane action. Naturally, you'll need the best loadouts to have an edge against the opponents. The Union Guard you'll start the game with, and it's important to build a proper loadout for this gun. Here is the best Union Guard loadout in Modern Warfare 2 Multiplayer.
Modern Warfare 2 best Union Guard build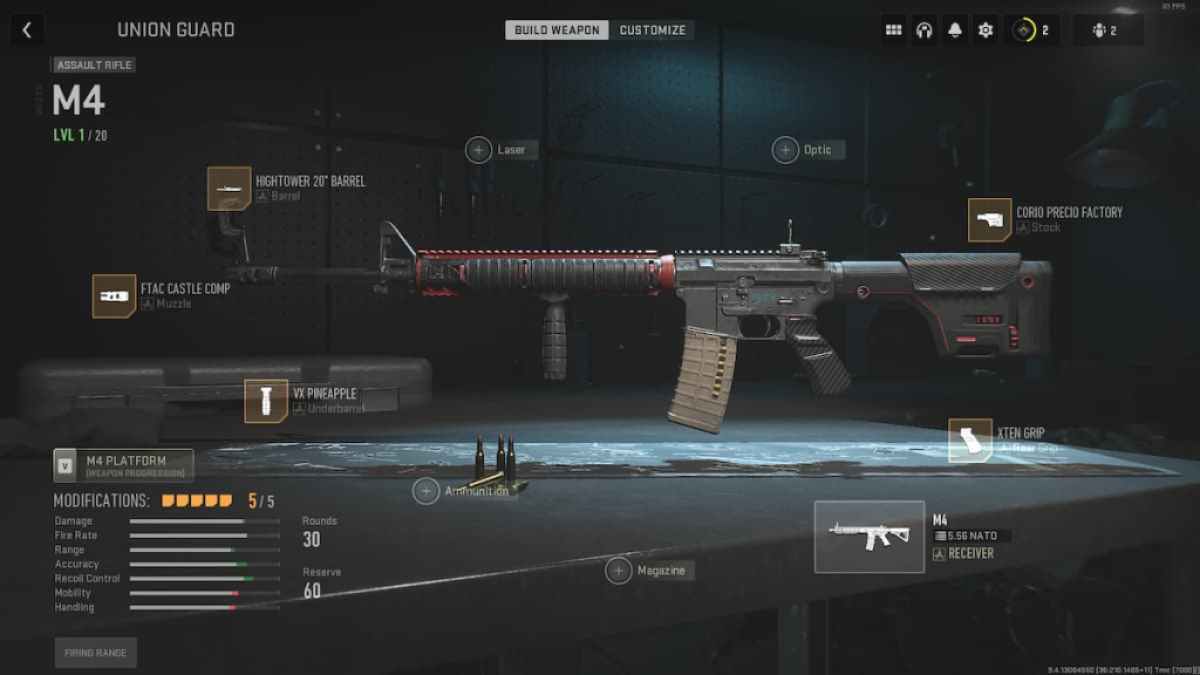 Players completing the Campaign mode in early access will get the Union Guard Assault Rifle in Modern Warfare 2. Purchasing the Vault Edition of Modern Warfare 2 will give players access to the FJX Cinder Weapon Vault, which features some of the best attachments and skins.
Muzzle: FTAC Castle Comp
Barrel: Hightower 20" Barrel
Underbarrel: VX Pineapple
Stock: Corio Precio Factoru
Optic: Cronen Mini Red Dot
The Union Guard Assault Rifle comes with four pre-equipped attachments and is rewarded to players for completing the Campaign mode. You will get the SZ 1MW PEQ Laser, Aim OP-V4 Reflex Optic, Lockgrip Precision-40 Underbarrel Vertical Grip, and the FSS Covert V Muzzle. Visit the Gunsmith option to edit these attachments according to your preference. The attachments mentioned above do fall short in Mobility and Handling. You can always swap the Stock and Rear Grip to account for better Handling with the Union Guard AR. With all the attachments in place, you can head to any game mode to test out this loadout. There is also a Firing Range option in Modern Warfare 2, which allows players to test their loadouts against AI targets.
Modern Warfare 2 best Union Guard loadout
Primary: Union Guard Assault Rifle
Secondary: VEL 46 SMG
Tactical: Shock Stick
Lethal: Frag Grenade
Perk Package

Basic Perks: Double Time and Battle Hardened
Bonus Perk: Hardline
Ultimate Perk: Overclock

Field Upgrade: Inflatable Decoy or Dead Silence
Wondering how to finish the campaign mode quickly? Check out How to avoid the drones in Violence and Timing – MW2 Campaign Guide on Pro Game Guides.