In a competitive shooter like Call of Duty Modern Warfare 2, players need to have the best settings for their devices to get maximum frame rate without any skips or stutters. Getting more frames not only allows players to react quicker, but also gives you the competitive edge over others. There are various settings in-game that helps track your device performance. Here's how to show the FPS counter in Call of Duty Modern Warfare 2.
Where to select the FPS counter in MW2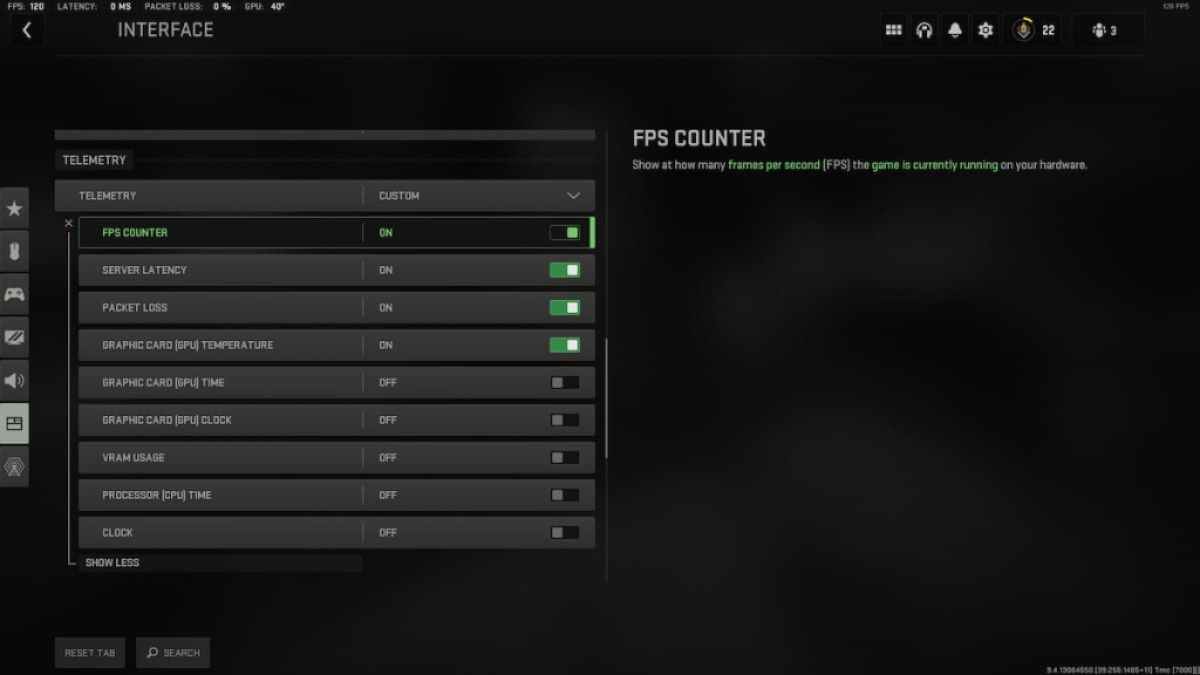 Modern Warfare 2 has a vast array of settings that gives control to the players. Whether its voice chat or extreme graphics, you can customize these aspects according to your preference. The same can be said for FPS (frames-per-second). To access and see the FPS counter in real time while playing matches, follow the steps listed below.
Click on the Settings icon
Scroll down to Interface
Navigate to Telemetry
Click on the Show More under Telemetry
Toggle the FPS Counter to ON
After activating this feature, players get to see the FPS Counter on the top left hand corner of their screen. We also recommend switching on certain features like Packet Loss and Server Latency to monitor your connection.
Related: How to turn off Crossplay MW2
Telemetry settings allow players to monitor their hardware and network. Switching the FPS counter on shows at how many FPS the game is currently running on your hardware. However, if you have a good graphics card and want to maximize FPS, we recommend optimizing the visuals according to your build.
Telemetry also allows you to see several network and device related options like Server Latency, Packet Loss, VRAM Usage, GPU Temperature, Processor Time, and much more. Switching these features on easily allows players to monitor their hardware's performance in real time.
Having trouble logging in to Modern Warfare 2? Check out How to fix MW2 'keeps crashing on PC, PS5, & Xbox' issue on Pro Game Guides.