Dark Cacao Cookie is the third Ancient Cookie to become playable in the game and was recently released alongside The Heroes of Dark Cacao update. The update also introduced the Light of Resolution event, which gives everyone the opportunity to obtain Dark Cacao Cookie for free until May 5, 2022.
Here's everything you need to know about how to bring Dark Cacao Cookie into your team for free, as well as what you can do if you don't manage to score him during the event period.
Nether-Gacha
The Nether-Gacha can be accessed by going into the event menu and selecting Light of Resolution from the lefthand panel. It's a special, limited-time Gacha that doesn't accept Crystals. Instead, you can pull for Cookies using the event currency: Light of Resolution.
Dark Cacao Cookie is the only Cookie on rate-up and the only Ancient Cookie featured in the Nether-Gacha, with a pull rate of 0.301 percent for the character and one percent for his Soulstone. The rates are a lot higher than the normal Gacha's usual rates of 0.054 percent and 0.308 percent for Ancient Cookies and their Soulstones, respectively.
The Nether-Gacha also features other Cookies, including the new Affogato Cookie, as well as a line-up of other Common, Rare, and Epic Cookies. However, there are no Legendary and Ancient options apart from Dark Cacao.
How Many Nether-Gacha Draws are Needed for a Guaranteed Dark Cacao Cookie?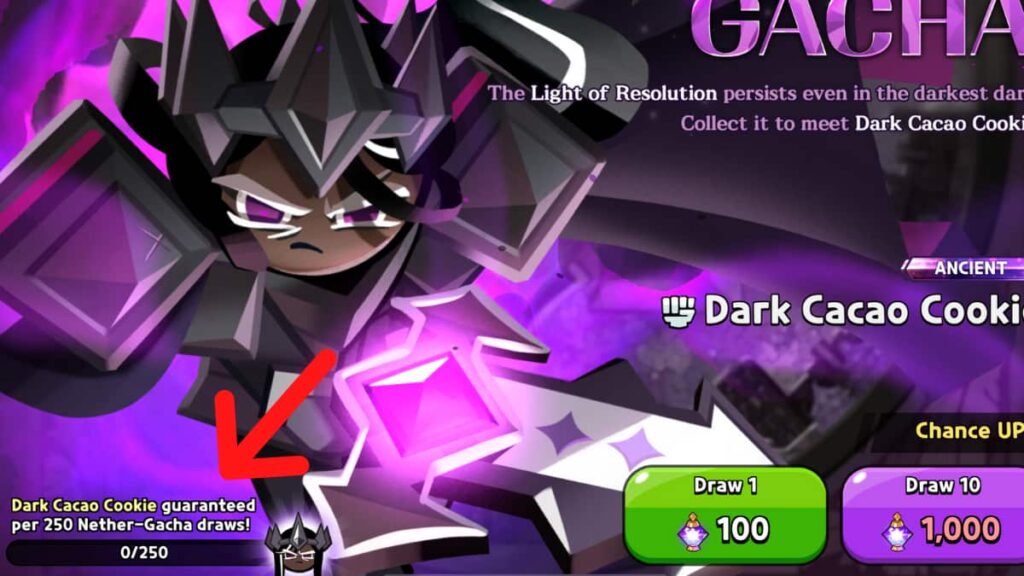 The event offers a guaranteed Dark Cacao Cookie after 250 draws on the Nether-Gacha. Each draw costs x100 Light of Resolution. You can view your progress on the bottom left of the Nether-Gacha window.
If you get Dark Cacao Cookie before hitting the 250-draw pity, your pity counter will not reset, so you can keep building it to get another copy to Promote your Cookie. After getting your guaranteed Dark Cacao, you can work toward building another 250 draws for another copy.
What if You Miss the Event?
Since the Light of Resolution event ends in early May, players who miss out on farming for the event currency or fail to get Dark Cacao won't be able to enjoy the free Nether-Gacha.
But don't worry—you can still get Dark Cacao Cookie from the regular Gacha using Crystals. He has already been added into both the Featured Cookie and regular Cookie Gacha pools and can be pulled alongside all the other Cookies in the game.
Check out our guide on How to farm Light of Resolution in Cookie Run: Kingdom to get event currency to pull on the Nether-Gacha.