We're taking an early look at some Cube World Beginner's Tips to get you started on your quest! The game is a bit different than most people remember and doesn't play out in the standard RPG-ish adventure game style that you might be used to. We'll hopefully provide you with some initial guidance that can help wrap your mind around how best to play the game!
How Things Work
Leveling Up
You do not gain experience from killing monsters. Yes, that's weird. Leveling up is actually not currently that important in terms of progressing your character. Gear and items are far more important and will help boost your damage and survivability. You CAN level up though, it's just in the form of Artifacts you find in the game. However, leveling up at the moment does not seem to serve a purpose.
Items & Gear Are Region Locked
This is another oddity in Cube World. The majority of the items you find in an area are locked to that area. What that means is that if you enter a different region of the map, that gear will not be usable in that region. If you go back to the region you got the gear in previously, you will again be able to use that gear. Some gear can be used in multiple regions, you will know that this is the case if you see a + next to the name. That gear is locked to a greater range, and is supposedly usable from anywhere in that particular kingdom.
Enemy Difficulty is Color Coded
The difficulty of an enemy is based on a color code system. Their name will be one of the following colors: white, green, blue, purple, yellow. The easiest difficulty is white and the hardest difficulty is yellow. You will pretty much only want to focus on killing white named creatures until you find some more gear.
Looking for Your Friends? Find a Town Flight Master!
If you want to meet up with your friends in game, you will have to get to a town and find the Flight Master. This will allow you to fly to the area they are in which will be free. You can also fly to other areas for a price! The Flight Master is represented by the wing icon on your map if you're in a town.
How-to Change My Class Specialization?
If you want to change your Class Specialization, you'll need to go to a town and talk to the Guild Receptionist. They are marked via a Crown on the map. You just need to talk to them and you'll have the option to swap your specialization.
Zoom Out From My Character?
While it doesn't immediately seem like you can do this, you can actually press and hold CTRL and use your mouse-wheel to zoom in and out away from your character!
Cube World Tips
Restart Until You're Near a Town (Updated)
Being near a town is super important, so I would just create a character and take a look around the map. Look for a town that is nearby, it should look something like this: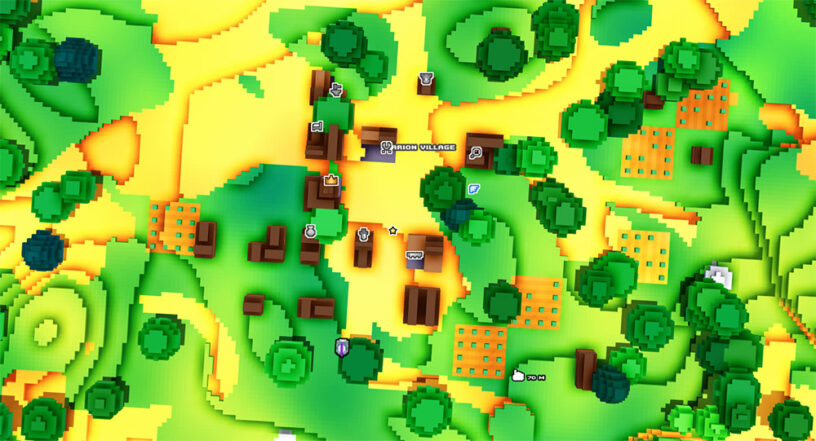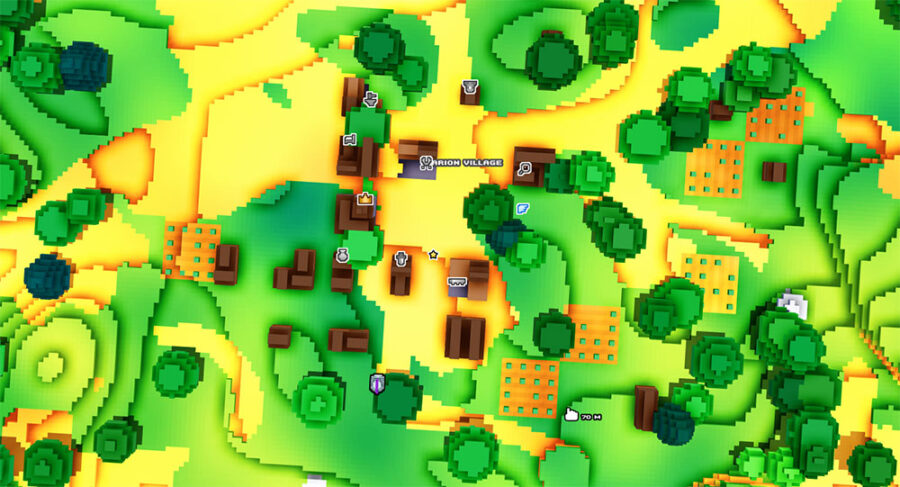 You might not need to do this now because a patch was added that should spawn you near a town.
Movement & Combat
You can dodge! It's bound by default to your middle mouse and can be changed in the options.
You can climb! If you walk up to a wall, you can hold E to climb up it. You have a limited amount of time before you'll fatigue.
You have three different skills: Left-Click (primary), Right-Click (secondary, this usually takes mana), R (ultimate ability).

Your ultimate will have a fairly long cooldown.

You regenerate mana naturally, but you don't regenerate health. Always be on the look out for Heartflowers on the ground to pick up. Those are used to craft Life Potions which you will need quite often.
There is fall damage so be careful of how far you let your character drop.
Take advantage of friendly NPCs if they get into fights. You can help them out or just wait for them to kill an aggressive monster and take the loot!
Exploration
Pick up everything that isn't nailed to the ground! You can use these resources to sell or to craft potions and various other items.
You can change where you spawn when you die by playing your flute at a Shrine of Life. These are fairly common, so if you've traveled a great distance, make sure to find one of these so you don't respawn far away from the current area you're in.
You can fast travel to these Shrines of Life once you've played your flute at them! Just go to your map and click on the blue circle icon to teleport back to that spot.
Talk to NPCs. They give you quests or point out where you can find artifacts! You will get a marker on your map if the NPC gave you a clue for something.
You can middle click on your mouse to add a star marker.
You have a lamp you can turn on and off by pressing F.
Quests
Talk to NPCs to sometimes have a quest marked on your map. You'll usually be saving a Gnome from witches or slaying monsters in a certain area.
Quest difficulty is displayed by the color of the location that is placed on your map! These are the same colors that denote enemy difficulty, here's a list going from easiest to hardest: Green, Blue, Purple, Yellow, and Red.
Always look for a Shrine of Life near your quest location just in case you die. You don't want to be traveling far to get back to it over and over again if it's difficult. Zoom your map in and look for a silver square. That should be a Shrine of Life, although sometimes it'll be a lore area.
This guide is still a work in progress and we'll be updating it more throughout the days to come. Let us know what tips you think will help others in the comments!