You can get a lot of weapons and gear in Cyberpunk 2077 and better versions of both throughout the game. But what if there was an item, in particular, you really liked but it's relatively weak compared to your current character level?. Well, there's a solution to your problem, and it is to upgrade it. That said, in this guide, we will teach you how to upgrade weapons and gear in Cyberpunk 2077.
How to upgrade items in Cyberpunk 2077
In short, to upgrade both weapons and gear in Cyberpunk 2077, you need to go into your inventory menu hub and then access the crafting menu tab, as shown above.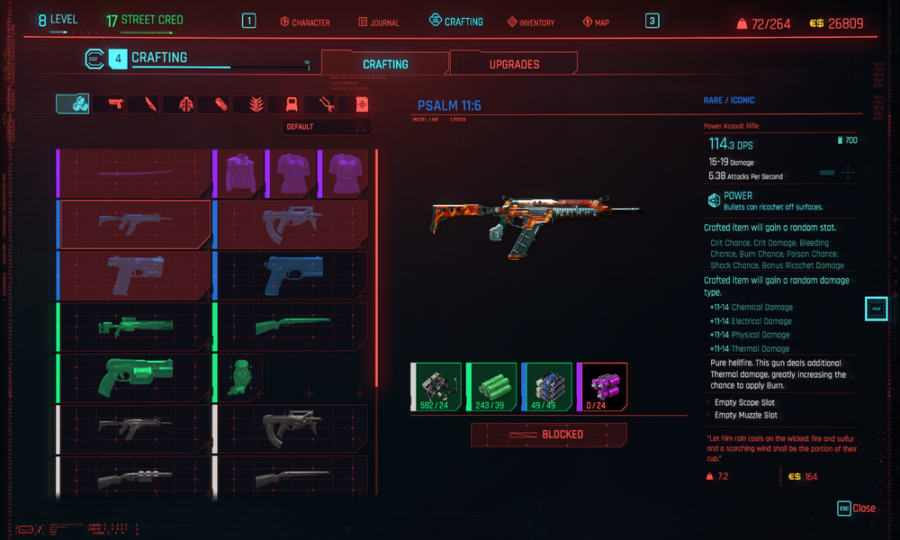 Once you have done so, the crafting menu will open up, and in this menu, you can craft via crafting blueprints for both weapons and gear; you will also need to meet the level requirements on top of resources to craft some items.
However, to upgrade weapons and gear in Cyberpunk 2077, you will need to move from the crafting tab to the upgrade tab, as shown in the image above. When you have so, you will then be able to upgrade weapons in the following menu.
If you want to upgrade a specific item, you will need to find viva the category options. Once you have found the item you wish to upgrade, click it, and a menu like the one above will pop up. When this happens, all you need to do next to upgrade the weapon is click the upgrade button.
Afterward, your item will be upgraded, provided you meet the level required to do so, along with having the necessary amount of resources. Also when you upgrade an item you will increase all of its respective stats, so for example armor, the armor level will increase and for weapons, the damage will increase.
For more on Cyberpunk 2077, we at PGG got your back. Come on down today for guides on nearly everything in the game and more on the way. To start you off, we recommend checking out both the changing character and equip attachment guides. Take care and be safe, you cybernetic mercenaries!