Dead by Daylight has entered its sixth year in celebratory fashion with an in-game party for players. There's lots to do and even more to unlock, so let's look at what's happening during the 6th Anniversary Event.
How long does the 6th Anniversary Event run?
Dead by Daylight's 6th Anniversary Event runs from June 16, 2022, through June 30, 2022.
How to get Dead by Daylight 6th Anniversary Event masks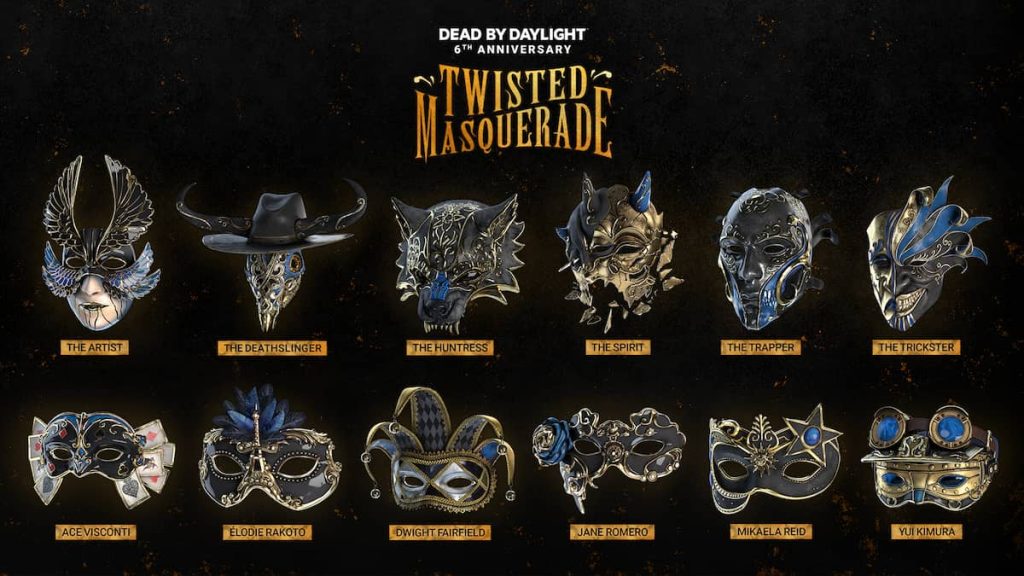 Spread throughout each trial are invitations that must be located. However, memorizing their location isn't an option, as they will regularly move around the map with a sound cue that plays to mark their movement. Survivors must be alive when the Exit Gates or Hatch open. If they are on a hook or dead, they will need to try again. Also important to note is that masks are unlocked at random.
Killers
The Artist
The Deathslinger
The Huntress
The Spirit
The Trapper
The Trickster
Survivors
Ace Visconti

Elodie Rakoto
Dwight Fairfield
Jane Romero
Mikaela Reid
Yui Kimura
What is the Tome & Community Challenge?
Level 1
Destroy or Rebuild: Succeed at generator skill checks or break generators 40 times

Cat or Mouse: Be chased by the Killer or chase Survivors for 360 seconds
Drop or Chop: Drop pallets while being chased by the Killer or break pallets eight times
Salvation or Sacrifice: Safely unhook Survivors or hook Survivors 10 times
Light of the Party: Finish repairing three Anniversary generators
Putting up the Decorations: Hook four Survivors on Anniversary hooks
A Minor Inconvenience: Hook a Survivor three times within 30 seconds of being stunned by any means
Bloody Good: Hit a Survivor with your weapon 10 times
Unobstructed: Break five pallets or breakable walls while in a chase (Complete within a single trial)
Be There or be Square: Collect one Invitation
Eluding the Overlap: Escape one trial as Haddie Kaur
Where you Least Expect: Hit a survivor within 15 seconds of exiting a locker five times as the Dredge (Complete this challenge in a single trial)
Skilled Operator: Succeed at 15 Skill Checks

Life Giver: Heal a total of three health states of any Survivor
Nerves of Bloody Steel: Hide within 10 meters of the Killer while injured for 20 seconds (Complete this challenge in a single trial)
Almost Made It: Go from healthy to injured when vaulting a window or a pallet while in a chase four times
Level 2
Repair or Raze: Earn five Gold Lightbringer or Gatekeeper emblems
Predator or Prey: Earn four Gold Evader or Chaser emblems
Callousness or Compassion: Earn three Gold Benevolent or Malicious emblems
Suffer or Slaughter: Earn two Golden Unbroken or Devout emblems
Be There or Be Square: Collect three Invitations
Putting up the Decorations: Hook six Survivors on Anniversary hooks
Wait Right Here: Down two Survivors within 60 seconds of each other, then hook a Survivor within 30 seconds. Do this two times.
Exposed Target: Hit four Survivors with your weapon while that Survivor is exposed.
All Turns to Dust: Finish a trial with no more than one living Survivor while using the perks Dissolution, Darkness Revealed, and Septic Touch.

Earn Your Spot: Collect one invitation within 60 seconds of finishing a generator repair OR hooking a Survivor.
Light of the Party: Finish repairing five Anniversary generators.
Fighting Back: Sabotage three hooks while in the Killer's Terror Radius.
Risky Robbery: Escape one trial with an item that was pulled out of the chest in the basement.
Glyph Pursuer: Commune with six Green Glyphs.
Bloody Rewards: Earn 66,666 Bloodpoints.
What are the Challenge rewards?
The new Event Tome focuses on the two most recent additions to Dead by Daylight, the Dredge and Haddie Kaur. Completing each level of the tome will unlock new outfits for the Dredge and Haddie Kaur. The Community Challenge rewards players with three new 6th Anniversary Charms.
Rancid Cupcake

Pop-Up Card
Celebratory Skull
Each level in the Event Tome features a Community Challenge track. There are two bars in each challenge, the personal and global progression bars. Players must complete their personal contribution bar to progress to the next level.
Related: Dead by Daylight Codes (June 2022) – Free BP & Charms!
Dead by daylight 6th Anniversary Event Daily Login Rewards
Login once during the event for 600,000 Bloodpoints

June 17 - June 18: 5 Rift Fragments
June 18 - June 19: 1000 Iridescent Shards
June 19 - June 20: 5 Rift Fragments
June 20 - June 21: 50,000 Bloodpoints
June 21 - June 22: 5 Rift Fragments
June 22 - June 23: 100,000 Bloodpoints
June 23 - June 24: 1500 Iridescent Shards
June 24 - June 25: 100,000 Bloodpoints
June 26 - June 27: 1000 Iridescent Shards
June 27 - June 28: 50,000 Bloodpoints
June 28 - June 29: 1000 Iridescent Shards
June 29 - June 30: 10 Rift Fragments
For more Dead by Daylight goodies, check out All Maps in Dead by Daylight, Ranked (June 2022) on Pro Game Guides.