Over the past five years, Behaviour Interactive added many new features to Dead by Daylight as it expands in popularity. One feature that had mixed reviews from veteran players was crossplay capability, which allows players on different platforms to play together in the same match. Since not everyone wanted to join matches with players on other platforms, Behaviour Interactive included the option to disable this feature.
How to Turn Off Crossplay in Dead by Daylight
It doesn't require any extensive effort to toggle this setting and is quite literally just a few clicks away from the home menu. In the steps below, we explain how to change your matchmaking options to allow or prevent users from other platforms.
Step One: Go to the options menu.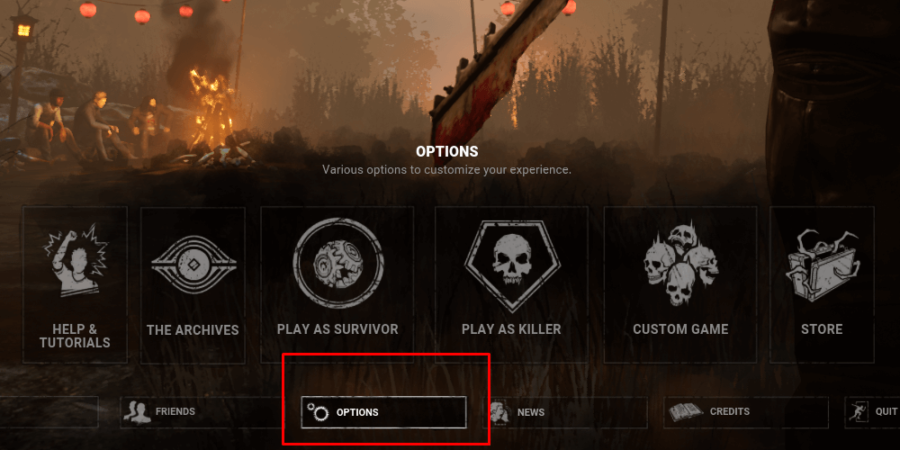 This step is self-explanatory, but we've included the image above if you can't find the menu button. When you first make it past the page that initializes the game, you'll be on the home menu. On the bottom of the screen and in the middle, you'll find the Options button. It is highlighted in the red box above. Click this button to be taken to the options menu.
Related: All Teachable Perks in Dead by Daylight - Pro Game Guides
Step Two: Toggle crossplay.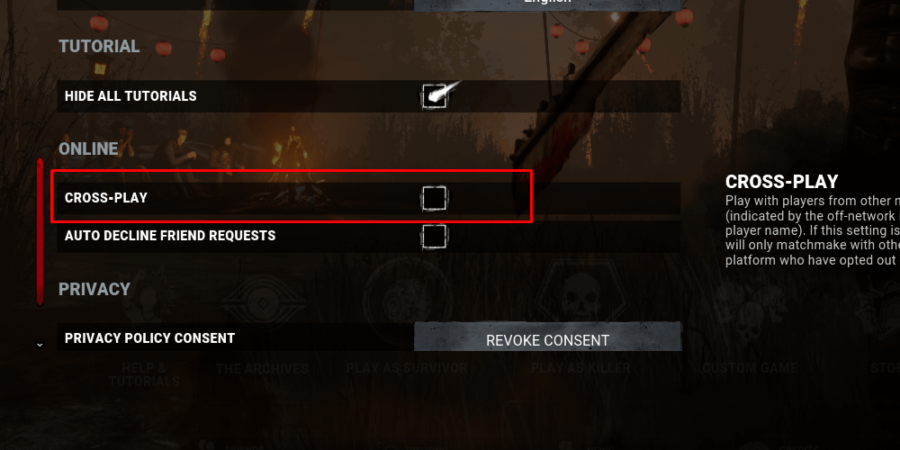 You will find the option to toggle crossplay on the Options menu you just opened. To find it, scroll down to the bottom of the options menu (while still on the Settings tab) to find the crossplay label and a checkbox across from it. If you want to disable crossplay then make sure this checkbox is unchecked. Alternatively, if you want to make sure crossplay is enabled, then make sure that same checkbox is checked.
Pros and Cons
Since crossplay is a straightforward concept, it's easy to explain the advantages of keeping it enabled. When crossplay is enabled, you allow players from all platforms to join your matchmaking lobby. This means that anyone joining a match from any platform can connect with you, which means you'll see a much lower wait-time when finding a match.
The downside to crossplay is mostly about communication. Players rarely have extensions to their consoles that allow them to type quickly, so chatting before the game is very rare. This means that if you have goals or achievements you're trying to complete, you won't be able to effectively work with other players to complete them.
That's it for the guide! In most other games, toggling crossplay is much more of a hassle. We're grateful Behaviour Interactive made it so easy!
Do you have a Key in your inventory and don't know what it does? Check out our guide on How to Use Keys in Dead by Daylight!