In Destiny 2, weapons are the name of the game. Each weapon feels original, with differing magazines, perks, and damage output. Combat Bows are a frequently overlooked type of weapon, but Verglas Curve seeks to change that. Verglas Curve is a heavy-hitting Exotic bow that fires a volley of Stasis arrows. It was released with the Lightfall expansion, along with Exotics like Final Warning and Quicksilver Storm. Here's how to get the Verglas Curve Exotic bow in Destiny 2.
How to get the Verglas Curve Exotic bow in Destiny 2
There are two ways to obtain the Verglas Curve Exotic bow. First, you can purchase the Season of Defiance pass and immediately claim the weapon. If you would rather not spend money, you can also reach tier 35 in the Season of Defiance pass, which grants the weapon for free. To progress through the Season Pass quickly, you can complete Seasonal Challenges, which can be accessed from the Quests menu.
Related: Should you buy the Annual Pass for Destiny 2 Lightfall? Cost and Rewards
Verglas Curve Exotic bow perks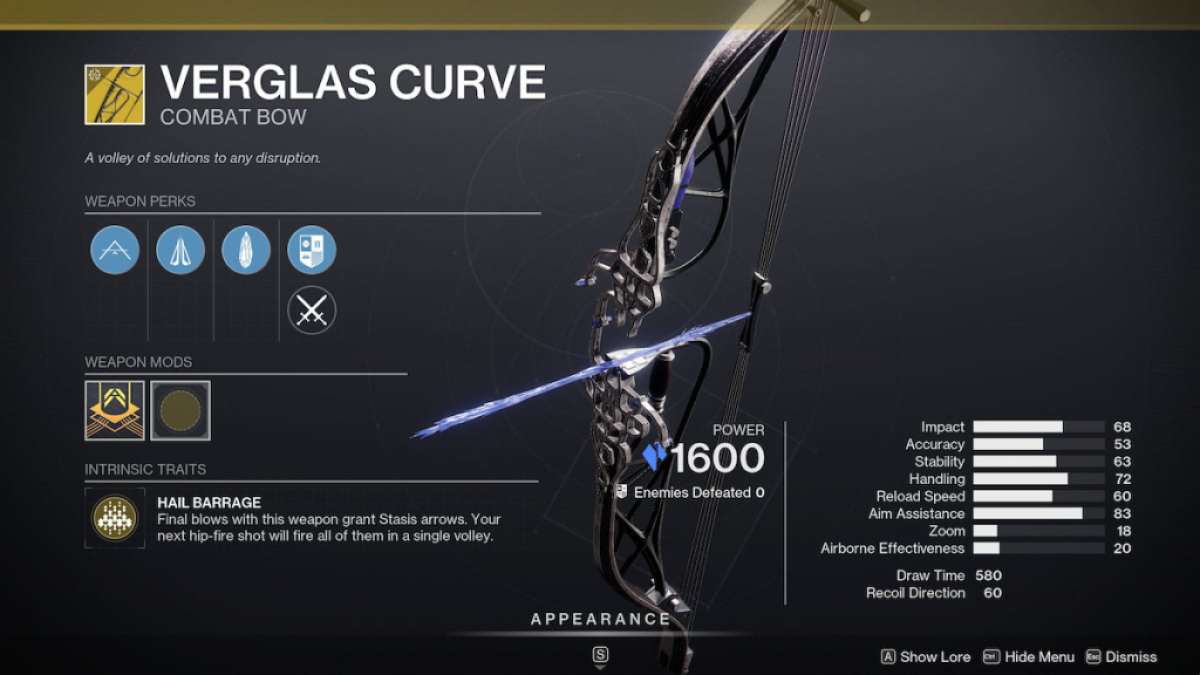 Verglas Curve possesses the Hail Barrage intrinsic trait, which causes final blows with the weapon to generate Stasis arrows. During this effect, your next hip-fire shot will fire all of the created Stasis arrows in a single volley. It also bears the Hail Storm trait, which makes Stasis arrows freeze targets on impact. Whenever these Stasis arrows touch the environment, they spawn Stasis crystals.
Verglas Curve is fitted with the Natural String bowstring, which slightly increases accuracy, handling speed, and stability. As for the projectiles, Verglas Curve uses Straight Fletching arrows, which increase the weapon's accuracy. As a whole, Verglas Curve is optimized for precise shots, at the cost of airborne effectiveness. It is best when controlled by a steady hand, making it deadly in PvP activities where accuracy is critical.
For more Destiny 2 guides, come check out Destiny 2 'One Moment Please' – What it means & how to fix here on Pro Game Guides.