Xur travels around the galaxy, and each week he sets up shop in a revolving location where he will sell some random exotics and legendary gear. You will find him in a different area each week, so the question is always going to be... where is Xur today? Well, we will have the exact area you can find him in for you as soon as he appears, because he can be pretty hard to locate sometimes. His item selection changes, which will give you a chance to purchase some rare exotic armors, engrams, and weapons that you won't normally have access to in D2.
Xur's location for November 5, 2021 is at the Winding Cove on the EDZ! Just head to the Winding Cove Landing Zone, and then go north up to the mountain area. You will find a cave there that you can run through to reach Xur!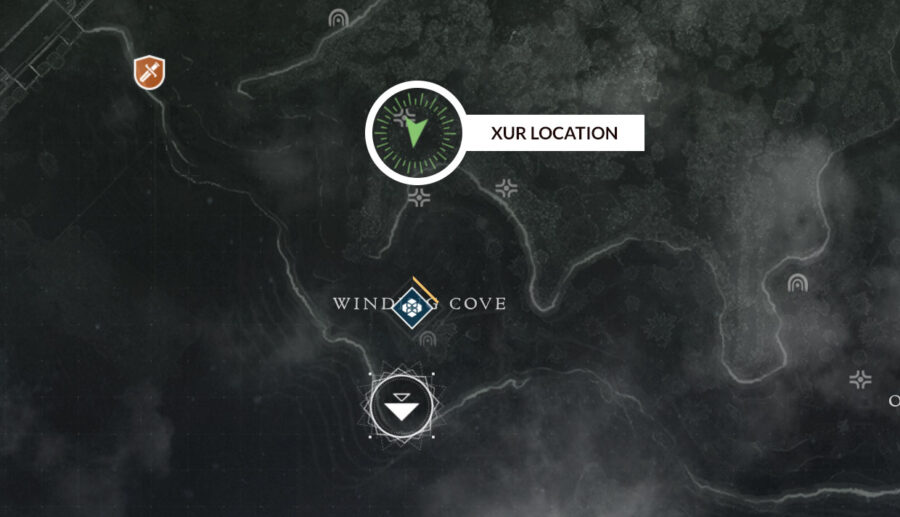 Check out this video on how to get to the location if you can't find it.
What is Xur Selling Today?
Here's a look at what Xur is selling this week. Why not pick up a new exotic?
Exotics
Lion Rampant
Crown of Tempests
Prometheus LEns
Shinobu's Vow
Xur's Previous Inventory
Here's a look at what Xur was selling last week!
Exotics
Vigilance Wing
Shards of Galanor
Karnstein Armlets
Antaeus Wards
Who is Xur?
Xur is an Agent of the Nine, who randomly appears in various locations across the solar system. He has a rotating inventory of Exotic armor and Legendary gear from all the different classes, which can be purchased for legendary shards. He will also offer One Fated or Exotic Engram each week that can be bought for 97 Legendary Shards! He shows up every Friday at 10am PT / 1pm ET / 6pm BST after the reset, and will hang around for a total of three days until the Tuesday reset!
General Xur Locations
Xur will generally always be found at one of three locations, which are the following: Winding Cove on EDZ, in a Tree on Watcher's Grave in Nessus, and the Hangar at The Tower which is the general social gathering hub.
For more Destiny guides, check out All Destiny 2 Campaigns in Order and All Destiny 2 DLCs and Expansions on Pro Game Guides.