The Ace of Spades is the signature exotic Hand Cannon from the Destiny 2: Forsaken expansion. If you want to wield this incredible weapon, our Ace of Spades Guide will take you step-by-step through how-to finish all of the steps and provide tips along the way.
This exotic hand cannon is one of the most popular guns in the game currently. If you are heading into the Crucible or are completing quests and bounties then you should have this gun by your side. It's a super fun and powerful gun, and the attached lore and significance of it make it all the more special.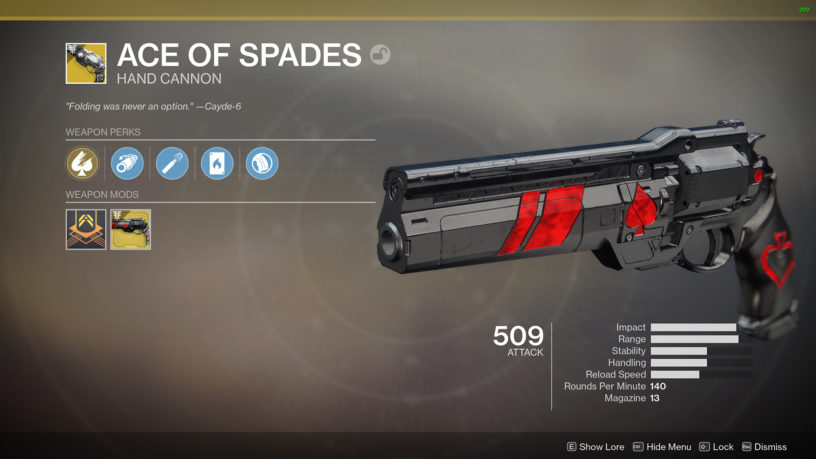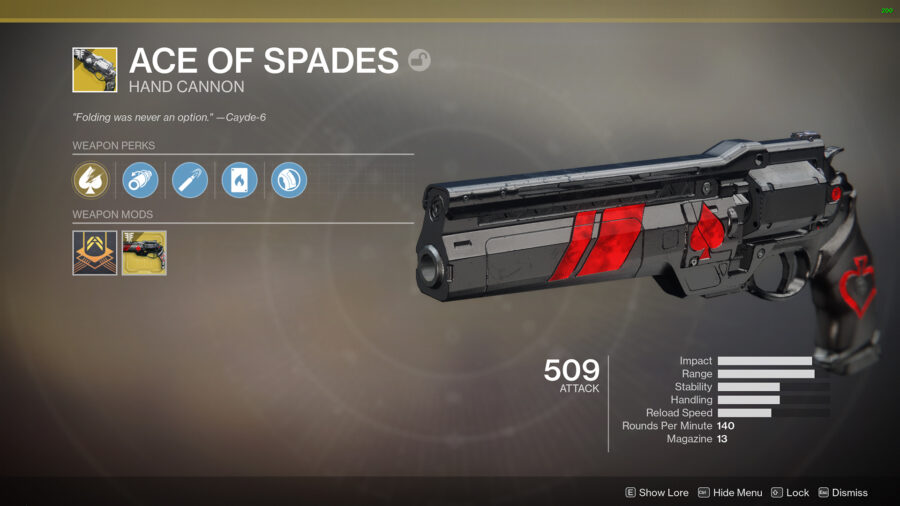 Ace of Spades Weapon Perks
So, what makes the Ace of Spades so great? Well, first take a look at those stats! Very high Impact and Range makes this strong from distance, which gives you sharpshooters out there a huge bonus. Then there's the perks, which are great for both PVP and PVE. Check these out below:
Memento Mori - Intrinsic
Reloading after a kill loads magazine with a few extra-damage bullets. Grants radar while aiming down sights.
A great perk for both PVP and PVE. You will want to keep this active as much as possible. If you get a kill, particularly a precision one, you will want to reload and get those extra-damage bullets in the weapon.
Corkscrew Rifling - Barrel
Balanced barrel.

Slightly increases range and stability
Slightly increases handling speed
Very solid, it has pretty crazy range and can be shot from far distances.
High-Caliber Rounds
Shots from this weapon knock the target back farther.
Another very good one. Knocking back your enemies and keeping them from getting clean shots on you is always a plus.
Firefly - Trait
Precision kills with this weapon increase reload speed and cause the target to explode, dealing Solar damage to nearby enemies.
This one is pretty insane and is why I mentioned you wanting to reload on precision kills. You reload much faster and then you get the Memento Mori bonus with extra-damaging bullets. The exploding damage is usually not that useful in PVP, but it's great in PVE when you are fighting multiple enemies.
Ace of Spades Lore
"FOLDING WAS NEVER AN OPTION." - CAYDE-6

THE LAST WILL AND TESTMANET OF CAYDE 6

To whomst it may concern:

I, Cayde-6, being of sound(ish) mind and body do hereby and henceforth and heretofore leave all my possessions to the person, alien, animal, or natural phenomenon what kills me.

Aforesaid possessions include, but are not limited to:

The Ace of Spades
Any and all stashes I've hidden throughout the system
The Colonel, my faithful friend
My debts, which follow:

THE ATTACHED FILE IS TOO BIG TO DOWNLOAD
Ace of Spades Step-by-Step Guide
Quick Tips
Make sure to save a Hand Cannon for your Kinetic or Energy weapon. You'll need one to complete many of the Quest Steps.
Try to delay doing this Quest. If you can get your power level higher than you will get a better power leveled version of this gun. Obviously you can infuse it, but maybe reach at least 520 or 540 so you get a nice boost to your power level.
Step 1: Cayde's Will
Reclaim Cayde's gun, the Ace of Spades, from Uldren Sov.
After you complete the first mission from the Forsaken expansion and you watch Cayde's fate unfold, you will be given this quest by Banshee-44.
Step 2: Finish the Forsaken Campaign
Banshee44's eyes burn brightly as he speaks of repairing the Ace of Spades. But he can't do it alone. He'll need some biorhythmic data from you-and some parts from the secret caches Cayde hid across the system.
Once you've completed the campaign you will receive the broken Ace of Spades and you can then return it to Banshee-44.
Step 3: Get 5 Invasion Kills with a Hand Cannon
Get 5 invasion kills with a Hand cannon in Gambit to collect the biorhythmic data Banshee needs to turn the Ace of Spades to your hand.
This used to be particularly difficult because you had to kill five invaders that ended up on YOUR side of the map. Now, however, they've updated it and you can complete this by invading your opponent's side and getting the kills. This is a lot easier, and shouldn't be too much of a problem. Unfortunately, if you are using a hand cannon you will have to get closer to your opponent than you might like. It's better to get kills for this once your enemies have spawned a Primeval. They will be concentrated in a particular area, and you can usually flank it and get closer as long as you get a decent spawn.
Step 4: Get 250 Hand Cannon Kills in Strikes
Another one that shouldn't be too hard. Just load up Vanguard and start hitting up Strikes, you can also complete your daily/weekly quests while doing this so it shouldn't be too big of a deal.
Step 5: Get 25 Precision Hand Cannon Kills in the Crucible
If you don't like PvP than this is going to be a chore for you. You'll need to head into the Crucible and take on your fellow Guardians with a Hand Cannon. Keep in mind, you can't just get a kill with the Hand Cannon, you need to get a PRECISION kill. A precision kill is a kill that is finished with a critical hit/headshot. So, if you hit a headshot as your first hit and then kill them with a body shot, it won't count.
Tips on How-to Complete the 25 Precision Kills
Use a high impact Hand Cannon. High impact deals more damage, and you obviously want to kill people as fast as possible.
Play in RUMBLE. This mode is everyone vs. everyone, so you won't have to worry about people taking your kills.
You should wait for other people to battle it out, and then try to pick someone off while they are weak.
Hit your headshots. You'll want to take your time a bit more when you are trying to do this. Work on slowing yourself down and aiming for the head.
Step 6: Find Cayde's Personal Caches
Search the solar system for Cayde's personal caches.
You are going to need to find four different caches:
Find the cache on Io.
Find the cache on Nessus.
Find the cache on the Tangled Shore.
Find the cache in the EDZ.
This is best done by following along in a video, so check this one out:
When you reach an area that has a Cayde Stash you will see the alert: "Cayde Stash Nearby."
Step 7: Complete the Ace in the Hole Quest
Cayde's personal cache is on Titan. Fight your way back into the Arcology to claim the parts you need to repair the Ace of Spades by completing mission "Ace in the Hole."
This is the final quest step in the series that will unlock the Ace of Spades for you. Head to Titan where you will see the Ace in the Hole quest, it has a Recommended Power of 460 which should be pretty manageable since you are likely at least 500 by this point. You will need to find 10 of Cayde's personal caches, and each one has a bit of story along with it. I would recommend not using a guide for this, and exploring on your own to experience the story. Be sure not to open up another cache until Cayde is done talking or you'll skip some of the dialogue.
If you are struggling, be sure to slowly make your way through the level and always look above you. The majority of the caches are hidden high up, so you'll need to do a fair bit of climbing. If you are still having trouble, check out this video that shows the full mission:
Final Step: Head Back to Banshee-44
Banshee's old hands rove over the Ace of Spades, sliding new pieces into place, closing a polished unscored chassis over its perfectly tuned mechanisms. It's done. The Ace of Spades is yours.
After you've completed the mission you will then want to travel over to Banshee-44 and receive your prize! Along with the Ace of Spades you also get a Weapon Ornament called "Last Hand."