Hand cannons are often some of the most popular weapons used by players for Crucible battles in Destiny 2. While they are not always the most efficient weapons for eliminating hordes of enemies in PvE, they are extremely viable in PvP combat due to their high damage potential. There are tons of hand cannons to choose from, and each one comes with varying stats. However, there are a few coveted ones that maintain their position at the top of the hand cannon food chain owing to their great perk pools. The following are the best hand cannons to use for PvP in Destiny 2.
Eyasluna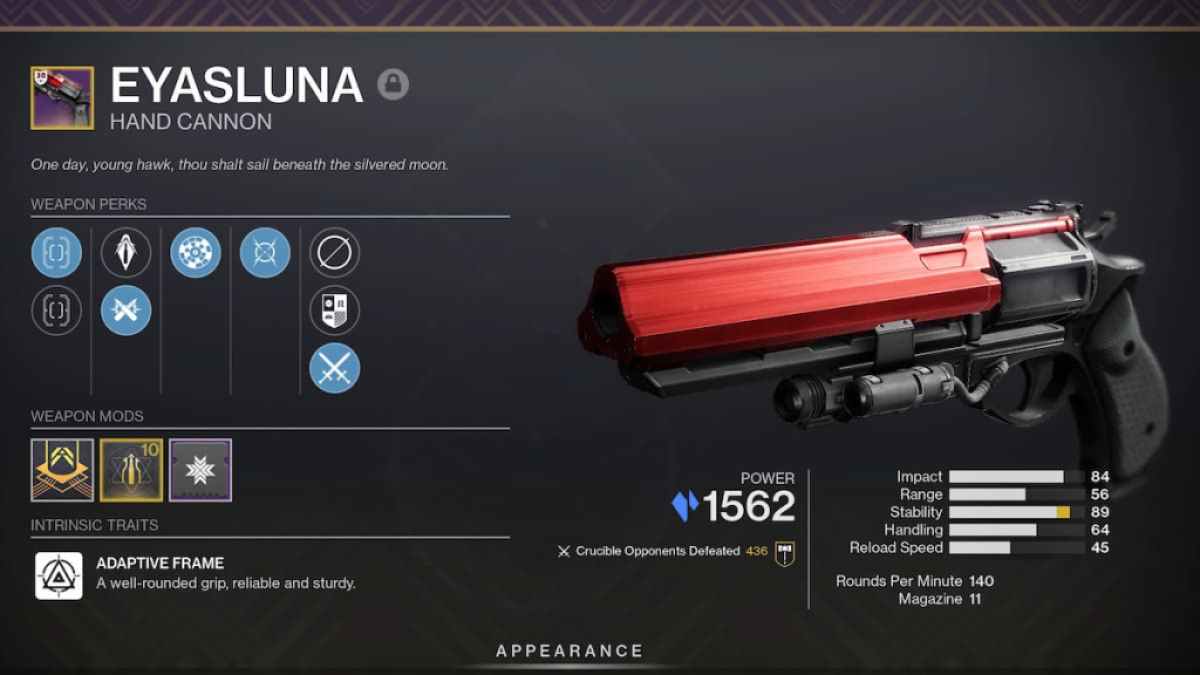 RPM: 140
How to obtain: Grasp of Avarice Dungeon
The Eyasluna is a fan favorite from Destiny 1, which was introduced to Destiny 2 to celebrate Bungie's 30th Anniversary. It is relatively easy to obtain this weapon by completing the Grasp of Avarice dungeon, and it comes with incredibly high base stats. Although it rolls with Sights instead of Barrels, the Eyasluna can gain significant range and stability buffs from perks like Rangefinder, Moving Target, Heating Up, and Snapshot Sights.
Fatebringer (Timelost)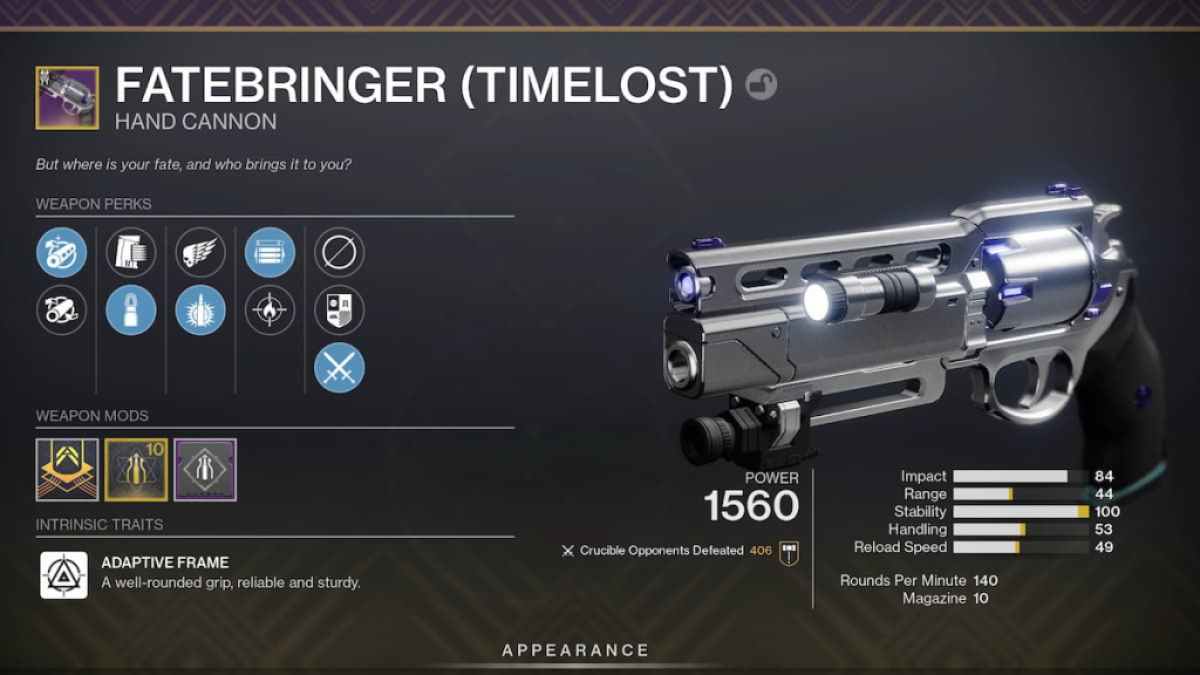 RPM: 140
How to obtain: Raid Challenge in Vault of Glass
The Fatebringer is one of the best overall hand cannons for PvP, thanks to its impressive base stats and perk pool. It can roll with the Explosive Payload perk, which causes targets to take bonus damage, flinch, and passively increases range. Since it is a Timelost weapon, it can also be equipped with Adept Mods to further increase its already high stats. When combined with perks like Opening Shot or Eye of the Storm, the Fatebringer can become a heavy hitting weapon with high accuracy, even at long range.
Cantata-57
RPM: 140
How to obtain: Legendary Engrams or Faction Rank-up Packages
The Cantata-57 is a SUROS Foundry weapon and comes with the SUROS Synergy origin trait, which grants the weapon bonus handling stats and reduced flinch for a short time after reloading. At base stats, the Cantata already boasts high range, which can be significantly increased with perks like Accurized Rounds and Rangefinder. If an aggressive approach to combat is more your style, perks like Rapid Hit or Eye of the Storm will work to improve handling, accuracy, and reload speed.
Exalted Truth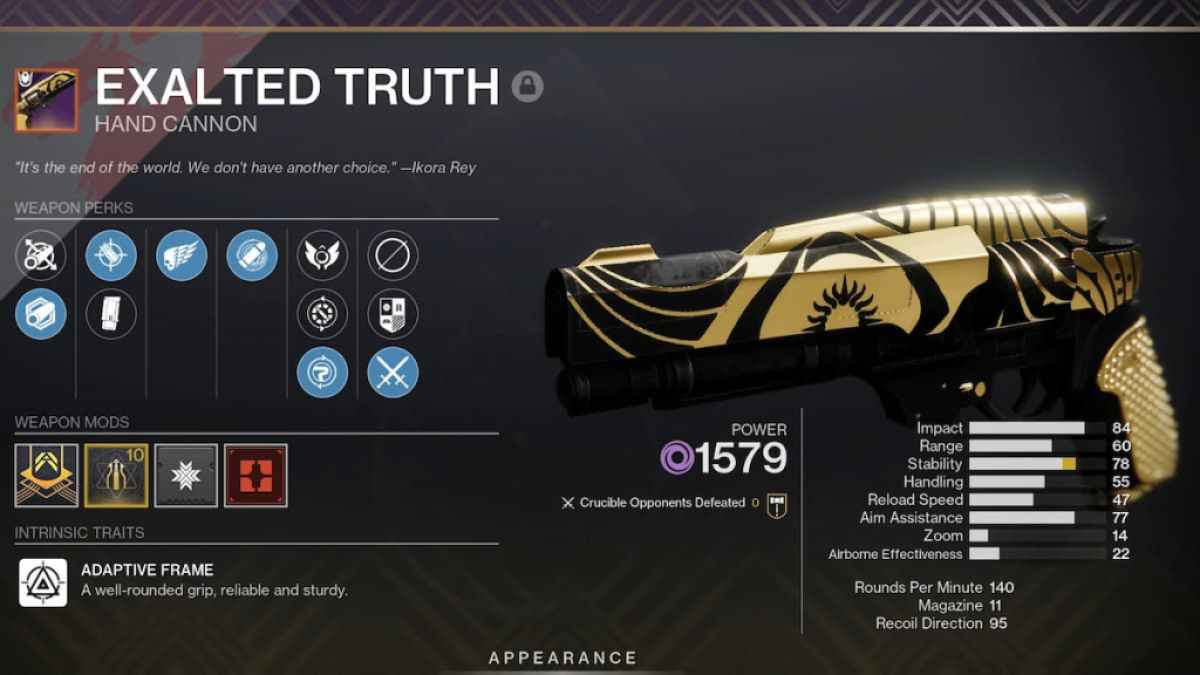 RPM: 140
How to obtain: Complete challenges in Trials of Osiris
The Exalted Truth is a beast of a hand cannon that boasts great stats in terms of impact, range, and stability. If you're skilled enough, you might even find yourself an Adept version of this weapon by running Flawless in Trials of Osiris Lighthouse. What's more, it rolls with one of three Origin traits on each copy: SUROS Synergy, Alacrity, and One Quiet Movement. For PvP, the most ideal pick would be SUROS Synergy, as it grants bonus handling and flinch resistance after reloading. As for the perks, it can roll with Rangefinder on the first column, along with perks on the second column like Kill Clip and Eye of the Storm which increases the weapons damage, or handling.
Ace of Spades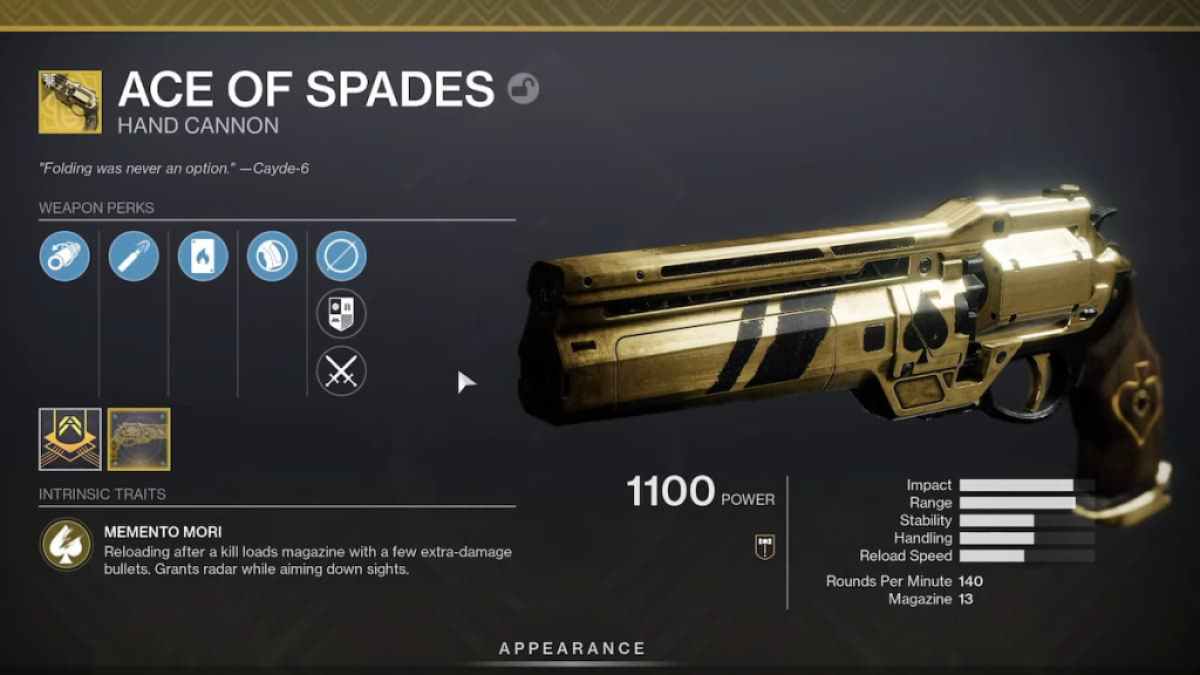 RPM: 140
How to obtain: Exotic Archive at The Tower
The infamous Ace of Spades is a hand cannon known to veterans of the Crucible, and most Destiny 2 players who played during the Forsaken expansion. This lethal hand cannon served as the signature weapon of Cayde-6, and comes with the Exotic perk Memento Mori. With Memento Mori, every time you reload your weapon after a kill, you load the weapon with six bullets that deal bonus damage. This effect can be refreshed and repeated upon reloading after getting kills. Additionally, it comes with the legendary perk Firefly, which grants reload speed after precision kills, and causes targets to explode, dealing solar damage in an AoE.
Austringer
RPM: 140
How to obtain: Opulent chests on the Derelict Leviathan
The Austringer is a hand cannon that was introduced in the Season of the Haunted, and has been an ever-present nightmare in the Crucible ever since. Apart from the Cantata-57, the Austringer is the only other hand cannon in the game which can roll with the deadly combination of perks like Eye of the Storm and Opening Shot. If maximizing your range is your priority, consider swapping Opening Shot for Rangefinder. However, what sets the Austringer apart is the fact that it is a craftable Menagerie weapon. This means that players can customize their perks to get their ideal godroll.
Looking for weapons that deal the most damage per second? Check out the Highest DPS Weapons in Destiny 2 – DPS Chart, right here on Pro Game Guides.