Bungie added seasonal challenges to Destiny 2 during Season of the Chosen, and since then these challenges have added an extra incentive to replay PVE missions and grind for additional rewards in Crucible. Each week, players are treated to a handful of seasonal challenges that award weapons, extra XP, bright dust, and additional resources for completion.
To view the list of seasonal challenges in Destiny 2, follow these steps:
Open the Director
Press the Season tab located top-right
Press Seasonal Challenges

This button is found below the Season Pass progress tracks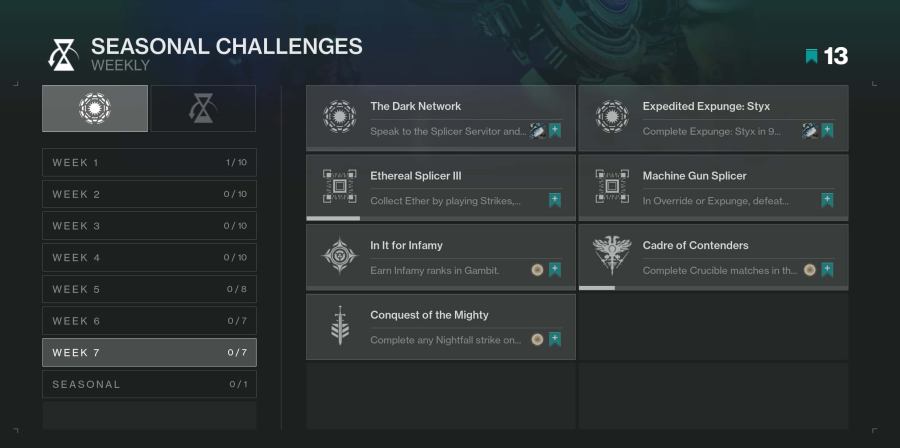 The challenges appear each week, so if you're viewing the list during Week One, you won't see the following weeks until the season naturally progresses. But, some hardcore players datamine the game and are often successful in tracking the complete list of seasonal challenges across the entire season.
Related: All Destiny 2 Campaigns in Order
Objectives also vary across all of Destiny 2 content. Some challenges might task you with collecting resources like ether while others task you with playing particular Crucible playlists. Whatever the objectives, players can expect the challenges to spread from PVP to PVE.
Seasonal challenges can be completed at any time during a Destiny 2 season. Don't worry, if you're jumping in during Week Five, you can still complete all of the prior challenges. They will not lock after the week ends, so you can still earn those sweet rewards.
For more Destiny 2 guides, check out Destiny 2: How to complete the Cadre of Contenders seasonal challenge and Destiny 2 Weekly Reset Time, Legacy Activities, Nightfall, & More on Pro Game Guides.