In Disney Dreamlight Valley, increasing your friendship level with Disney characters helps unlock new quests for you to complete. These quests help solve various mysteries that surround the different biomes and each Disney character. Here is how you complete the Elsa Level 10 Quest in Disney Dreamlight Valley.
How to complete Ice Cavern Mystery in Disney Dreamlight Valley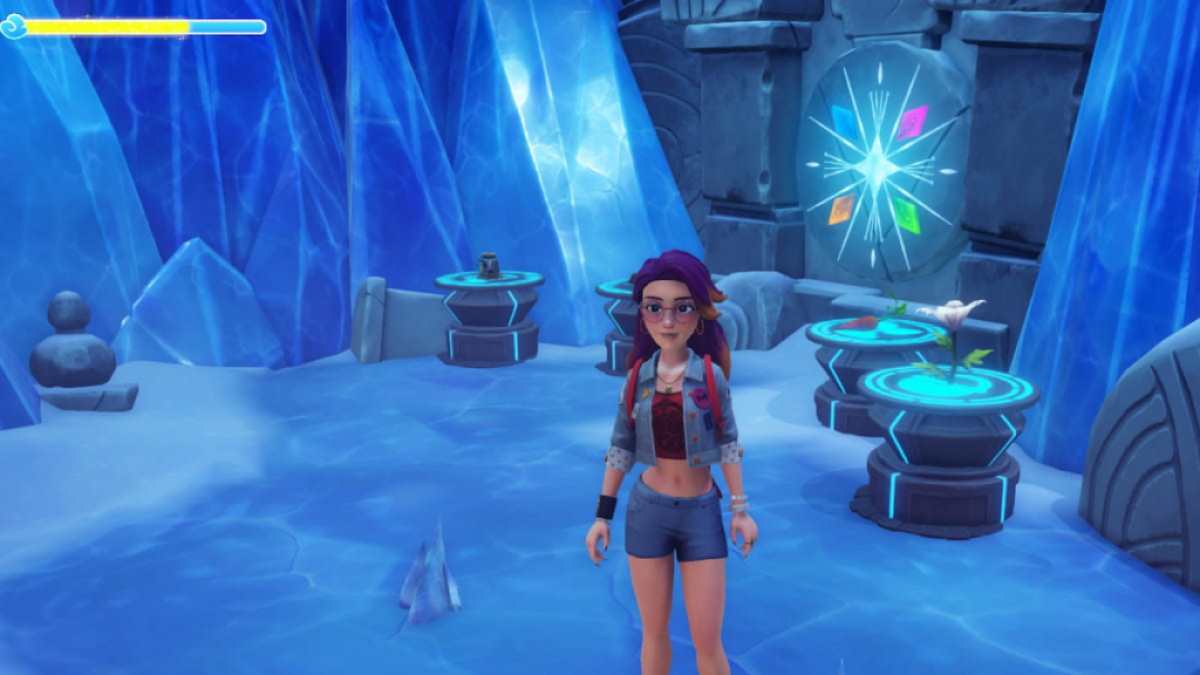 Once you reach level 10 with Elsa, you will unlock the Ice Cavern Mystery quest and unveil the mysteries behind her lost memories. Begin the quest by talking to Elsa and she will point you in the direction of a mural in the ice cavern in the Frosted Heights biome. The mural will have four pedestals in front of it. You will need to collect four ingredients to place on each pedestal. But before that, Elsa will ask you to speak to Anna, who has a crest in her possession.
Anna can be found in the Forest of Valor and she will tell you that the crest is somewhere in her house. You can locate a green-colored crest inside the grandfather clock at her house in the Forest of Valor. You need to take it back to Elsa's ice cavern near Frosted Heights and place it on the wall mural. After placing the crest on the wall, talk to Elsa, and she will tell you about the four ingredients that need to be placed on each pedestal. These ingredients are Arendellian Pickled Herring, White Passion Lily, Gold Ingot, and Carrot.
You can make Arendellian Pickled Herring using these four ingredients, Herring, Onion, Lemon, Garlic, Basil and any one herb (can be Mint, Basil, Oregano). Now for the easier items, you can find Carrot seeds from Goofy's Stalls at the Peaceful Meadows for 10 Star Coins. Sow the seeds, water them and wait 15 minutes for the seeds to grow into Carrots.
Gold Ingot is slightly difficult as it needs to be crafted on a crafting table but first, you need to collect the Gold Nuggets from any of these three biomes: Forgotten Lands, Sunlit Plateau, or Frosted Heights. You will require five Gold Nuggets and one Coal Ore to make the Gold Ingot. Now move to a crafting table with these items and craft the Gold Ingot. For the final item, you will need to travel to the Frosted Heights to collect White Passion Lily.
Collect all these items and go back to the ice cavern, placing them on the four pedestals. The ice-covered mural will automatically disappear and you will be able to collect Elsa's beautiful ice gown from the chest. All that is left is to go back and give Elsa her gown. As you finish the Ice Cavern Mystery, a Frozen-themed gown that belongs to Elsa will be your reward for helping her.
To find more on Disney Dreamlight Valley check out, Olaf and Mirabel to arrive later this month in Dreamlight Valley's Update Three on Pro Game Guides.