A Festival of Friendship brings the lovable snowman Olaf to Disney Dreamlight Valley. After you unlock him and bring him back, your friendship level will increase to two which unlocks the next quest. In the quest, A Place For Joy, you will need to help Olaf who wants to make people happy again. He is finding it difficult to do it alone, so you have to help him by gathering gifts. Here is what you need to do to complete Olaf's A Place for Joy quest in Disney Dreamlight Valley.
What to do in Olaf's A Place for Joy quest in Disney Dreamlight Valley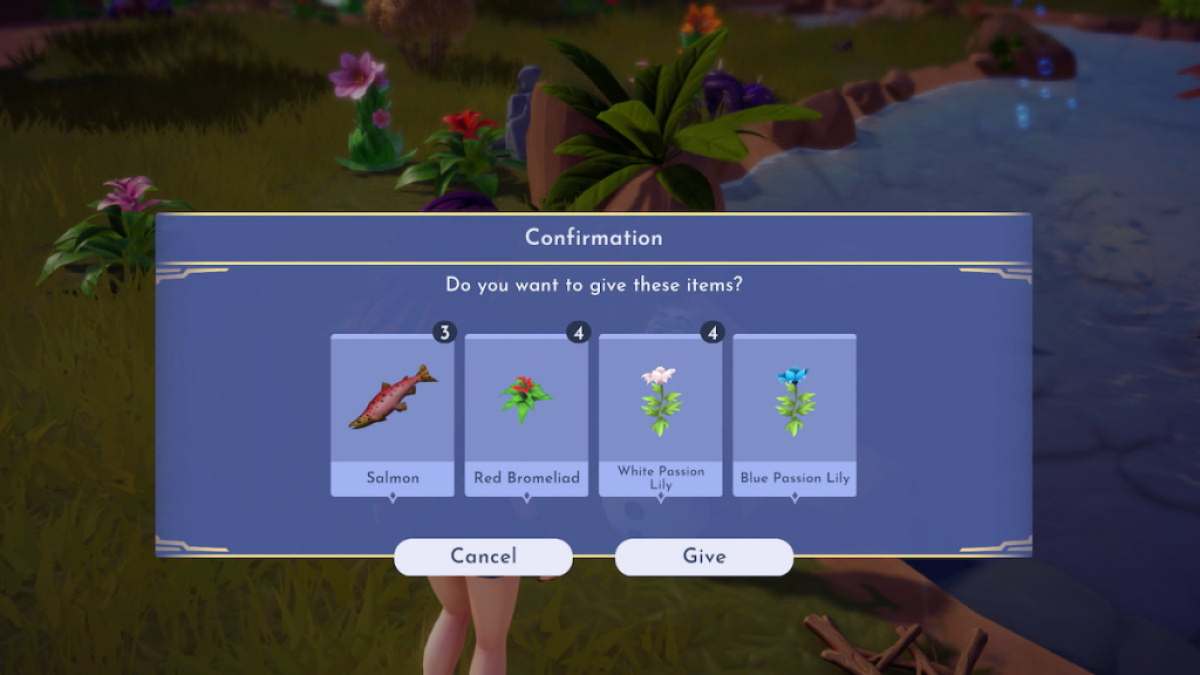 After you complete the Great Blizzard to bring Olaf back to the valley, the second quest will unlock. Here, you will need to speak to Olaf who will confide in you about his difficulties. He will tell you that bringing joy back to the valley has been difficult and would ask you to help him in his endeavor. Olaf will need you to collect the following gifts for the people of the valley:
Three Salmon
Four Red Bromeliads
One Blue Passion Lily
Four White Passion Lilies
You can find the Salmon from either the Frosted Heights or the Sunlit Plateau. Simply use your fishing rod to catch the fish from the white circles in the pond. You can collect both the White and Blue Passion Lilies from the Frosted Heights biome. To get the Red Bromeliads, you need to go to the Sunlit Plateau.
Related: How to complete Healing House in Dreamlight Valley (Mirabel Friendship Quest)
After you have gathered all the items Olaf asked you to, go back to him. He will make a beautiful bouquet with the flowers. Olaf wants to give the gifts to Mother Gothel and Scar, but is little confused about it. He will give the fish to Mother Gothel which won't make her happy. As for the flowers, you will give them to Scar on behalf of Olaf. Scar will not be happy to see the flowers either.
How to build the stage for Olaf in Disney Dreamlight Valley
Now that you are done with this, head back to the bridge in Sunlit Plateau to meet Olaf and tell him about Scar's reaction to the gift. Olaf will be little sad because all he wanted was to make them happy but the gifts did not work as he hoped. Here you will find a memory, pick it up and you will see Olaf on the stage storytelling. Olaf wants to take the stage as a storyteller once again and you will help him do that. You will need to build the stage in the Frosted Heights biome; for that you require:
18 Softwood
A Curtain
Four Rope
Four Iron Ingot
You can find Softwood easily by foraging the ground in the Plaza, Glade of Trust, and the Peaceful Meadow. You can also buy Softwood from Kristoff's Stall in the Forest of Valor. To get the curtain, simply go and talk to Minnie about it. For Rope, you will need lots of Fiber and Seaweed, which is a crafting material to make more Fiber. To make one Iron Ingot, you need five Iron Ore and one Coal Ore. You can either craft four Iron Ingots or purchase them from Kristoff's Stall if it's unlocked.
Once you have all the items, head to a crafting station to build the stage. When you are ready with the stage, give it to Olaf which concludes the quest.
To find out more on Disney Dreamlight Valley check out, How to complete A Story to Tell in Disney Dreamlight Valley (Olaf Friendship Quest) on Pro Game Guides.