Disney Dreamlight Valley introduced some Halloween-themed quests with their first update. Unfortunately, there's not much description for these quests. Don't worry, we can help. Here is where you can find the Sugar Rush quest in your Dreamlight Menu and how to complete it.
Disney Dreamlight Valley Sugar Rush quest guide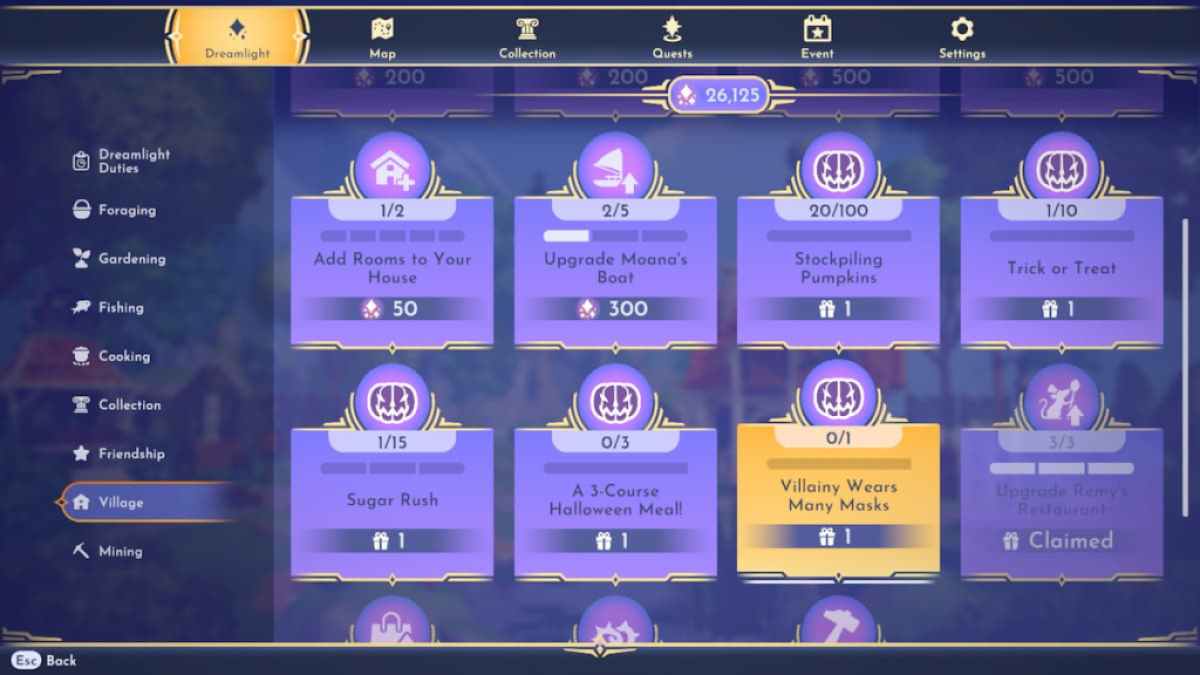 The Sugar Rush quest can be found in your Dreamlight Menu. You'll need to select Village on the left side of the screen. If you scroll down, the Halloween quests are at the bottom of this screen.
Related: Does Disney Dreamlight Valley have an update schedule?
You'll need to eat 15 pieces of Candy to complete the first stage of this quest. Candy is made by cooking one of the following ingredients by itself: Cocoa Bean, Sugar Cane, or Vanilla. Eating Mint Candy will work for this as well. The second stage requires you to eat another 15 pieces of Candy. For the last stage, you'll need another 15 pieces of Candy, for a total of 45.
Your reward for eating all that candy (and nearly giving yourself a stomach ache) is a Happy Jack-O'-Lantern, a Mischievous Jack-O'-Lantern, and a Friendly Jack-O'-Lantern. Once you complete this quest, all of these can be found in your Furniture Menu. You can place it either outside in your Village or inside your house.
Looking for more help in Disney Dreamlight Valley? Check out How to cook Greek Pizza in Disney Dreamlight Valley and How to make Lobster Roll in Disney Dreamlight Valley here at Pro Game Guides.