I'm always anxiously craving fresh content for Dreamlight Valley, knowing there are so many secrets to be unveiled and characters to make appearances. The Dreamlight team is constantly hinting at new, exciting features to come, including huge additions with Update 5. So, when can you anticipate all this exciting content to arrive in the Valley? Read on and find out.
Is there an update schedule for Disney Dreamlight Valley?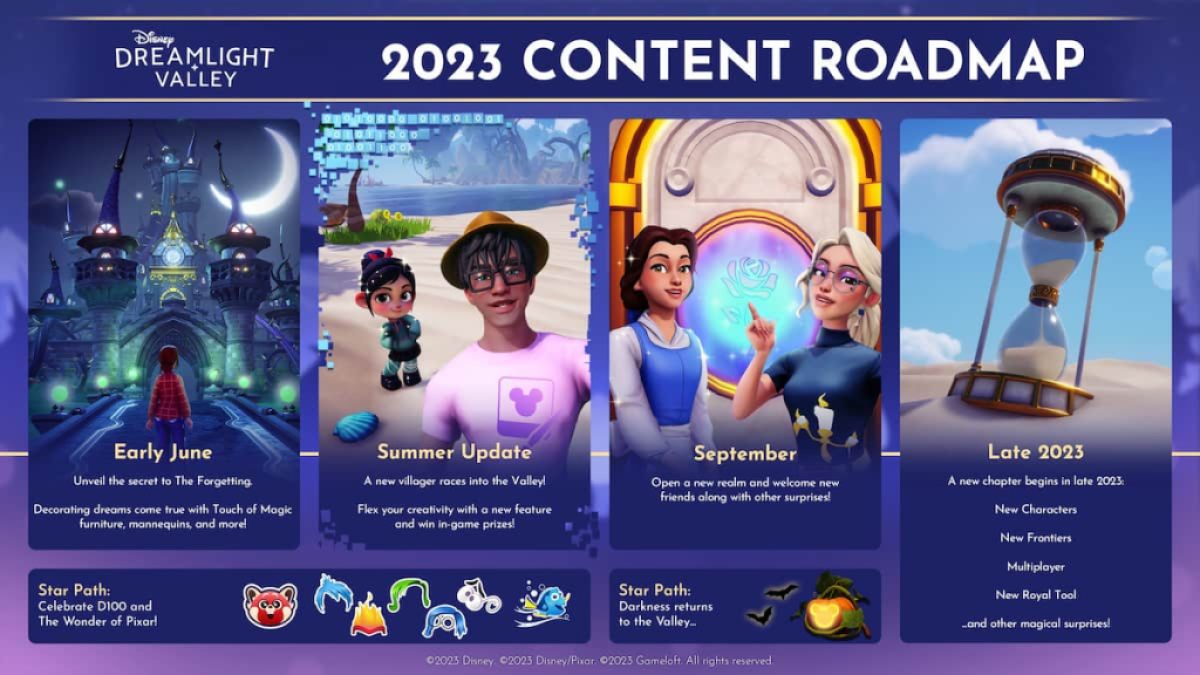 The Disney Dreamlight Valley team posted a roadmap for the first half of 2023 on their Twitter (hyperlinked here) earlier this year, and now we have the second half of that roadmap with what we can expect in the next upcoming months. While it gives a broad overview of the content that we may be able to expect, it does not give official dates or a specific list of new content that will be included. It does, however, give us some clues.
This is what we speculate that update schedule will look like:
June: Update 5 - Touch of Magic furniture, mannequins, Pumpkin House & Fairy Godmother, "The Remembering" quests
July-August: Summer Update - Vanellope, rewards, and in-game prizes for creations
September-October: Beauty and the Beast realm, Belle, and more Beauty and the Beast characters, and a Halloween Star Path
November-December: A whole new Chapter - new characters, new frontiers/biomes, Multiplayer mode, new royal tools, and more
Disney Dreamlight Valley 2023 Update Release Date Speculation
The most exciting update to come right now is their Update 5, which they announced will release in early June. We can assume this means the first two weeks of June. They have told us via their Twitter that this update will contain the biggest story update yet, meaning all those story secrets about The Forgetting will come full circle. This update will include the most anticipated reveal of the Pumpkin House, along with its owner, which we now know is the Fairy Godmother from Cinderella. Although we are still left in the dark on whether that will include more Cinderella characters or not, we can certainly count on a new Star Path, The Wonder of Pixar, which will feature Pixar-themed rewards.
After Update 5, we can expect more goodies to quickly roll into the Valley as well. Players will be rewarded with in-game prizes for the beautiful creations they are making for clothes and furniture. We will meet Vanellope in the Valley for the summertime. Then at the end of summer, in September through October, a Beauty and the Beast realm will arrive. We can expect this to mean plenty of new characters, like Belle, new recipes, furniture, and more. Halloween brings more spooky-themed prizes in another new Star Path.
Related: Dreamlight Valley 'A Friendly Exchange' not progressing? Bug workarounds
We're probably most excited about the very end of the year when we will finally get that Multiplayer mode so we can interact with friends and decorate our valleys together. Since Update 5 means a conclusion of The Forgetting storyline, this means we will also see a whole new chapter of our stories in the Valley, with new frontiers or biomes, new royal tools, and plenty more characters.
When does Disney Dreamlight Valley usually get updates?
Disney Dreamlight Valley is updated for small fixes and bugs more regularly. However, for big updates, if past updates are anything to go by, the game should update around one to two weeks after the most recent Star Path ends. They have already announced Update 5 is coming in early June, so we can expect a new Star Path around this time as well. The following big updates will most likely be spread out and not arrive until a month or two gap after Update 5. Stay tuned for more details!
Need some help with Disney Dreamlight Valley? Check out Can you build more chests in Disney Dreamlight Valley?, Disney Dreamlight Valley – How to get Star Coins quickly, or Disney Dreamlight Valley – How to get Moonstones here at Pro Game Guides.