The Lobster Roll is one of the delicious five-star meals in Disney Dreamlight Valley. To make a Lobster Roll, you must unlock a few areas to find the ingredients, but it's well worth it to cook the amazing five-star meal for yourself or a friend.
Lobster Roll Recipe Disney Dreamlight Valley
The recipe for a Lobster Roll in Disney Dreamlight Valley is:
One Lobster
One Butter
One Garlic
One Lemon
One Wheat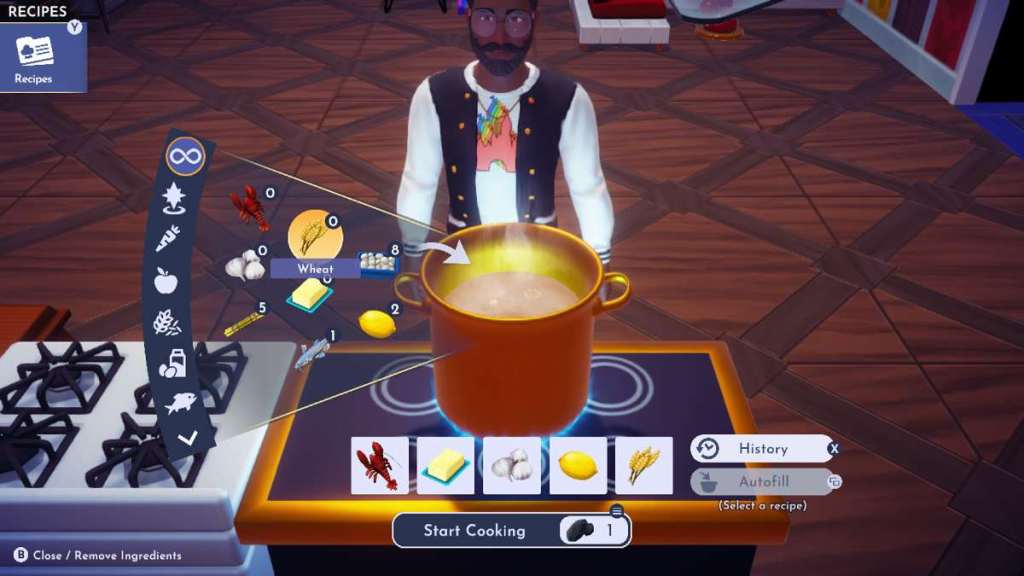 These ingredients can be found or purchased in different locations around Dreamlight Valley. Here is where to find each ingredient for the Lobster Roll recipe.
Where to find Lobster in Disney Dreamlight Valley
Lobsters can be found by fishing in the Glade of Trust. Lobsters are usually found by fishing in spots with gold bubbles, but it is possible to catch one by fishing in blue or white bubbles as well. Having a companion with the fishing role will also help you to catch more Lobster.
Where to find Butter in Disney Dreamlight Valley
You can purchase butter from Chez Remy. To unlock Chez Remy, you must first unlock the Ratatouille realm and progress through Remy's questline enough to build Chez Remy. After building the restaurant, you will have access to his pantry, where you can buy butter for 190 coins.
Where to find Garlic in Disney Dreamlgith Valley
Garlic can be found on the ground in the Forest of Valor. Garlic appears as little sprouts coming out of the ground, so they can be easy to miss. After progressing through Merlin's quest, you can unlock the Forest of Valor with Dreamlight.
Where to find Lemon in Disney Dreamlight Valley
You can find lemon on Lemon trees located in the Glade of Trust and the Forest of Valor. After picking lemons, they take about 15 minutes to respawn on the tree.
Where to find Wheat in Disney Dreamlight Valley
Wheat can be purchased from Goofy's Stall in the Peaceful Meadow or can be grown after finding Wheat seeds from scavenging or digging. Wheat is pretty easy to find and cheap to buy in case you don't have time to wait for seeds to grow.
For more Disney Dreamlight Valley recipes, check out How to make Cherry Pie in Disney Dreamlight Valley or How to make Zucchini Puffs in Disney Dreamlight Valley here on Pro Game Guides.