With the Lion King update comes a ton of new Lion King-themed features, including recipes, crafting goods, and of course, Nala and Simba. You can now visit the jungle, interact with Simba and Nala, and eventually welcome them home into the Valley, but you'll need to first enter their realm and complete a few quests. Here's how to unlock Nala.
How to unlock the Lion King Realm in Disney Dreamlight Valley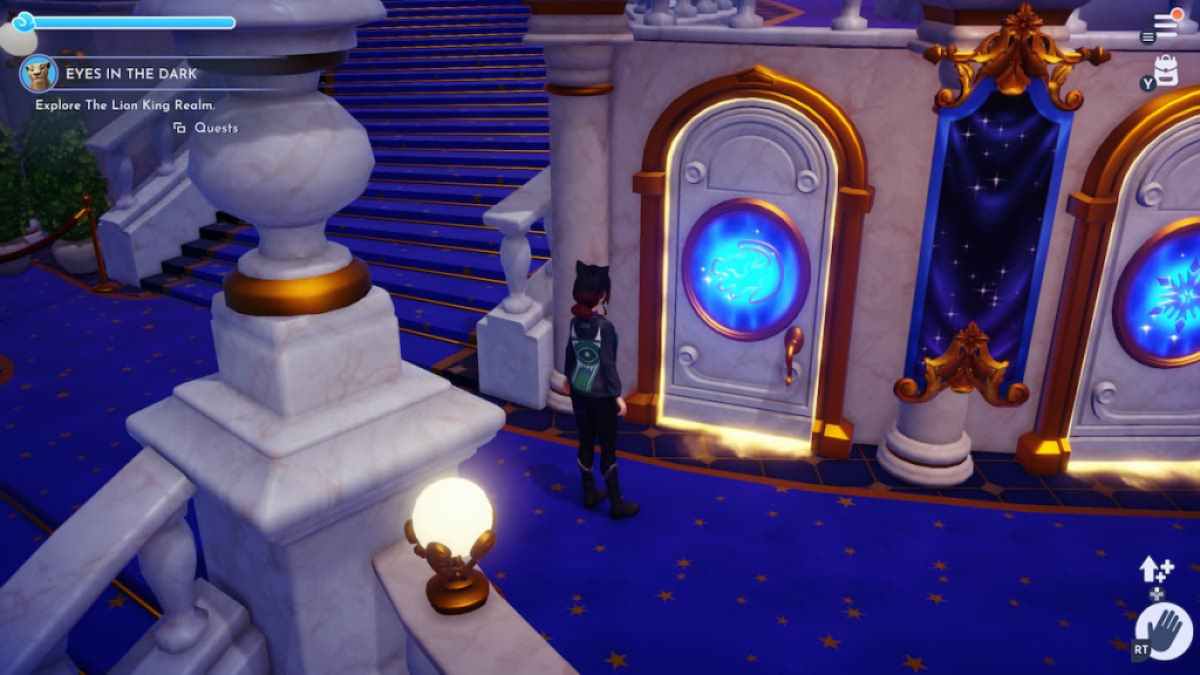 To begin completing Lion King quests, you will need to head to the Dreamlight Castle and locate the locked door to their realm. This will have the Lion King symbol on it with thorns growing over it, just like the others did. To unlock the realm, you will need to use 10,000 Dreamlight. You can earn some Dreamlight quickly by completing some of your Dreamlight Duties, which are usually simple tasks like cooking, fishing, or harvesting items. Once you unlock it, you immediately begin the "Eyes in The Dark" quest. Completing it will allow you to bring Nala back to the Valley. Here's how!
How to complete Eyes in The Dark Quest in Disney Dreamlight Valley
Enter the Lion King Realm, and you will see Nala standing there. You can talk to her to begin completing tasks for the quest Eyes in The Dark.
You've got six steps in the Eyes in the Dark quest to finish it:
The first step is digging out dried thorn bushes.
How to dig out dried thorn bushes to find Thorn Bush Seed in Disney Dreamlight Valley
You will need to collect some seeds to grow a thorn bush and keep the Hyenas at bay. To do this, equip your shovel and use it to dig up the bushes you see around the edges of the dried oasis. Little seed bags will drop onto the ground as you do, and you can step into them to collect them.
Once you have them, you can plant the seeds in the holes that are already provided by the ledge.
Click on the five holes near the ledge and place the thorn bush seeds into them. Then, switch to your watering can and water each one until they grow.
Nala will return for you to speak to her, and then she'll ask you to clear the way into the cave so you can head to the jungle. Switch to your shovel again and break the large stumps in front of the cave entrance. Then you can head on through to get to the jungle. However, Simba is not here. You will need to search further. Nala will ask you to lower the log near the waterfall so you can continue.
How to lower the log near the waterfall in Disney Dreamlight Valley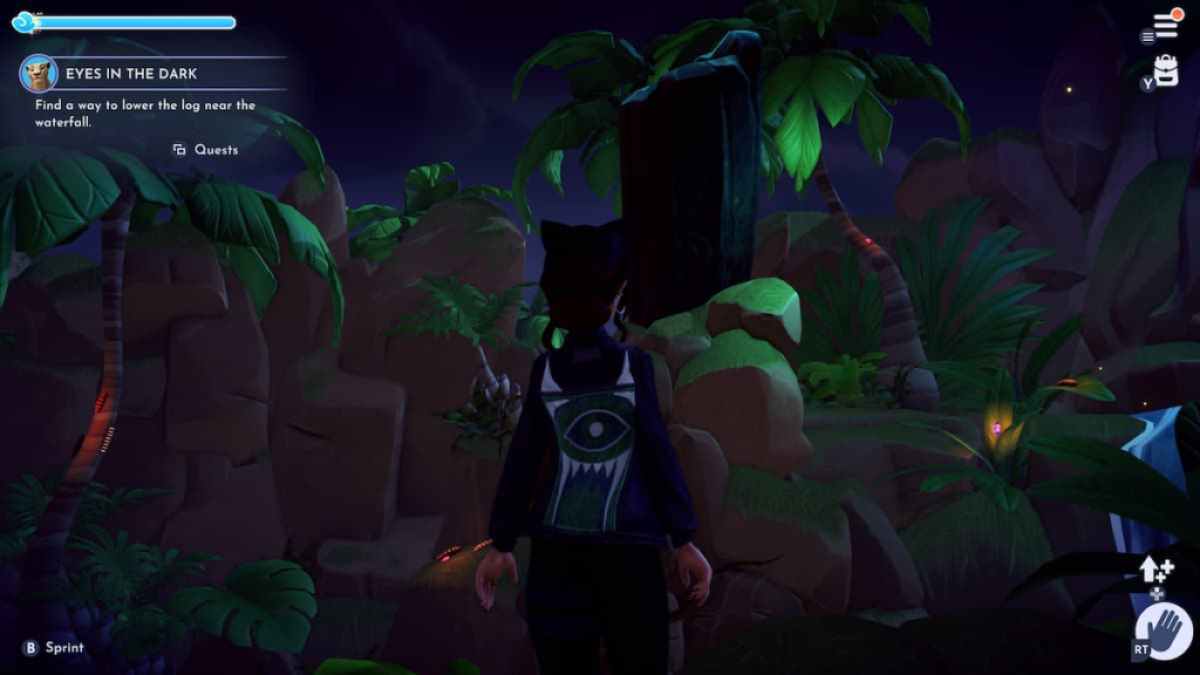 If you walk up the hill directly beside the waterfall, you will see the log if you look up across from you. There is no way to knock it down from this angle, however. To do this, you will need to equip your pickaxe, walk down and around the bottom of the log, and break the rock underneath it. This will allow the log to drop down and create a bridge further into the jungle.
Here you will find Simba at last. Speak to him and then follow him back to Nala so they reunite. Nala will complain that she is hungry at fending off the Hyenas, so Simba will ask for your help to prepare some food for her. You will have to collect three different types of bugs.
Related: Easiest Energy Restoring Dishes to Cook in Disney Dreamlight Valley
How to collect Colorful Bugs, Slimy Bugs, and Red Bugs in Disney Dreamlight Valley
The Colorful bugs are found in the dried oasis. If you haven't already collected some, you'll need to head back there and equip your shovel. You will find little dig spots around the outer edges of the oasis. Dig them up to grab the Colorful Bugs that fall onto the ground. Once you have them, head back to Nala and Simba.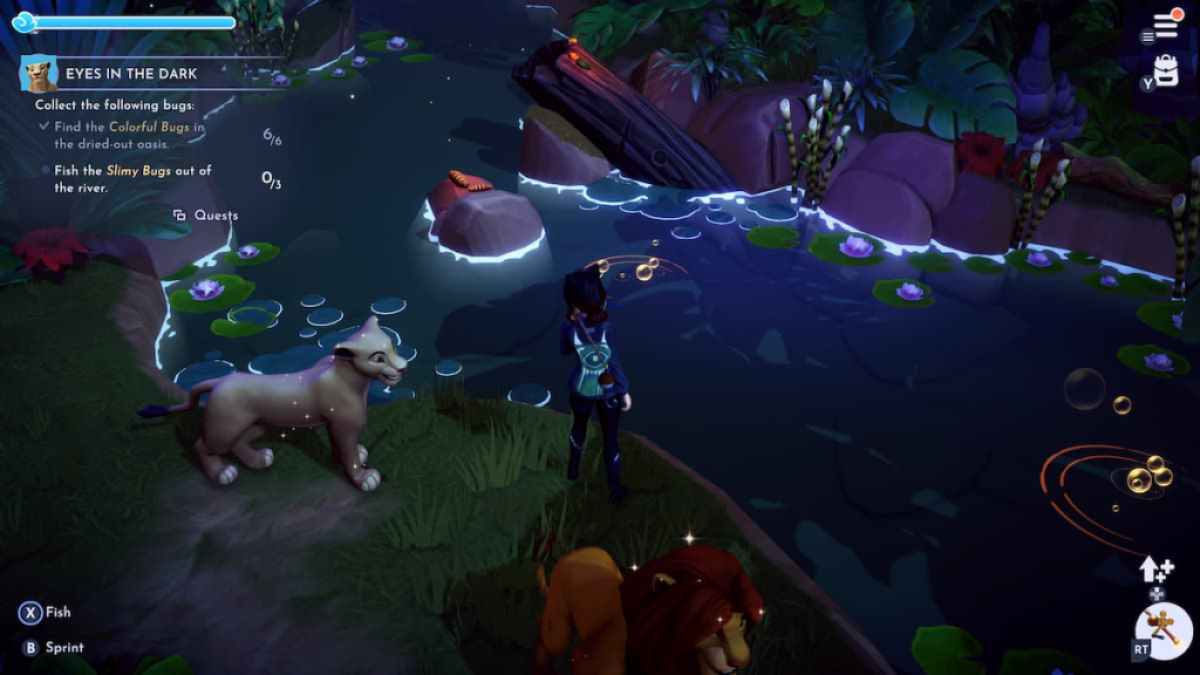 The Slimy Bugs are found in the river directly behind Nala and Simba. They are marked by gold fishing spots, and you can easily equip your fishing rod and cast it into each gold spot to pull them out.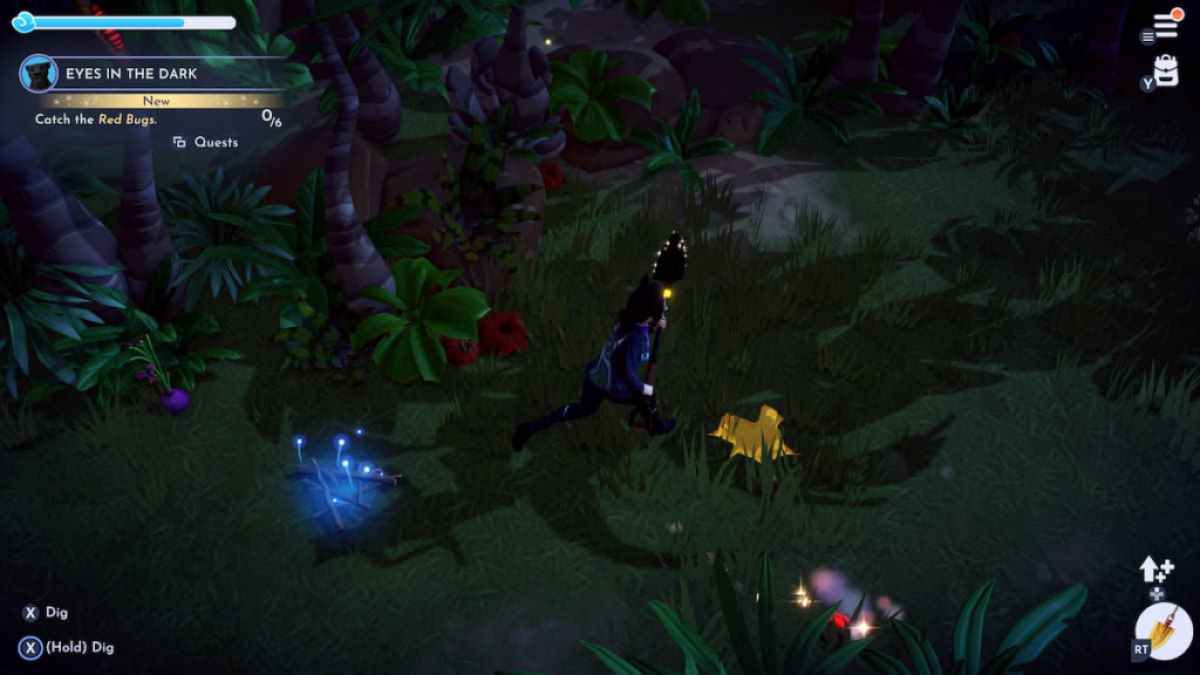 The Red Bugs are the hardest bug to catch because they will require you to chase them. Equip your shovel and then head over the log bridge further into the jungle. Here there are several large tree trunks you can dig up that will eventually release the Red Bugs. You may have to dig up a few before you find them. Once you do, the bugs will be highlighted with sparkles on the ground and immediately start running around the area. Put away your shovel, chase after them, and press your interaction button to catch them. A on Xbox and Switch, X on PlayStation, and E on PC.
Once you have them, you can return to Simba, and he will ask you to cook them up into some Bug Platters. There is a cooking station just to the left of Simba and Nala that you can use.
How to make Bug Platters in Disney Dreamlight Valley
Making the Bug Platters has to be exact since you won't have a second chance to get more Red Bugs. Thankfully, the game won't allow you to make any mistakes. You can open your Recipes, and it will display the Bug Platter right there for you to copy. You need to make three of them, so copy this recipe three times:
Colorful Bugs x2
Red Bugs x2
Slimy Bug x1
Cook those up and then give them to Nala to feast on. After this happens, you will hear more Hyenas getting in, and Nala will ask for your help, trying to scare them away. You will have to return to the Valley to speak to Scrooge now. He will give you a broken Sound System you can use to scare them, but you'll need to repair it.
How to repair the broken Sound System in Disney Dreamlight Valley
To repair the Sound System, you will need these materials:
Softwood x10
Hardwood x10
Iron Ingots x2
You can find these materials spread around the Valley if you don't already have them. Softwood is on the ground in Peaceful Meadow and the Plaza, Hardwood in the Forest of Valor or Glade of Trust, and to make Iron Ingots, you can harvest ore from Glade of Trust or Sunlit Plateau. Take those to a crafting bench, craft your ingots first from your ore, and then repair the Sound System. It should show up if you have all the materials.
Now you can take the repaired Sound System back to the Lion King Realm and give it to Nala. Nala and Simba, with your help, scare away the Hyenas, and now Nala is interested in returning to the Valley. You'll first need to place down Pride Rock home in the Valley for her to return.
How to build the Pride Rock Home in Disney Dreamlight Valley
Head back to the Valley, open your inventory and furniture menu, and you'll find it available under quest items. Once you place it down, however, you'll need to purchase the construction from Scrooge. This will cost you 15,000 Star Coins. If you don't have that, there are some ways you can earn some Star Coins quickly. The best way would be to head into the mine in Sunlit Plateau, grab some gems and sell them. After you build the house, Nala will automatically be welcome into the Valley! Now it's time to get the Lion King, Simba.
Looking for more Pro Game Guides Disney Dreamlight Valley content? Check out our guides on How to run faster in Disney Dreamlight Valley or Disney Dreamlight Valley Patch Notes – April 2023 Lion King Update!