In Dwarf Fortress, Agriculture is one of the many ways you can provide for your Dwarves, growing food and materials from the earth. There's underground crops, above-ground crops, and some you can grow on both sides of the surface. But almost all of them need seeds, and that's where some difficulties can arise. Here's the best ways to get seeds in Dwarf Fortress
Embark with seeds
The simplest way to get seeds is to embark with them. If you're planning on farming in any capacity, bringing along 20-100 seeds is a good idea for each crop. As seeds only cost a single embark point, you can often afford to take a large amount in your starting wagon.
Gathering plants and fruit
Some seeds, such as rock nuts and others, can be found just by gathering plants in the overground and caverns below your fortress. This is a great way to get a consistent supply of food, seeds, and other materials early in the game.
Brewing drinks out of fruits and plants
When you brew a drink in Dwarf Fortress, you'll generate seeds from the ingredient you drink out of. This means brewing any drink from fruit or plants will generate large numbers of seeds. Since your dwarves need a lot of alcohol to function, this is a good way to get seeds.
Instructing dwarfs to eat uncooked plants and fruit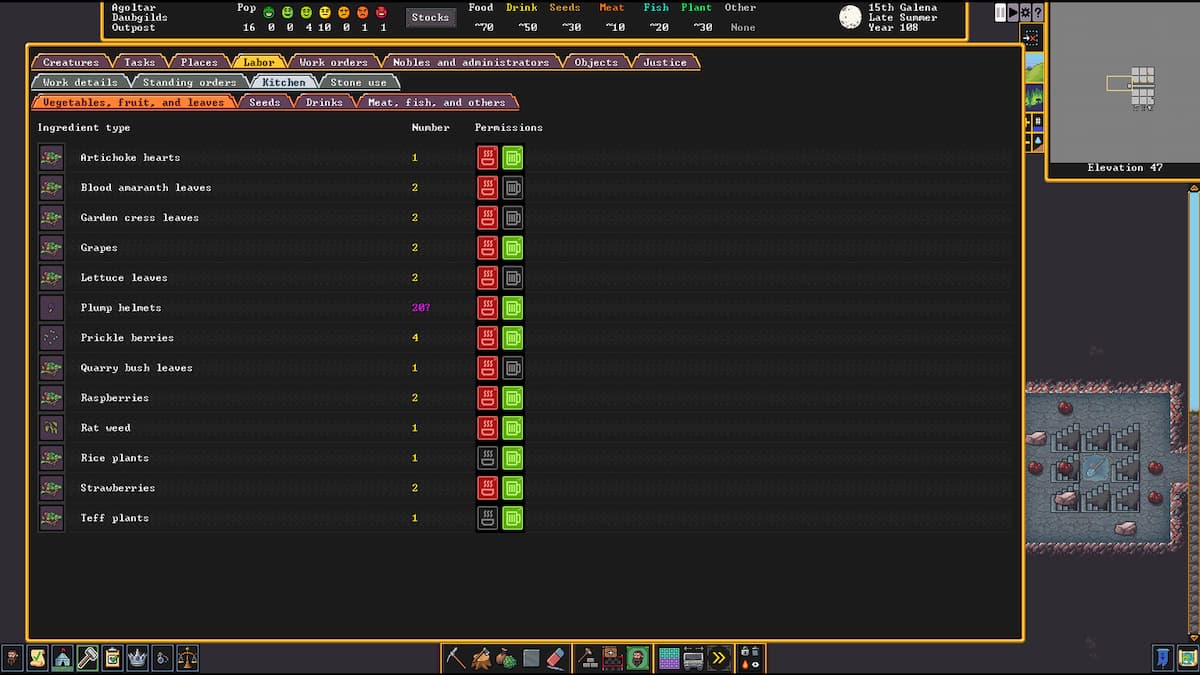 If a dwarf eats uncooked food, there's a good chance it'll leave seeds behind. You can do this by designating these items as non-cooked in the Kitchen sub-menu of the Labor menu. One issue with this is that dwarves will often just leave seeds where they fall, as they see them as low priority. A way around this is to designate a specific Seed stockpile, and put it close to any farm plots you might have.
Trade
Trade is a great way to get new seeds, especially of varieties you might not be able to find locally. Humans, elves, and dwarves sell seeds, and you can also request them if you have a trading liaison. This is probably the most expensive way to get new seeds, though.
Farmer's Workshop
By processing plants in the Farmer's Workshop, you will generate seeds. This is used to create products such as pigtail threads, ropes, clothes, and other weavable plants. The seeds here are very useful for making more crafting materials.
Milling
Using a Quern and later, a Millstone (once you can power it), you can mill plants into powders. When milling, the powder product and the seeds will be left behind. This is one of the more complex ways of getting seeds, but another guaranteed way of producing them.
General seed and farming tips
Plants grow in seasons, and seeds will need to be sown at the start of the season for best yield. You can check the month and the date at the top of your screen. The seasons are listed below:
Spring - Granite, Slate, and Felsite
Summer - Hematite, Malachite, and Galena
Autumn - Limestone, Sandstone, and Timber
Winter - Moonstone, Opal, and Obsidian
In temperate climates, you might be able to grow all year round, but in colder or hotter biomes, it might be impossible to grow in the hot summers or cold winters. Underground crops are not as affected by these seasons.
For more Dwarf Fortress guides and info, check out the Best Mods for Dwarf Fortress on Pro Game Guides.