It's time to take the culinary world by storm in iOS and Android mobile game Eatventure! You'll start out with just a lowly lemonade stand, but soon you'll click your way to a food stand and eventually a restaurant. Can you be the envy of your friends as you create the greatest eatery in town and wow them with the Legendary items you uncover in your treasure boxes?
The Eatventure codes you can find below can give you both free Cash and Gems. Cash can be spent to immediately improve your current store, while Gems can be used in the game's online store to pick up anything from Cash and Gem Boosters to Small and Bix Boxes full of cool items you can customize your avatar with for even more bonuses. If you're looking for more codes for mobile games, check out our Epic Seven Livestream Gift Codes.
All Eatventure Codes List
Eatventure Codes (Working)
These are all the working Eatventure codes.
DISCORD-2023—Redeem for 20k Cash and 200 Gems (New)
Eatventure Codes (Expired)
These are expired codes for Eatventure.
REDDIT-CREW—This code has expired.
Related: Fallout 76 Nuke Codes
How to redeem codes in Eatventure
Follow the instructions below to redeem codes in Eatventure.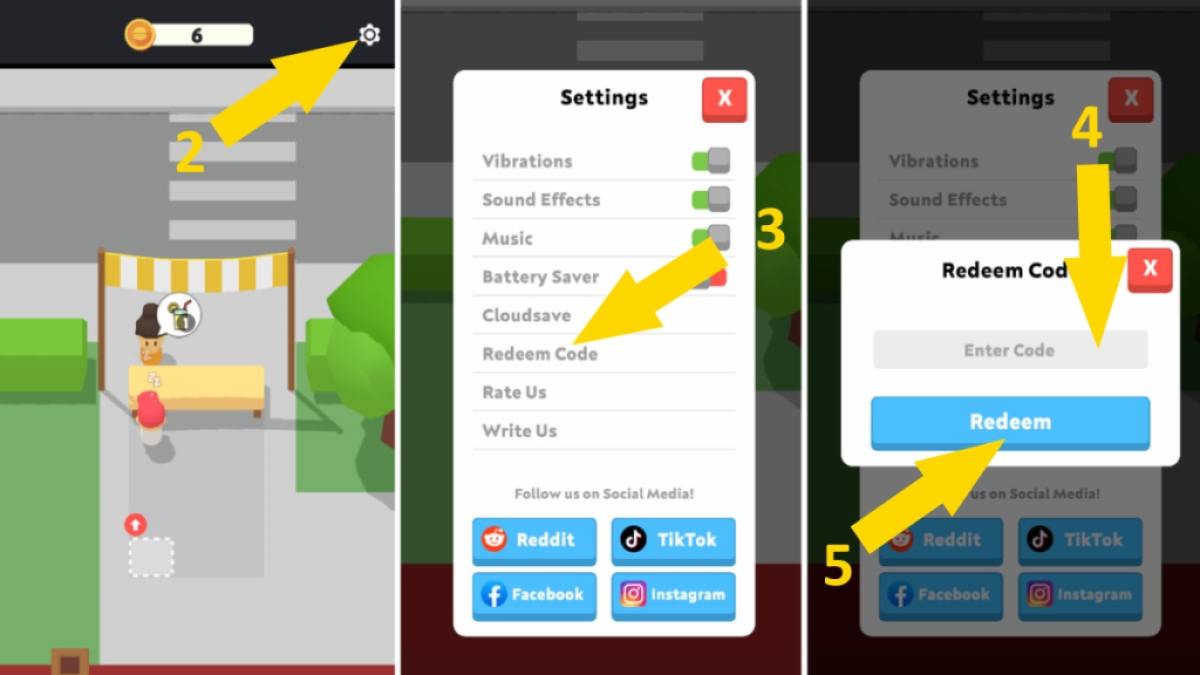 Launch Eatventure on iOS or Android.
Press the Settings cog button at the top right of the screen.
In the Settings menu, click the Redeem Code button.
In the text box that says Enter Code, enter the code exactly as it appears in the list above.
Press the blue Redeem button to claim your reward!
How can you get more Eatventure codes?
We regularly keep an eye out for new Eatventure codes, but if you want to look for your own you can check out the Eatventure Discord Server and join the official Eatventure subreddit. You can also like Eatventure on Facebook, follow eatventuregame on Tiktok, and follow eatventuregame on Instagram.
Why are my Eatventure codes not working?
If you've tried to enter one of our Eatventure codes and it is showing as invalid, first check for typos. Many codes are case-sensitive, so a capitalization error will make them fail. Equally, it is easy to mistake a number for a letter if you're not cutting and pasting a code directly from here. If you've definitely inputted it correctly, unfortunately, it has probably expired. In his case, we can't help, but please check back soon for new codes!
Other ways to get free rewards in Eatventure
If you're looking for more free rewards in Eatventure, start by looking out for a blue button in the middle-bottom area of the screen between the Renovate and Upgrades buttons. When you click the Boost button, you'll have to watch a short video, but afterward, you'll receive a five-minute 2x Boost to your collection speed. Also, once you get opening your Food Stand, you can claim a free daily cash prize in the Store.
What is Eatventure?
Eatventure is an iOS and Android mobile phone clicker game, where you click on the screen to improve your food outlet by adding new staff and food choices. As you level up you'll gain more customers, eventually upgrading to bigger and better food outlets where you can gain better prizes and items as you rise up through the restaurant ranks.
If you're looking for codes for other games, we have a ton of them in our Roblox Game Codes post! You can also get a bunch of free stuff via our Roblox Promo Codes page. And in the meantime, take a look at the latest news to stay up-to-date on all things entertainment.