Thanks to the work of George R.R. Martin and Hidetaka Miyazaki, the inhabitants of Elden Ring have a complicated family tree. While it's no golden broccoli of the sky, its many branches are no less impressive.
What is the Demigod family tree in Elden Ring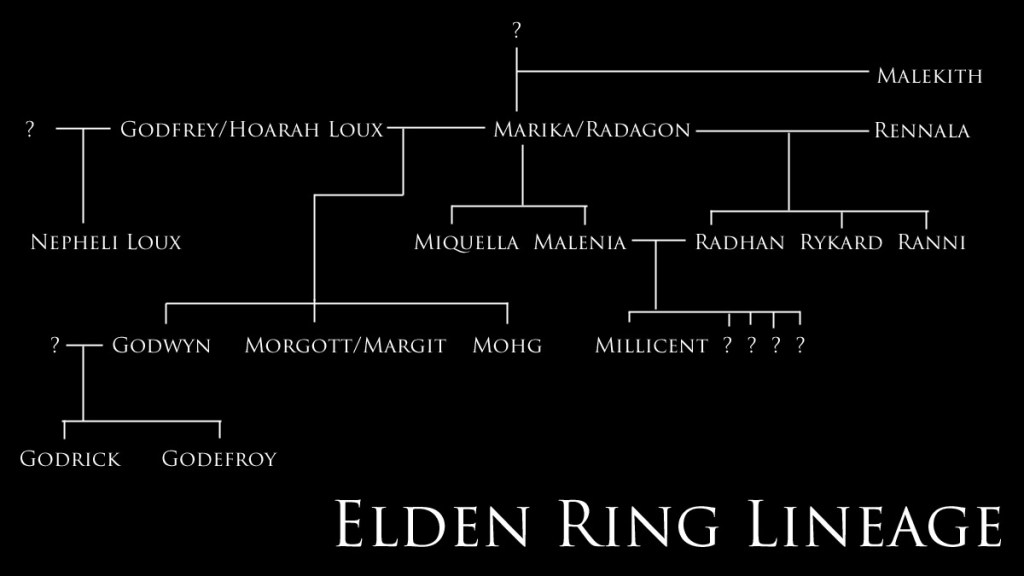 The Children of Godfrey and Marika
Godfrey, the first Elden Lord, was also the first husband of Marika. Despite being a great warrior for ages, he was eventually exiled by Marika because his warrior spirit had faded. Before his exile, he and Markia produced three children: Gowyn, Morgott/Margit, and Mohg. Godwyn was born a demigod and sired Godrick and Godefroy. Morgott/Margit and Mog were born as Omens.
Related: Elden Ring Weapon Tier List – All Elden Ring Weapons, Ranked
The Children of Radagon and Rennala
Though they were initially meant to go to war with one another, Radagon and Rennala fell in love. Their union bore three demigod children, as Radagon was a god. When Marika cast aside her lover Godfrey, she ordered that Radagon return to her and, thus, he did. Marika then took in Radhan, Rykard, and Ranni as her stepchildren.
The Children of Marika and Radagon
Marika and Radagon are actually one in the same. They are a singular god that can split themselves into two. Their pairing produced Malenia and Miquella.
For more Elden Ring goodies, check out What is the main progression route in Elden Ring? on Pro Game Guides.