In Elden Ring, players will come across several weapons, including those they start with after choosing a class. A Longbow is one of the range weapons players will find early on in-game, and it will need Arrows to function. If you selected a melee class like Samurai, the Longbow will be present in the Equipment tab.
Players will first need to obtain the Crafting Kit from Merchant Kale for 300 Runes to craft any item. Purchase both Cookbooks to open up more recipe options in the Item Crafting tab. Players will also need to hunt animals to acquire Thin Beast Bones, as it is the primary material to craft arrows. The following Arrows can be with the required materials:
Related: Where to find Alexander the Iron Fist in Elden Ring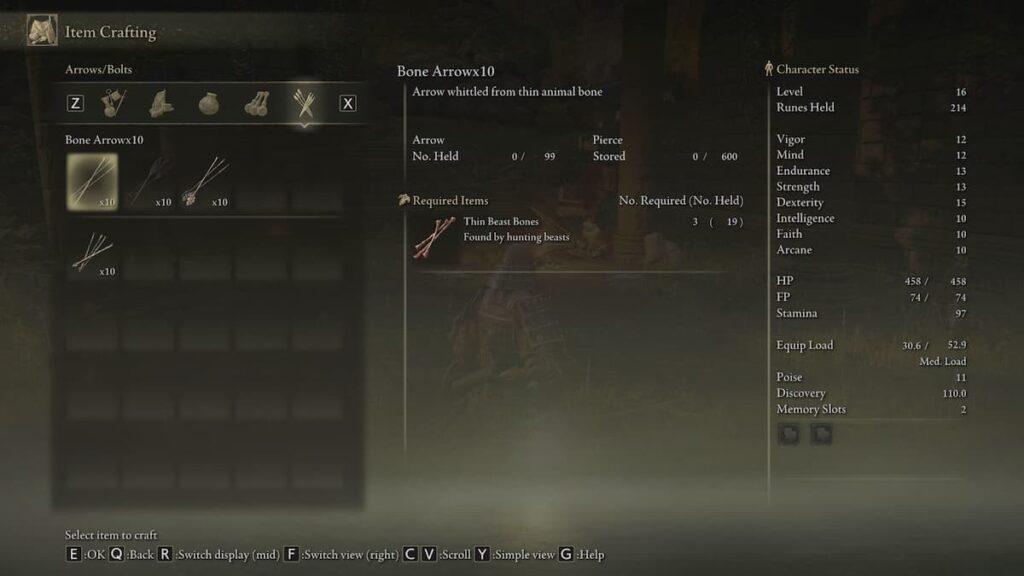 Bone Arrows - Three Thin Beast Bones
Bone Arrows (Fletched) - Three Thin Beast Bones and one Flight Pinion
Bone Bolts - Two Thin Beast Bones
Rainbow Stone Arrows - Three Thin Beast Bones and Three Ruin Fragments
You can also purchase arrows from vendors for 20 Runes, but it is ideal for learning how to craft them early on without wasting Them. Players will unlock more crafting recipe options for Arrows by obtaining various Cookbooks. Explore the map as often as possible to find different Cookbooks sold by vendors or found on the decayed bodies.
Wondering how to two-hand a weapon? Check out How to Two-Hand Weapons in Elden Ring — Two-Handed Weapons explained on Pro Game Guides.