Running schemes in Evil Genuis 2 can bring you large sums of gold, but if you neglect your heat levels, the forces of justice will put a stop to your entire criminal operations.
How to lower heat in Evil Genius 2
To manage your heat in Evil Genius 2, you will need to watch the levels as they increase and run purple schemes. Purple schemes are a special variant of schemes that lower your heat level. But, you will need money to run them, usually around 10k or higher. There are also ones that require three minions, but these take longer to complete.
The ones that cost money will lower heat levels instantly but will cost quite a lot, and you can find all of these schemes in the same locations on the world map as other ones. To start one, just find a purple icon and click start scheme to begin it.
After purple schemes, your next option to lower heat is researching tech that lowers the amount of heat generated, but other than that, your main method for lowering heat is purple schemes.
We also highly recommend saving money to do just that, but only in extreme situations. This is because If you let heat build up, it will completely shut down a criminal network on the world map and bring unwanted attention to your lair.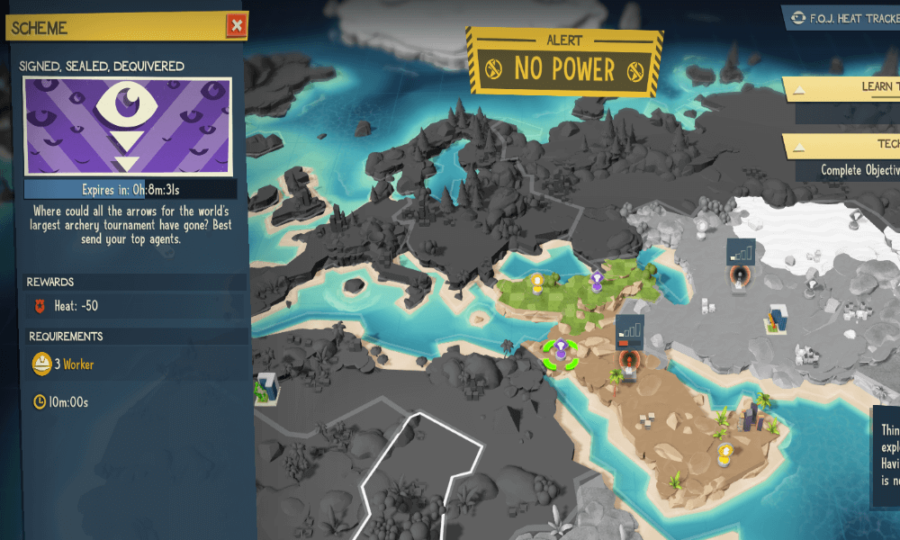 Due to this, you will need to manage how many schemes you run at once- we recommend only running the short schemes and managing the heat with the purple schemes that require minions for the best results.
We also suggest avoiding running too many at once until you are sure you can manage all of them. Because if you have too many networks running schemes, you will find yourself getting overwhelmed with agents, as one of them is bound to shut down from too much heat.
Along with this, you will need to watch out for super agents on the world map as they will attempt to intercept one of your schemes. If you let this happen, they will show up and cause havoc in your lair. Luckily it's really easy to tell where they are the map, just look for their model and don't run any schemes in that location and you will be fine.
Related: All cheats and commands in Evil Genius 2: World Domination
For more on Evil Genius 2, we at PGG will have you covered with guides like the one linked above, and more on the way this week.