One of the most requested features in Fall Guys arrives in Season 4. This is Fall Guys Creative Mode, where players can build and share custom levels. I've been dying to create my own rounds in Fall Guys and cannot wait to experiment and unleash my chaos through creation. However, Creative Mode can be overwhelming at first. Keep reading below for everything you need to know about Creative Mode in Fall Guys.
How to play Creative Mode in Fall Guys
Creative Mode is Fall Guy's level editor. This allows players to create levels, share them, and play levels created by other players. You have complete control over how you build your level, including what obstacles, platforms, and challenges Beans face.
You need to meet certain requirements, like having a starting line, a finish line, and completing the level. You also must stick to a budget, with each piece costing a certain number of points. Once you have reached your point cap, you cannot place more pieces.
How to create levels in Fall Guys Creative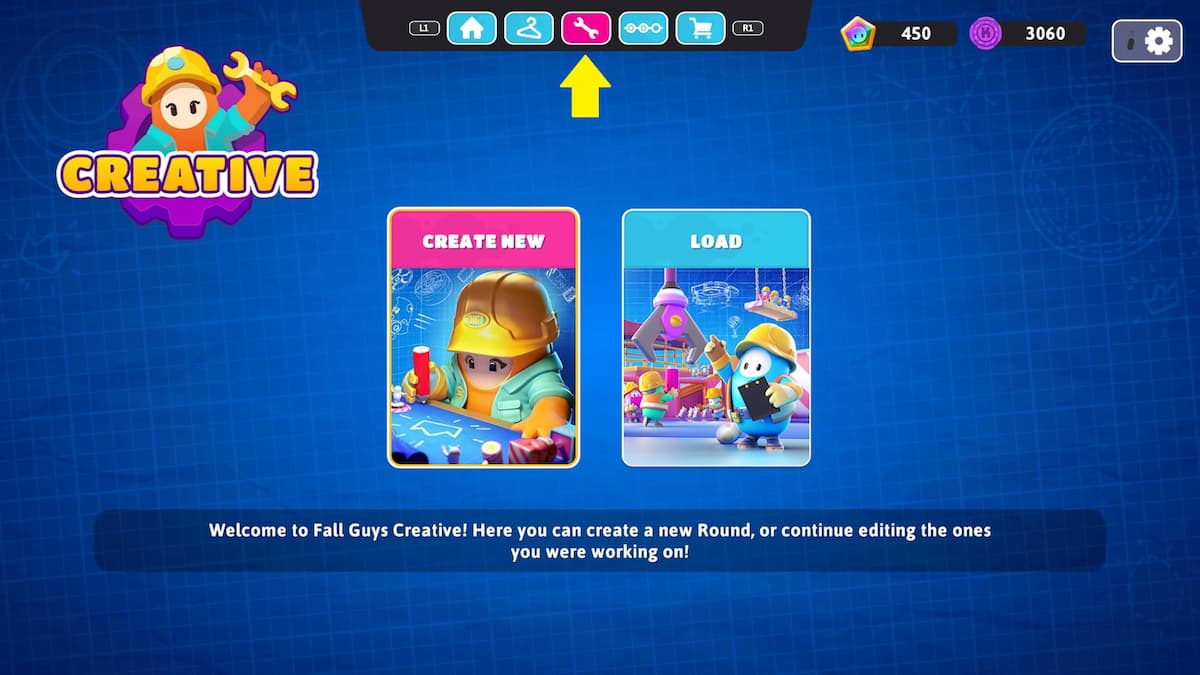 Navigate to the Creative tab, which is the Wrench tab. Select Create New and choose the type of level you want to make. You can also choose a theme. More types and themes will be added throughout the season, so expect more choices in the future.
When building your level, you can place pieces how you want, but they cannot clip into another piece. You can adjust the size and rotation of some pieces, as well as the speed and timing. Once you have completed your level, you must reach the end before publishing it.
All Creative Mode Pieces in Fall Guys
Parts in Fall Guys Creative are divided into different categories. This includes platforms, obstacles, decorations, blocks, and more. Many pieces can be adjusted in size, color, speed, rotation, and other characteristics. Here are all pieces and how much they cost in Fall Guys Creative Mode.
Related: 10 of the Rarest Fall Guys Skins
Platforms

Finish Line - Free
Checkpoint - 25
Start Line - 10
Padded Floor - 2
Basic Ramp (Custom) - 2
Slime Floor - 5
Conveyor Floor - 5
Cliff Platform - 25
Holey Half-Pipe - 15

Blocks and Barriers

Padded Wall - 2
Curved Edge - 5
Padded Block - 5
Basic Diamond- 3
Padded Semicircle - 5
Bumper Block - 5
Padded Pillar - 5
Padded Beam - 1
Speed Bump - 5

Moving Surfaces

Spinning Plate - 20
Rotating Beam - 20
Rotating Wall - 20
Fan - 20
See-Saw - 25
Slingus Flingus - 25

Obstacles

Swinging Axe - 20
Rotating Hammer - 20
Pendulum - 25
Thicc Bonkus - 50
Cannon (Floating) - 50
Blizzard Fan - 30
Punching Glove - 15
Turnstile - 50
Door Dash - 50
Bumper - 5
Drum - 10
Boom Blaster - 10

Decorations

Flag - 5
Sign (Arrow Helper) - 10
Rainbow - 25
Arch - 25
Cloud - 2
How to play Creative Maps in Fall Guys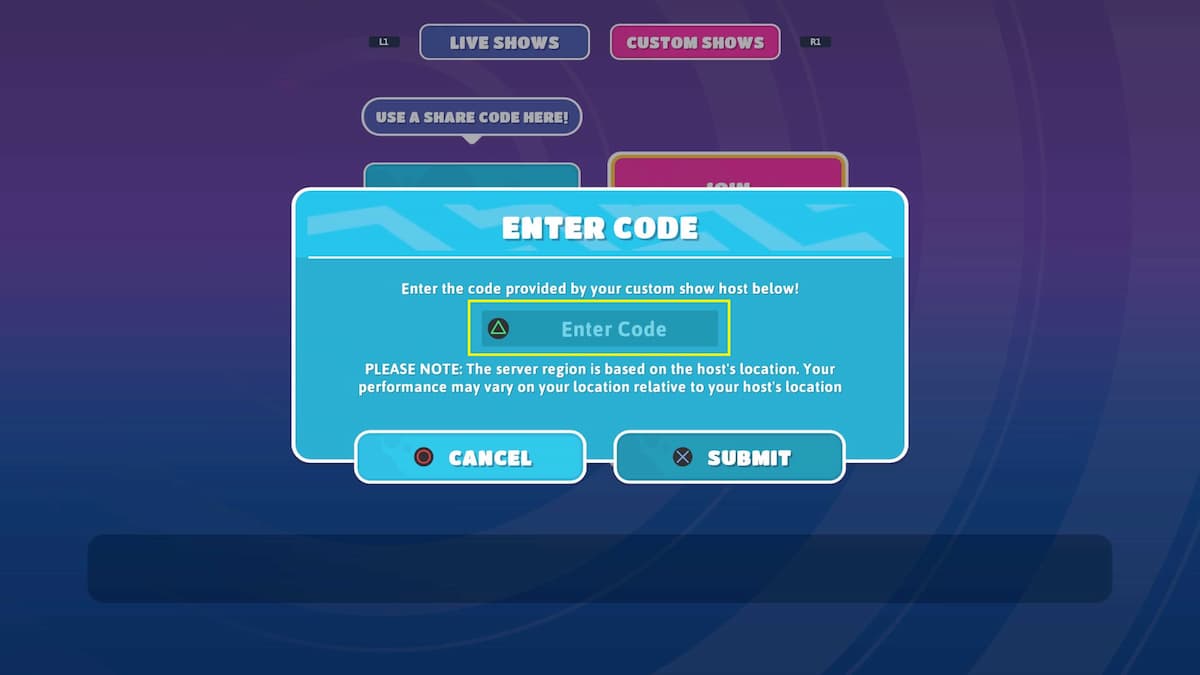 There are two ways to play Creative Maps in Fall Guys. The first is to use a share code from another player and load their map in a private lobby. The other method is to play through the Creator Round Playlist. You can also find specific creative shows the Creator Made Rounds, which change after a period of time.
How to share Creative Maps in Fall Guys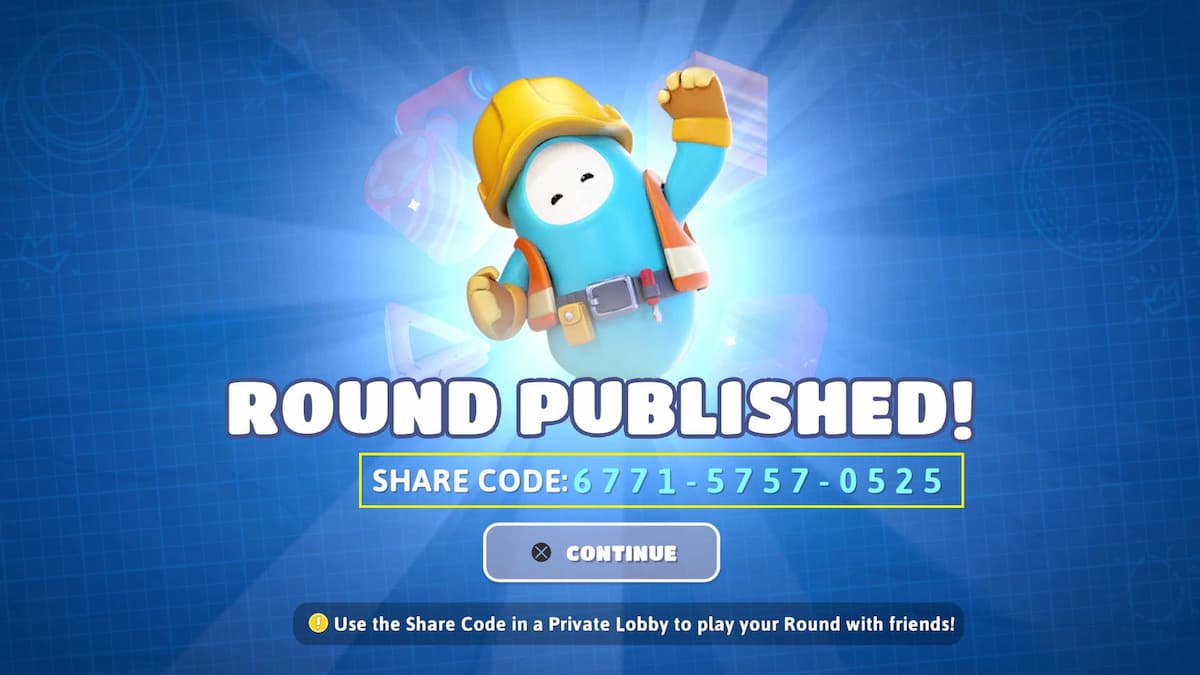 Once you have completed and published your level, you will receive a share code. You can use this code in private lobbies and play your level with your friends. Mediatonic will be curated a custom-level playlist and pull levels from the community as well. Feel free to share your codes with the community to get even more beans playing.
For more information on Fall Guys, check out How to change your name in Fall Guys and Fall Guys Penguins, explained on Pro Game Guides.