In Final Fantasy XIV Patch 6.3, a new dungeon, Lapis Manalis, was added. This dungeon sees you take on the mysterious and abandoned village of the Reapers, deep in the Garlean mountains. Here's our guide to clearing the dungeon.
Final Fantasy XIV Lapis Manalis dungeon guide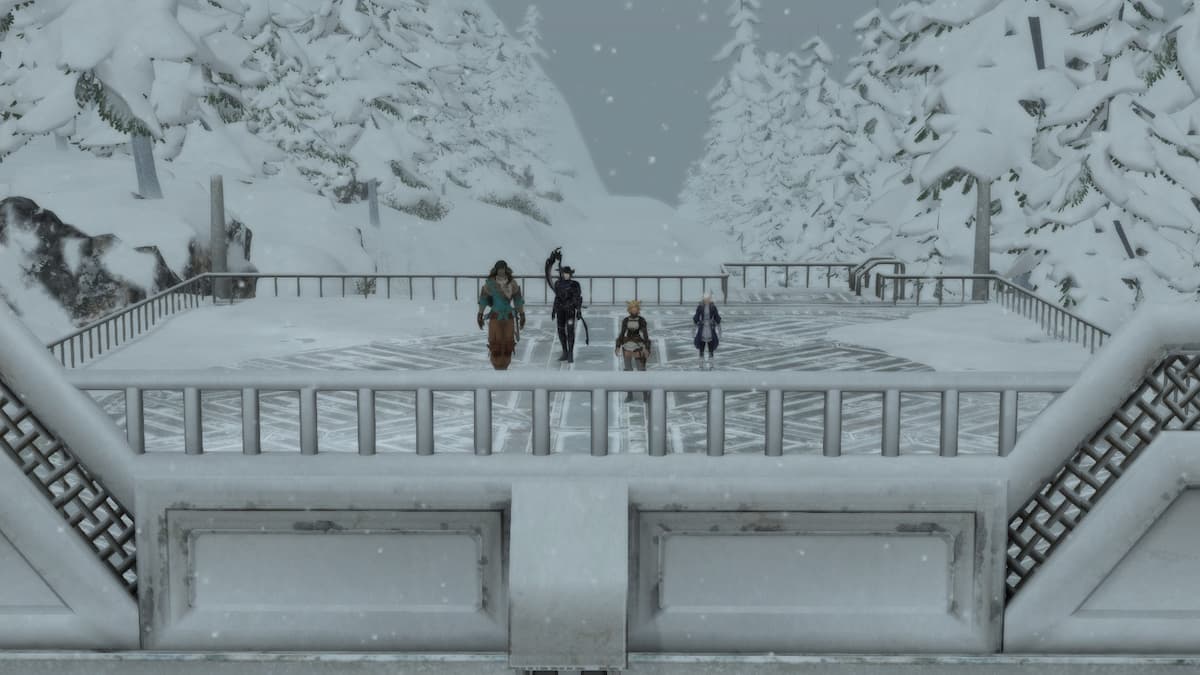 Lapis Manalis starts off with an on-the rails section with four mobs attacking the party. Tank and kill these, and then wait for a Griffin to appear. This Griffin has a number of attacks that can be interrupted with stuns, so keep your party out of AoEs. Then, it's on to the mountain. At the mountain, there are two more mob packs that can be tanked wall-to-wall before you meet the first boss, Albion.
Albion boss guide
A fearsome Albion blocks your path to the entrance to Lapis Manalis. It'll hit you with the following attacks:
Call of the Mountain: The screen shows the message "A rumbling in the distance draws closer..." will appear. A portion of the east or west wall will begin to have moving snow. A herd of animals will charge through the boss room. Avoid the animals to avoid being knocked up and taking damage. 
Albion's Embrace: Tankbuster
Left Slam / Right Slam: Half-room cleave
Knock on Ice: The boss summons three chunks of ice with red AoE markers
Icebreaker: The boss causes one block of ice to explode in a huge AoE
Icy Throes: Party AoE telegraph. Spread
Roar of Albion: AoE that needs to be broken with line of sight. Stand behind an ice chunk
Following this boss, there will be two packs of mobs and a wall, followed by two more packs and a boss room. These are very easy pulls and can be tanked together. Make sure you're using your cooldowns though, as these are some quite heavy hitters. Some players may want to save cooldowns for this next boss, as there's a hidden grading mechanic.
Related: Final Fantasy XIV Hatching-tide Event Details, Dates, and more!
Galatea Magna Boss guide
A doll-like automaton, Galatea Magna was a test unit designed to appraise new Reaper candidates. Now the abandoned machine will put your WoL to the test!
Depending on how quickly the party kills the boss, it will give a different line of dialogue upon its defeat. It will also rank the party's performance from 1 to 12. This doesn't affect anything in drops, but is more a pride thing. The top rank of 1 requires a kill time of less than 90 seconds. You'll probably need BiS gear and some good prep to do this one. If you're running Duty Support or a Trust, and Zero is in the party as a Duty Support NPC, it will also give a different line of dialogue upon its defeat. Here are the bosses' attacks:
Waxing Cycle: Point-blank AoE, immediately followed by a donut AoE. Inflicts "sustained damage" debuff on hit.
Waning Cycle: Donut AoE, immediately followed point blank AoE. Inflicts "sustained damage" debuff on hit.
Soul Scythe: The boss will face a random direction, jump to it, and perform a large AoE. Keep an eye on the boss's direction to dodge.
Soul Nebula: Unavoidable roomwide damage that also spawns will summon two or four portals to the boss's left and right. Each portal will have a number of dots over it indicating the order the boss will teleport to them. A cross-shaped AoE will shoot out. Remember the order and dodge the AoE. Getting hit will influx Doom, that must have Esuna cast to removed
Tenebrism: Damage soak mechanic and a gaze mechanic.
Following your ranking, there's another two pack, wall, two pack, boss situation before you reach your final opponent, Cagnazzo.
Related: Final Fantasy XIV Free Login Campaign, dates, end, how to claim
Cagnazzo Boss Guide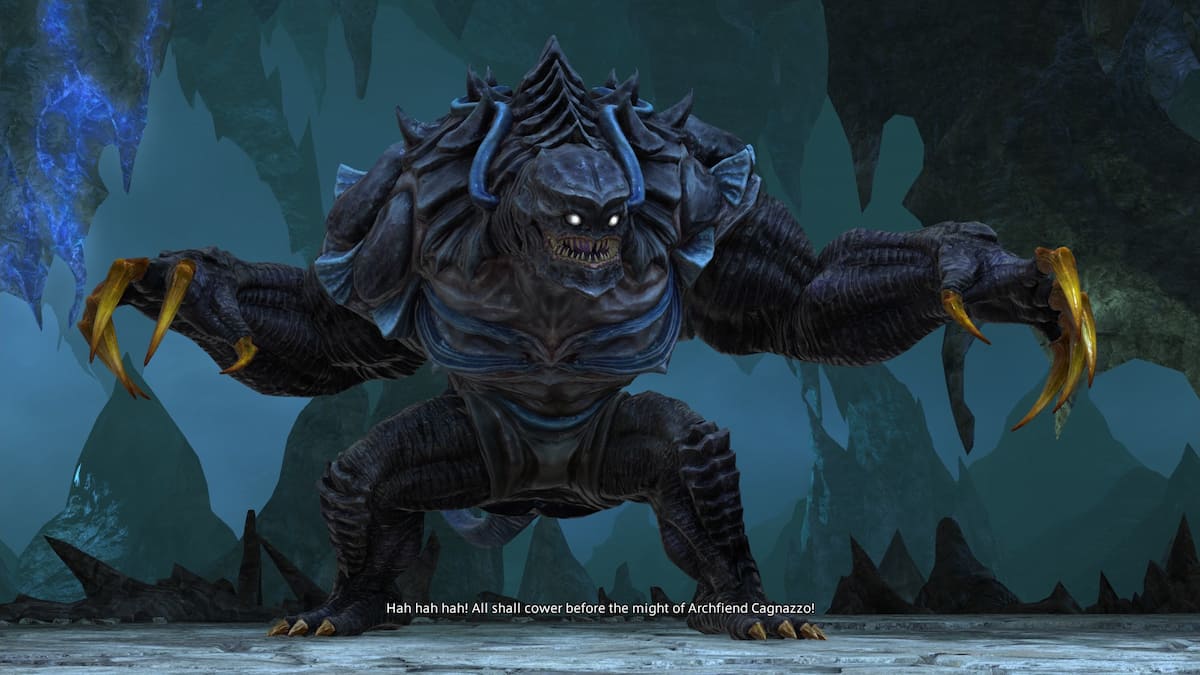 Cagnazzo is a bug-turtle demon who wants to fight you for unknown reasons. As soon as you set foot in his arena, the area will be surrounded by a damaging aura that will apply 15 seconds of drowsy to anyone who steps out of the arena. Then Cagnazzo will use the following attacks.
Stygian Deluge: Raid-wide damage.
Antediluvian: Spawns three sets of two bubbles across the arena, which will grow in size. When a bubble reaches maximum size, it will drop down as a large circular AoE. There will be six bubbles in total. There's also a knock back market in the center of the arena for the final set of bubbles.
Hydraulic Ram: The boss will telegraph a series of charge lines, before charging across the arena in that path. Move out of the way.
Hydrofall: Telegraphed stack AoE.
Cursed Tide: Cagnazzo jumps out of the arena and hits players with a series of debuffs:

Neap Tide: A point-blank AoE on the afflicted player when the debuff expires. Three players will receive this.
Spring Tide: A stack AoE on the afflicted player when the debuff expires. One player will receive this.
Cagnazzo will also spawn four Fearsome Flotsam adds, which must be defeated before Cagnazzo's Power reaches 100. If you don't manage this, you'll wipe. Several small AoEs will also spawn.
Tsunami: Party-wide damage after the adds phase. Heal through and mitigate. If the power reaches 100, you'll wipe.
Voidcleaver: Four portals will spawn, each tethering to one player. These will periodically spawn telegraphed conal AoEs, and you'll need to direct them away from other players.
Lifescleaver: Star pattern AoE originating from boss.
Void Torrent: AoE tankbuster.
Once you've cleared Cagnazzo, the dungeon is cleared, and you can enjoy the loot.
All FFXIV Lapis Manalis Dungeon rewards
Lapis Manalis chests will reward Manalis Armor and Manalis Accessories, which are iLevel 605 gear, making them just shy of current BiS at the time of the dungeon's release. In addition to the usual Materia rewards, the Wind-up Cagnazzo is a reward from the final chest.
For more Final Fantasy XIV news, guides, and info, check out FFXIV Patch 6.4 The Dark Throne Breakdown – Aetherfont Dungeon, showdown with Golbez, & more on Pro Game Guides.