Updated September 25, 2023

Updated our list!
Fishing Clash is a fishing game with role-playing elements that lets you enjoy sporting events in some of the most beautiful locations worldwide. Hunt for salmon, shark, sheepshead, snapper, red grouper, dolphinfish, and many more! You'll need to upgrade your fishing gear to become the best fisherman.
To get up and running as fast as possible, use Fishing Clash gift codes that will get you a lot of free rewards! They'll get you Packs (new gear), Coins (regular money), Pearls (premium currency), and various other items that will help you catch the biggest fish in many different waters.
If you love games like this, check out Fortnite Fishing Guide, Roblox Fishing Simulator, Roblox Fishing Legend, and How to fish in Final Fantasy XIV on Pro Game Guides.
All Fishing Clash Gift Codes List
Fishing Clash Codes (Active)
Fishing Clash Codes (Expired)
earthag—Redeem for in-game Pearls
EarthWeek—Redeem for in-game Pearls
PICKLEBALL—Redeem for in-game Pearls
EXPLORINGWITHFIGHTERS—Redeem for some Pearls (New players only)
December—Redeem for Reath, Xmas Icon, 1 Mystery Xmas Card, and a Xmas Hook (New)
Mystery—Redeem for Sonar, Reel, Luck, and Bait Boost (New)

Fishwithryan—Redeem for Florida Rod and Boosts
Fishwithchris—Redeem for Florida Rod and Boosts
fishwithdan—Redeem for Florida Rod and Boosts
fishwithgeorge—Redeem for Florida Rod and Boosts
Fishwithrick—Redeem for rewards
Fishwithrich—Redeem for rewards
Fishwithmichael—Redeem for rewards
Fishwithpaul—Redeem for rewards
Fishwithalex—Redeem for rewards
sharks—Redeem for a Power Up pack
NLTR06J—Newsletter code, you must subscribe before redeeming
memory—Redeem for one Frame

보겸 TV—Redeem for one Black pack
NLTR05M—Newsletter code, you must subscribe before redeeming
whitewhale—Redeem for one Power-up pack and 500 Coins
fun
nltr05m
withu
community
earthday
Christmas
CRAB
POSITANO
HITWETZ

pikepike
REFISHED
PINCERS
ALEBRIJES
Ornament
salmon
szniooo
pisces
nwslttr
Whale
water
Makukaja

2JZC20LETLS2
PoorBlobbo
turtle
2JZC20LETLS2
fractal
Sukunda
ibelieveicanflyyyy
loot
thankyoumum
jshrbacmt
Gold
JUSTACODE

jgeirqko
Flounde
UVUMWEMWE
wwwwwwwwwwww
mako
easterhunt
214095724
Maytherainbowfishbewithyou
CODE
Prbftg
Cherie of Rods
Mayonnaise

dorsz
fcappgallery2021
ghabeifg
tvusa
Chinese Paddle Fish
may the
rainbow
malbork
JULIUS
BCLEMABVCY
ladies
Trombone

etruscan
zeeieb
poppydots
shallow
frost
eve
taras!
SUNKEN
Trutta
Kohaku
Qwerty
H20

autumn20
3years
Lhasa!
ydmcvbaew
Kaapstad!
Yarborough
fopbnexzr75
unlfbebac!
Colorado
honolulu
ifnewlgtn
eateot

RUMBURAK
Klucz
xylophone
sxfarvsi
HB3ZYW
DEWAREK
Loobokl
Jointheteam
Freegifo
Servodemption
GiftCodes2020
Hooperkok

lvudude
staysafe
codarokaten
pishiodepok
rugrugra
uzmokak
Fishing Clash FAQ
Here's everything you need to know regarding Fishing Clash gift codes.
How to redeem Fishing Clash Gift Codes
Redeeming gift codes for free rewards in Fishing Clash is easy. Just follow these instructions.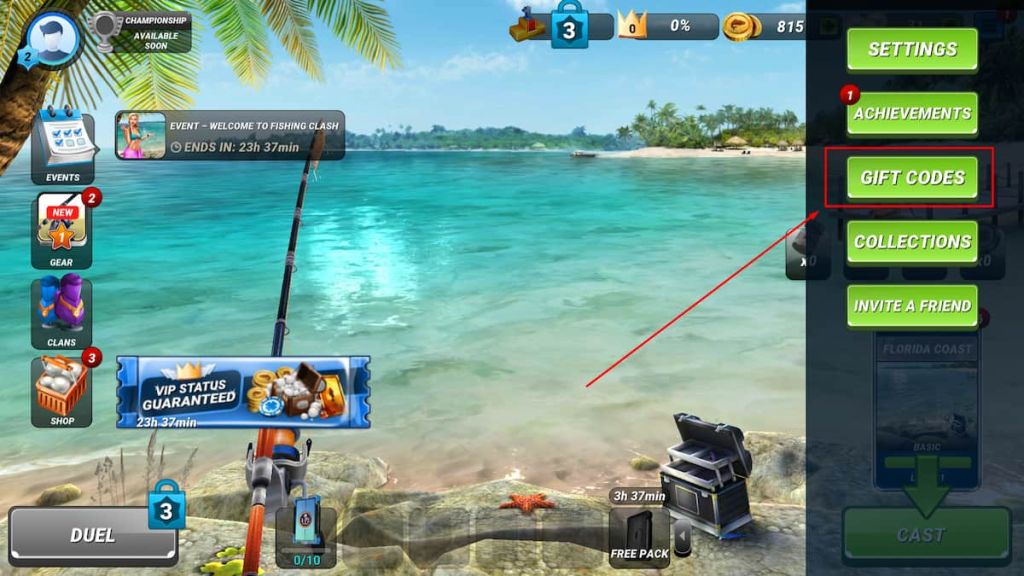 In the game, press the blue button with three lines at the top right of your screen.
Press the Gift Codes option.
Copy one of the working codes from our list and paste it into the "Enter Code" text box.
Press the Claim button to receive a reward.
How to get more Fishing Clash Codes?
If you need the best place for the most up-to-date Fishing Clash gift codes look no further! Bookmark this page, and we'll update you with additional codes once they are released. You can also check the official Facebook and Twitter pages for more information.
Why aren't my Fishing Clash Codes working?
You should redeem Fishing Clash gift codes as soon as possible because they tend to expire fast. We've tested these codes on the date they are added. If you find a code in the Active Codes section that seems expired, please let us know so we can remove it as soon as possible.
Another reason why some codes are not working can be a simple typo. To avoid this, always copy and paste codes from the list above into the gift code text box. Also, remember that for some codes, you must subscribe to the official newsletter. By doing that, you're sharing your email and accepting to receive game news and offers.
How to subscribe to the Fishing Clash newsletter for more codes?
Some Fishing Clash gift codes require you to subscribe to the newsletter. You can do that in a few easy steps:
Visit the Fishing Clash newsletter page.
Enter and confirm your Player ID (you can find it in-game in the Settings tab)
Enter and confirm your email address.
Press Submit button.
Now you can redeem newsletter gift codes.
What is Fishing Clash?
Fishing Clash is a fishing simulator mobile game where you can travel around the world and do some angling. If you want, you can always compete with other players in a series of tournaments. But, to succeed, you'll need to take care of your equipment just like in the real world. Luckily, there are a lot of Fishing Clash gift codes around.
If you're looking for codes for other games, we have many of them in our Game Codes post! You can also get a bunch of free stuff via our Roblox Promo Codes page.