Alien Artifacts are objects placed throughout the Fortnite Battle Royale island that players can pick up to use as currency for customizing Kymera, one character in this season's Battle Pass. Since they're dropped every week, it can be hard to keep track of all their locations. In the map and guide below, we provide the color-coded locations of all Alien Artifacts released in this season so far.
Map
Use the map below to see the locations of each artifact. Each color represents a different week, which can be referenced in the legend shown below the map.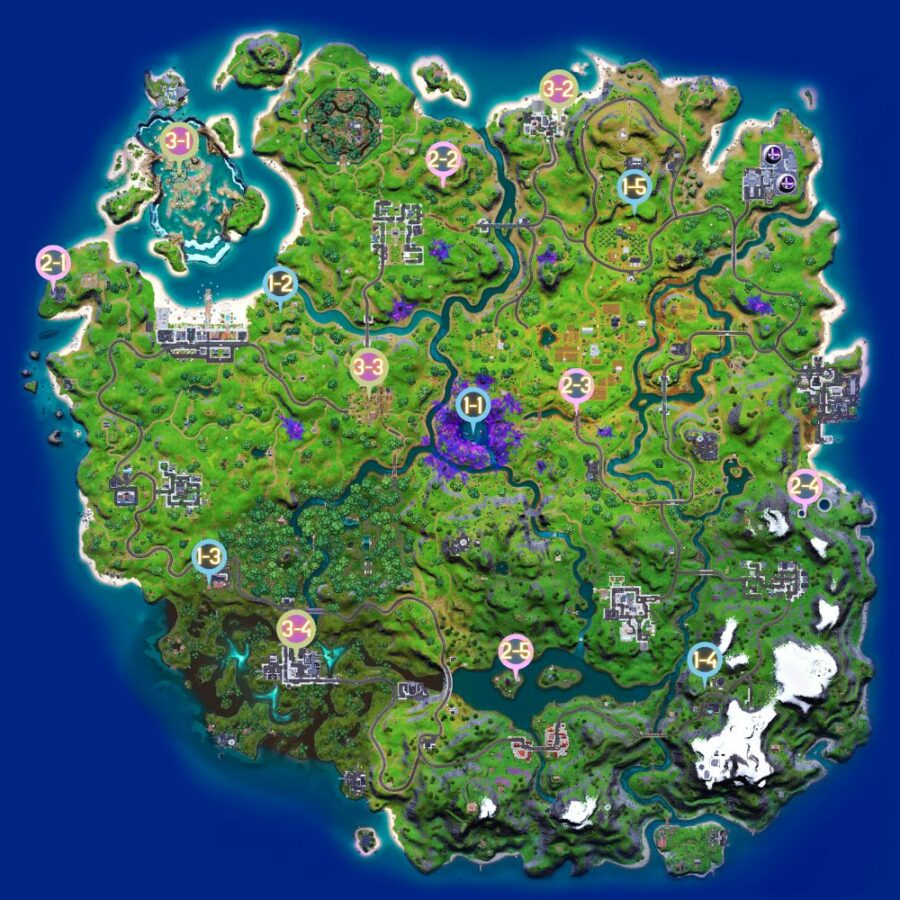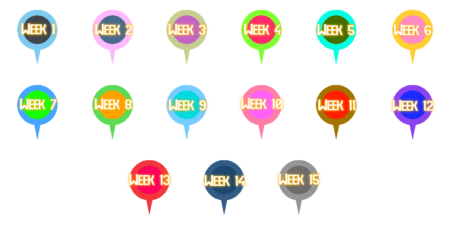 Directions
The directions below provide more distinct instructions on where to find each artifact based on the map above. The artifact locations are shown in descending order according to the release date.
Week 3
#3-1: Inside the biggest building in the northern half of Coral Castle. The artifact is resting near the top of the building, floating above a narrow stone relic.
#3-2: At Craggy Cliffs. It is in the boathouse in the northeast corner of town that has three large boat doors facing the sea. The artifact is floating above a hanging boat.
#3-3: Can be seen from outside in Boney Burbs. It is in the building closest to the center of the area on a balcony.
#3-4: In the building in Slurpy Swamp that is attached to the largest building of the complex. It on the second floor, floating in a corner.
#3-5: Inside the shed outside of the house at the base of Lockie's Lighthouse. Note: This artifact is currently glitched. It is visible in Replay Mode, but cannot be obtained while playing in Battle Royale.
Week 2
#2-1: Inside the large dish at Discovery Dish, on the edge of the map west of Believer Beach.
#2-2: Underneath the stairs of the building at the base of the Guardian Tower northeast of Pleasant Park.
#2-3: At the north end of the unnamed bridge south of Corny Complex and east of The Aftermath.
#2-4: On the corner of the small pool in Brutus's Basin, north of Retail Row.
#2-5: In the building on Apollo Island, north of Misty Meadows.
Week 1
#1-1: In The Aftermath at the center of the map, just over the water.
#1-2: On the stairs of the Spire east of Believer Beach.
#1-3: In the smaller building outside of Durr Burger restaurant.
#1-4: On the watchtower west of the northern building in Catty Corner.
#1-5: South of the house and west of the barn at The Orchard, which is north of Corny Complex.
Be sure to check the Fortnite Homepage for the latest content, news, and guides for Fortnite!
Don't forget to check out our full Fortnite Chapter 2 Season 7 Guide, which covers all updates, mechanics, and features of Season 7!