The Flash is making a quick entrance into Fortnite in a big way! Not only is he coming in hot with an Item Set, but he's bringing his own event, aptly titled The Flash Cup! Here is everything we know about Fortnite's vision of one of DC's most iconic superheroes.
Flash Cup Duos Fortnite Tournament Starts February 10th - Play to Unlock the Flash Outfit
Here is the lowdown: Six things are being added with The Flash's entrance into the game. We'll have the pleasure of picking from four items in the shop, taking part in the Flash Cup, and seeing a new Flash loading screen! Continue reading to hear all about this awesome and speedy addition!
You won't be able to purchase these things right away in the Item Shop, but you'll have a chance to win them in the Flash Cup on Feb. 10th! Details about this cup are shown below.
The Flash Cup
This Duos Event will be hosted on Feb. 10th, 2021. You can team up with your best player or best friend and attempt to reach the top of the leaderboard for your region. If you and your partner make it to the top, you'll receive The Flash's character skin before it even hits the Item Shop on Feb. 13! This pack includes all of the items listed below. Shown in the image above is the scoring system for your region in The Flash Cup. For more information go here: The Flash Cup Official Rules
Related: How to Gift Skins and Items in Fortnite - Pro Game Guides
The Flash Set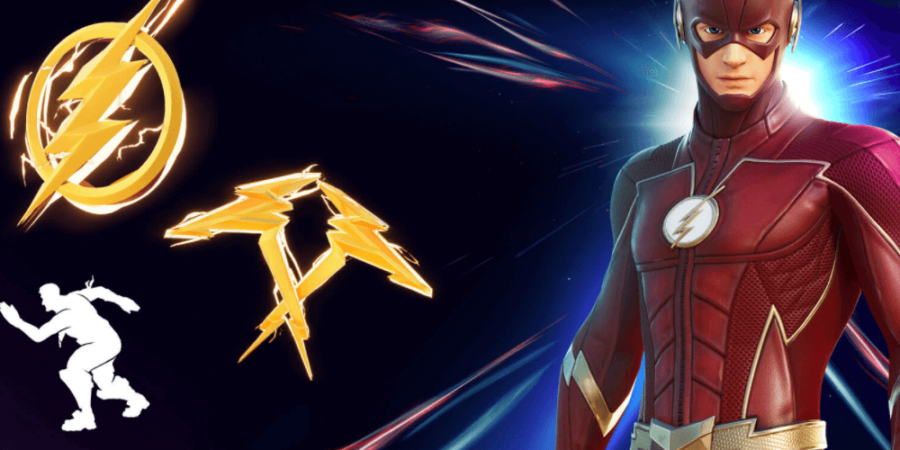 The Flash Outfit: Now is your chance to become Barry Allen. Unfortunately, playing as The Flash won't grant you super speed, but you can certainly feel faster if you'd like. This outfit comes just in time for Valentine's Day! Barry Allen must be a romantic.
The Speed Force Slashers Pickaxe: This is a modified version of the classic double pickaxe. As you can see, they're shaped like lightning bolts. This is nothing but an aesthetic, though! It won't shock your opponents in any way other than how cool it looks!
The Speed Force Back Bling: Another awesome new bolt to show off to your friends. Wear this electrifying new Back Bling to show that you like The Flash so much that you're willing to buy swag associated with him in a video game!
The Quick Bite Emote: It hasn't been released yet, but we can assume this emote will undoubtedly be a reference to the well-known fact that The Flash is hungry all the time. He needs it to stay fast. Fuel your body and mind with real food and this, well, probably funny Emote!
The Flash Loading Screen
We haven't seen it yet, but The Flash will have his own loading screen for us to cycle through! This will likely be the only free part of Barry Allen's entrance into the Fortnite Universe, so be sure to check it out when it enters your locker.
Want to buy The Flash for a Friend? You'll need to enable 2FA! Check out our guide to see how.