These are the unofficial Fortnite 11.40 Patch Notes! Epic hasn't been compiling detailed notes for every patch like they used to, so we're putting together a list of everything that changed in the new update. We have bug fix information, and will be posting whatever else has been added to the game. We will add the official patch notes if they are posted.
Patch Release Date & Time
The Fortnite 11.40 Patch will be released on January 15th, 2020. Downtime starts at 4 AM ET (0900 UTC), and usually goes on for a hour or two. Epic was out of office over the holidays, so it's been a while since we've had a patch.
Official Patch Notes
Introducing Sidegrading: the Heavy Assault Rifle returns.

In non-competitive playlists, you can now use Upgrade Machines to "Sidegrade" your Assault Rifle into a Heavy Assault Rifle.

Reduced material costs for upgrading weapons at Upgrade Machines.
Added the following items to Battle Lab:

Flint-Knock Pistol (Common and Uncommon)
Shockwave Grenade
Impulse Grenade

The iPad Pro (2018 release) now supports 120 FPS.
Clickable thumbstick buttons (L3 and R3) are now usable on supported iOS controllers.
Fortnite 11.40 Patch Bug Fixes
Here are the expected bug fixes for the 11.40 patch. These were taken from the Trello that display all of the stuff that Epic is working on in terms of bugs.
General Issues
Spectrum Contrail no longer changes colors.
Players on consoles may get stuck and unable to progress through gifting process if they do not have 2-Factor Authentication.
Battle Royale
Not all bus stops count towards completion of the "Visit different bus stops" Overtime Challenge - Remedy vs Toxin.
We're aware of an issue involving players' Quick Bar being inadvertently defaulted off on consoles and PC.
Players' Star Wars Legacy entries have disappeared.
After direction is remapped from a non-"F" key to the "F" key, the key may not allow for proper movement.
Editing quickly can cause players to remain in Edit mode, even if they're not editing anything.
Falling into a Hideout (haybale, dumpster, port-a-potty) while holding a Sniper Rifle may cause the crosshairs to disappear.
Creative
Some of the Featured Island portals are not working correctly.
The Bandage Bazooka will not respect the infinite ammo and reload settings applied by a game.
Save The World
Multiple Goin' Commando Hero Perks are not working correctly, they all have the same root cause.
Players may have issues upgrading perks on a weapon if they press upgrade while leveling the schematic.
Beehive causes semi-permanent tick damage when walking into damage cloud after eliminating the bee hive lobber.
The 2 mythic melee weapons have major hitching when using a hero with shadow stance.
The Riot Control Baton animations display incorrectly in STW.
Mobile
Players may experience FPS drops and hitching. Lower to mid-end devices are more affected, but this issue has been noticed on all devices.
Players may become stuck in a loop on the Select Fire Mode screen.
Unofficial Patch Notes
Here's where we will be detailing all of the things that have been added to the game that weren't covered by Epic. If you're looking for leaked cosmetics, we will have a full look at them right here.
Ninja Finally Gets a Skin
Ninja has finally gotten himself a skin in the game that will be available on January 16th, 2020 (check it out here). This appears to the first of many upcoming collaborations in the "Icon Series" that Epic will be featuring in the near future. They've announced skins for Loserfruit and TheGrefg as well. We don't know what those will look like just yet, but we'll have them for you as soon as they are available.
Best Mates is Now a Traversal Emote
The Season 3 Battle Pass Emote known as Best Mates has been made Traversal. That means you can now do the emote, move around, and you will continue to dance!
Guan Yu Gets a New Dragon Style
If you own the Guan Yu skin, you were given a new style called Dragon. This includes a style for his back bling and harvesting tool.
Cloaked Star Skin Gets a Back Bling
Owners of Cloaked Star were given the new Darkest Edge Back Bling!
New Overtime Challenges for Rippley & 8-Ball
If you're looking for a new style for more of your Battle Pass skins for this season, you can complete more challenges to obtain them!
Rippley Challenges
Complete 'Rippley vs. Sludge' Mission Objectives (9)
Earn Gold Scavenger Medals by searching chests, llamas, or supply drops (3)
Achieve AR Specialist Accolades in different matches (3)
Land in a Named Location in different matches (3)
Deal any damage with a placed Trap to an opponent (1)
Destroy SLURP Barrels, SLURP Trucks, or SLURP Silos (10)
Swim 50m in under 5s (1)
Visit Lazy Lake and Slurpy Swamp in the same match while riding in a Motorboat (1)
Eliminations at Risky Reels, Fort Crumpet, or Hydro 16
Catch a fish with a Fishing Rod, a Harpoon Gun, and an Explosive Weapon (1)
8-Ball Challenges
Complete '8-Ball vs. Scratch' Mission Objectives (9)
Earn Bronze Battle Medals by getting eliminations in a match (3)
Ring the doorbell of a house with an opponent inside in different matches (3)
Deal damage with a Harpoon Gun to opponents (75)
Gain Health or Shields in a bush (1)
Bounce on bouncy objects in different matches (3)
Travel 100 meters while dancing (100)
Sidegrading
Use the Upgrade Stations to convert your AR to a Heavy AR.
Here's a video of this new feature in action:
Weapon Sidegrading Trailer!pic.twitter.com/AjMj61QOmJ

— ShiinaBR - Fortnite Leaks (@ShiinaBR) January 15, 2020
Leaked Weapons
It looks like the Heavy Assault Rifle is apart of the Sidegrading feature that was added to the game in the patch. We'll see if you can sidegrade into other weapons in the future.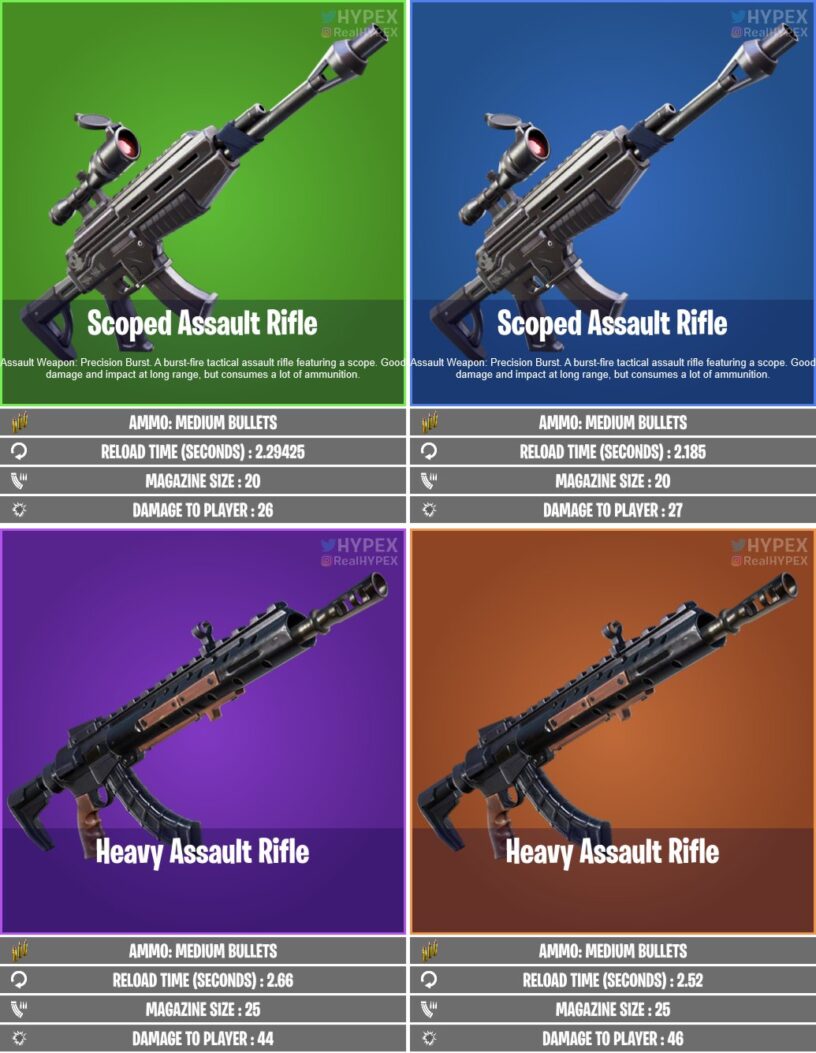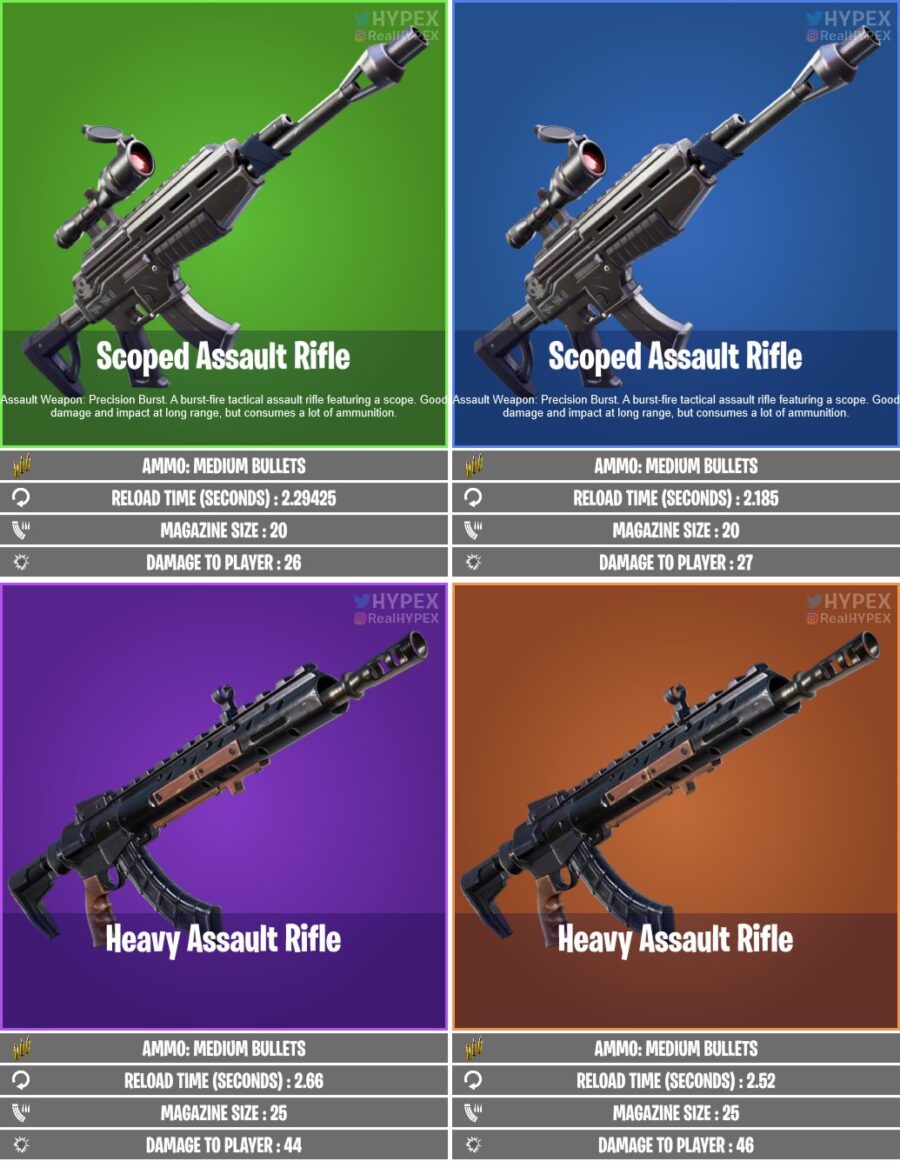 It looks like sometime in the future we're getting the Scoped Assault Rifle back in the game and a new Heavy Assault Rifle (Source).