Fortnite is looking ripe for a new update, especially with Halloween getting closer and closer! These patches generally include quite a few leaks, but will also add a fair amount of new stuff to the game. You can expect to see new POIs, weapons, items, bosses, and new modes added to the game. While Epic has generally stopped giving out detailed patch notes, we look to compile an unofficial list of them with every single update! As soon as anything new is discovered, you can should see it in the details listed below.
While Epic doesn't give out full notes, content creators are sent a general outline of what you can expect from the update. We will have that available in this post as soon as it is sent out. This usually gives us a pretty good idea of the main parts of the patch. However, there's a lot of smaller changes that are added, and those are the things we will be covering.
Update Release Date & Time
The Fortnite Season 14.30 Patch has been officially announced, and will be released on October 13th! There will likely be the typical two hours or so of downtime as the update gets added to the game.
Server Downtime
The downtime for this Fortnite update will start at 4 AM ET (08:00 UTC), and you can expect a couple of hours before the patch is officially live, so don't wait around for it, even if you're excited to play! It rarely goes much longer than the two hours, so you won't be without the game for too long.
Unofficial 14.30 Patch Notes
Here's where we will be detailing all of the updates and changes that have been added to the game and haven't been covered by Epic. If you're looking for leaked skins, we will have a full look at them right here.
Combat Shotgun Buff Stats
It looks like the buff to the Combat Shotgun has increased the damage of it to 63/60/57 to the body depending on the rarity. The distance in which you can get this damage is really far, which brings the weapon back to what it used to be in previous iterations.
Combat shotgun got a huge buff in terms of range and damage, now doing 57/60/63, (it's this the right flair?) from FortNiteBR
POI and Map Changes
The superstore location that was added in the previous patch is looking like it will end up being a Halloween store, like the ones that pop up around towns in the United States during the holiday. Credit to FortTory for the images.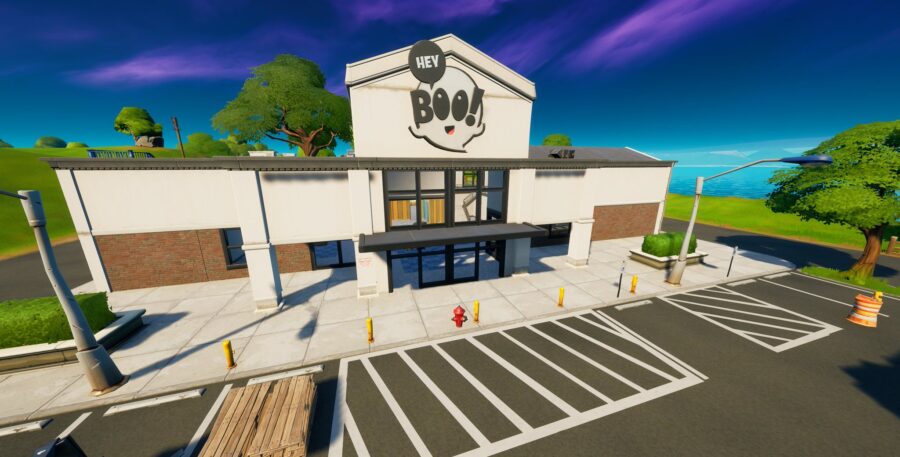 If you head over to The Authority, then you will find that Midas' gold chair is back at the location! That likely confirms the leak of Midas returning at some point during the Fortnitemares 2020 event.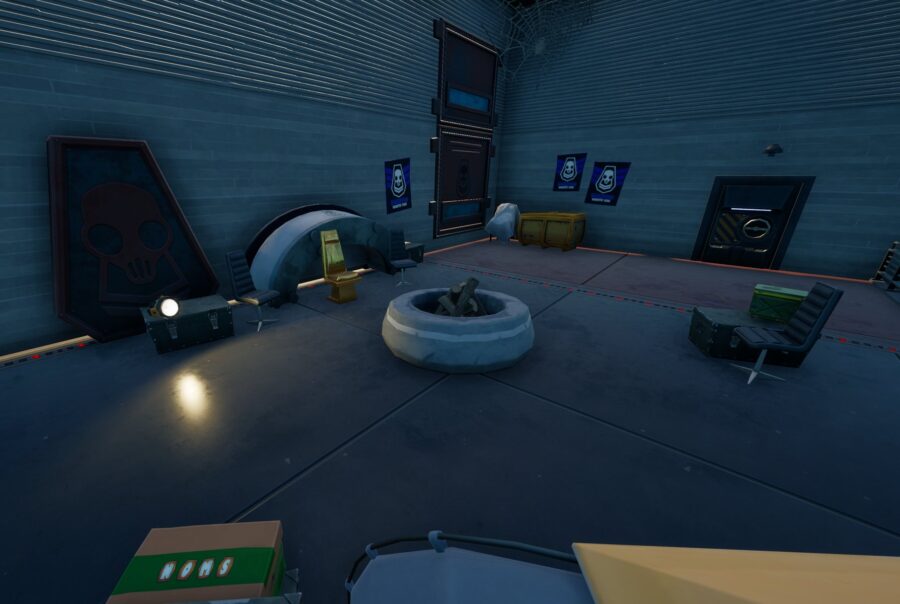 You will also start to feel the Halloween mood around the map, as a lot of decorations are popping up in the areas that have towns and homes that you can explore.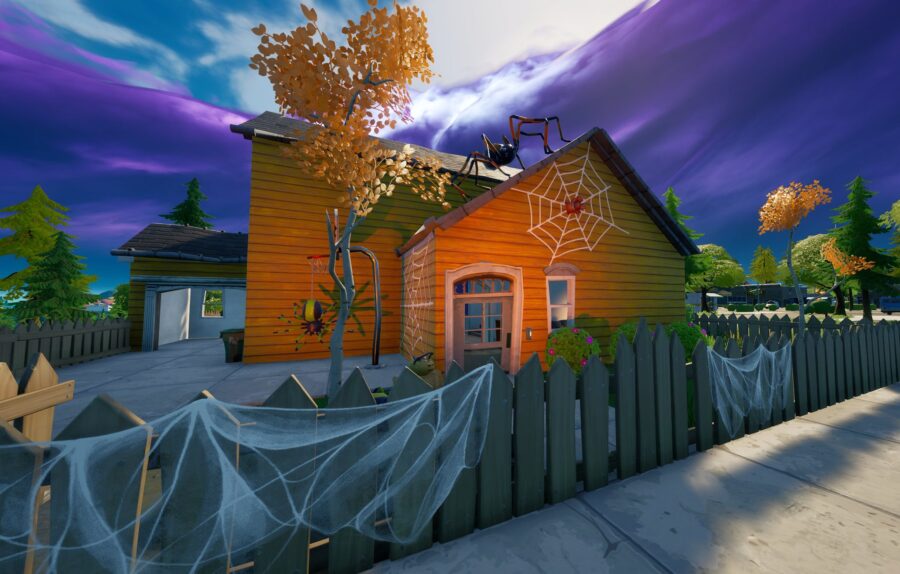 New Loot Boxes
A couple of new loot boxes were added to the files:
These might not be added until later in the month, but it's possible that the Broom Box could be a spot where you can get yourself a broom that can be used for travel! It also could just be used for sweeping. We don't know for sure just yet. I would imagine the Candy Buckets are going to be consumables for shield and/or health. These are the file names of what will pop out of these boxes:
Wbroom
Pepper Ming
Hop Drop
Candy Corn
Jelly Bean
Thermal Taffy
It looks like some of the candy will share similar traits as certain fish and food items that are already in the game.
New LTM Description: Rally Royale
You'll need speed and wit to take home this victory. Collect tickets to unlock the finish line and then get there quick or get left in the dust.
Two New Superpowers
This has mostly been confirmed in the official patch notes, but it looks like some new superpowers are going to be mixed into the rotation.
A couple of superpowers that could be added to the game have leaked. These are Fire Ball and Fire Jump, which are possibly related to either Ghost Rider or Captain Marvel. We'll have to wait and see how these will be implemented, whether or not they just show up in the LTMs, or we get a boss that uses them at a new POI.
Possible: Mystique Boss
A leak in the game has shown that Mystique will have a Mythic weapon that will be a Dual Auto Pistol. The kind of look like MAC10s, but are in pistol form. This would be something different that we haven't seen in the game. We have seen dual pistols before, but automatic dual pistols would be something different. They could make for a decent swap of your SMG if you want to try something different in that slot of your loadout. Mystique having pistols would make some sense, since her superpowers probably wouldn't make the best abilities like some of the other superheroes.
The leaked stats for this are that it takes 3.1 seconds to reload, has a magazine size of 40, and it deals 20 damage to the player.
Possible: More Halloween Skins incoming?
We got a couple of Halloween based outfits in the 14.20 patch, so we're obviously expecting a whole lot more as we get close to the holiday. Halloween skins are very popular, and last year there was a ton of them, and we are expecting a similar release this year. However, we're still a few weeks away from Halloween, so we might only see a few new skins for the holiday in this patch, with the next one bringing a larger batch of them.
Unlikely: Fortnitemares
While everyone is getting excited about what Epic might have in-store for us for the Fortnitemares 2020 event, I am not confident that it will have any part of the 14.30 patch. From the previous two years, the event has always taken place much closer to Halloween. I would expect it to launch on October 21st or 28th, because that is likely when we'll get the 14.40 patch. However, not a lot is known about what we can expect from the 2020 launch, so all things are up in the air at the moment.
If you haven't fully been keeping up with the leaks, then a couple of NPCs were found in the files. One of them was a Midas character, that could possibly be a new boss fight during the Halloween season. This was accompanied by a Ghostly Ghost Henchman. He will have a selection of weaponry, including the Pumpkin Launcher that has become pretty notorious in Fortnite. I would make a guess that they could show up at The Authority, which would become a spooky area to fight in!
Official Update Notes
Epic has sent out the official details of what you can expect from the 14.30 update. It looks like we're getting a new LTM, official details on the Marvel Knockout Super Series, and a Loot Pool update that buffs the Combat Shotgun and some new superpowers are to be added!
On Your Mark. Get Set. Race.

Rally Royale is a new fast-paced LTM where you'll need speed and wit to take home the victory. Collect tickets to unlock the finish line, get there quick or get left in the dust. Rally Royale launches later in the week, jump behind the wheel and tell us what you think!

Marvel Knockout Super Series

Assemble the squad and put your super-powered skills to the test in these Marvel Knockout tournaments. The first cup on Wednesday, October 14 celebrates The Man Without Fear himself - Daredevil. The prize? Early access to the brand new Daredevil Outfit before it arrives in the Item Shop! This is just the first of four tournaments - players who participate in all four will get an exclusive Nexus War glider.

Loot Pool Update

Galactus' growing presence is scrambling the loot machines. Combat Shotguns are now more effective at all ranges! Give us your feedback and be on the lookout for new super-powers rotating into the mix.
Fortnite 14.30 Patch Bug Fixes
These were taken from the Trello that display all of the stuff that Epic is working on in terms of bugs.
General Issues
Audio of Last Forever Emote playing even with licensed audio muted.
Battle Royale Issues
Placing a map marker cancels movement.
Creative Issues
Grass is not removed when placing objects on the ground.
Some players not granted items after first round in some team games.
Save the World Issues
Sword of the Daywalker has incorrect animation when swinging.
Mobile Issues
90 FPS on the Samsung Tab S7 and S7+
XP bar can be visually incorrect while in a match. / Incorrect leveling-up.