Fortnite is heading towards the end of Chapter 2: Season 4, and that means that we should be preparing for the big season ending event that will be taking place. Galactus is making a mad dash for the planet, so we are finally going to see what he has in store for us. I'm predicting a lot of destruction, which will likely lead us into the following map. I would expect it to be winter based, with Galactus possibly bringing us into some kind of ice age. If you don't like leaks when it comes to these events, you might want to avoid social media as much as possible. My guess is that there will be some details about it in the files once this patch releases!
While Epic doesn't give out full notes, content creators are sent a general outline of what you can expect from the update. We will have that available in this post as soon as it is sent out. This usually gives us a pretty good idea of the main parts of the patch. However, there's a lot of smaller changes that are added, and those are the things we will be covering.
Update Release Date & Time
The Fortnite 14.60 Patch has been officially announced, and will be released on November 18th at 4 AM ET (09:00 UTC). We expect this to be a reasonably sized patch, and will likely include details that will be apart of the storyline that is going to be unfolding in the weeks to come as we head into the end of the season.
Server Downtime
The downtime for this Fortnite update will start at 4 AM ET (09:00 UTC), and you can expect a couple of hours before the patch is officially live, so don't wait around for it, even if you're excited to play! It rarely goes much longer than the two hours, so you won't be without the game for too long.
Unofficial 14.60 Patch Notes
Here's where we will be detailing all of the updates and changes that have been added to the game and haven't been covered by Epic. If you're looking for leaked skins, we will have a full look at them right here.
New Legacy
If you are a fan of achievements, you can earn the following new legacy:
Lethal Protector - Revived a teammate as Venom.
Venom Ability
Venom's Smash & Grab ability should now be available within normal Battle Royale matches of Fortnite.
Official Patch Notes
Here are the official patch notes that were sent out to content creators from Epic:
Venom Cup: November 18

We've saved the most menacing one for last... Venom! Bond with your Duo partner and take on a ladder of opponents in the fourth tournament of the Marvel Knockout Super Series. Place high enough and earn the terrifying Venom Outfit, We Are Venom Emote, Symbiote Slasher Pickaxe, and Tendril Tote Back Bling ahead of release.

Didn't make the cut and hungry for round two? This time we're giving players two opportunities in each region to test their mettle.

The Creative Hub Expands

We've added new matchmaking portals to the Creative Hub powered by you - the community! Ranked according to the most popular and fastest growing creator-made islands, these portals showcase genres like Combat, Variety Games, and Practice matches. Jump in and discover the best of Creative.

We're also adding a new Creative LTM which cycles through a playlist of popular community-made games. Content will be rotated in regularly, so check back every few days for new experiences!

Let's Get Social

In this week's update, you'll be able to SEE your friends' faces while you play together. We're introducing a whole new way to play using video chat powered by Houseparty.

XP Xtravaganza Part Two

The second batch of XP Xtravaganza challenges arrives this week! Get the squad together and take on these party-wide challenges to finish out the Battle Pass in style.
Fortnite 14.60 Patch Bug Fixes
These were taken from the Trello that display all of the stuff that Epic is working on in terms of bugs.
General Issues
Disabling Voice Chat puts it in a state where it cannot be re-enabled to speak with friends on Xbox Series X|S.
Creative Issues
Team Size does not properly limit the number of players when join in progress is set to Join Next Round.
Save the World Issues
Wild West Llamas may not have Steampunk / Wild West items in them. It's recommended not to purchase them if Steam Punk items are not shown in the X-Ray Llama contents.
Unconfirmed Speculation
I'll be compiling some of the leaks and details from previous patches that could possibly end up in the game during this update. I have labeled them based on how likely I feel they will be apart of the patch!
Possible: Various New Items
There have been leaks for possible new items coming to the game. One is a Slurp Bazooka, that will very likely be similar to the Bandage Bazooka. It will instead fire Slurp Juice that will heal you for shield and health. There's something known as a "Heavy Mortar" which uses Rocket ammo. It could be some kind of cross between a Rocket/Grenade Launcher. Maybe it lobs explosive shells that explode on contact. The Bush and Rift To Go also had variable updates in the last patch, so it's possible that those items end up returning.
Possible: Event Countdown
There will be some kind of countdown clock added to the game that will alert us to the upcoming event. It is currently unknown where this will appear at the moment, but expect to see it in-game very soon.
This is what the event countdown will look like, (location & date are unknown). via Mix pic.twitter.com/se2tGhxL3F

— HYPEX (@HYPEX) November 6, 2020
Possible: New Currency?
Some kind of new currency could possibly be added to the game. It was added to the loot pool in the previous update, and is referred to as a "wad" in the files. Here's a look at the denominations they'll be available in:
Small Wad Stash: 25
Medium Wad Stash: 100
Large Wad Stash: 250
Wad Safe: 500
Possible: Fire Extinguisher
A Fire Extinguisher was found in the files, which could end up as a new item in the game. It's possible this could just be for Creative, but it could be interesting to see what Epic would do with it if they added it to Battle Royale. Not much else is known about it currently.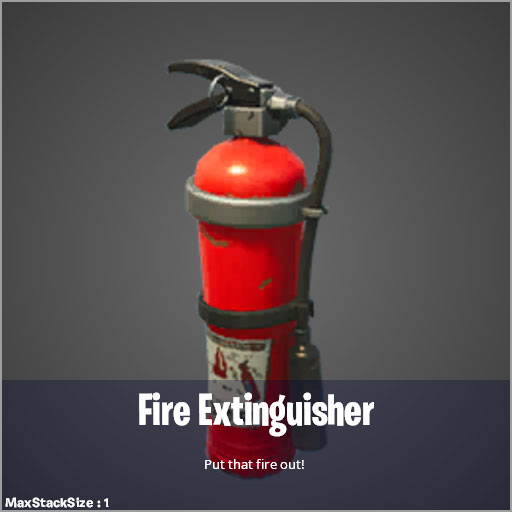 Possible: Mushroom NPC
There have been leaks of a new mushroom based NPC that will appear on the map and potentially give out quests for you to complete. These were pretty deep leaks, and even pointed to an NPC snowman that will probably be involved in the winter updates of the game. Mostly what was found was some text string, sound files, and some outlines of the characters. Some in-game challenges that you can grab during a match could be pretty interesting, so we're hoping that more details about these might come out soon.
Possible: Mystique Boss
We are still waiting on Mystique to make her appearance in the game. We're now getting pretty late in the season, so if she's going to show up as a boss, it's likely going to be sooner rather than later.
A leak in the game has shown that Mystique will have a Mythic weapon that will be a Dual Auto Pistol. The kind of look like MAC10s, but are in pistol form. This would be something different that we haven't seen in the game. We have seen dual pistols before, but automatic dual pistols would be something different. They could make for a decent swap of your SMG if you want to try something different in that slot of your loadout. Mystique having pistols would make some sense, since her superpowers probably wouldn't make the best abilities like some of the other superheroes.
The leaked stats for this are that it takes 3.1 seconds to reload, has a magazine size of 40, and it deals 20 damage to the player.