With the second season of Chapter 2 soon to be wrapping up in Fortnite, we thought it'd be a good idea to take a look at what information is out there for the following battle pass! We'll be taking a look at all of the new Season 3 leaks that have come out recently. There has been quite a bit of interesting stuff to hit the web recently, so we're compiling it all in this post so you don't have to go out and search for it!
We've moved over our coverage of cosmetics stuff into our Fortnite Season 3 Battle Pass Skins post!
Season 3 Release Date
First, we'll take a look at when this season is looking like it will be released. Fortnite Chapter 2: Season 3 is currently scheduled to come out on June 17th, 2020. This has been the third delay of the season so far. The Device event will start on June 15th, 2020.
NEW LEAK: Background Image for Season 3
This background image for what is very likely Chapter 2: Season 3 was leaked on PlayStation. It shows the battle bus flying through a summery sky with an island in the background. This does fit the leaks mentioned in this post, so it's possible that they end up being true! Here's a look at the image: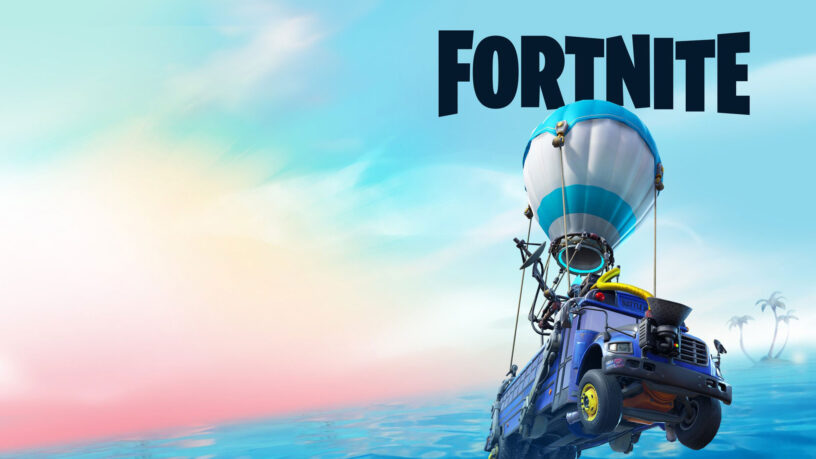 Fortnite Season 3 Leaks
It should be noted that all leaks should be taken with a grain of salt. It is absolutely possible that some of these turn out to not be true, or that Epic just ends up changing things and some of the stuff doesn't come out. We've seen things in a patch that gets pulled from various files that doesn't even get used or was left there by accident. We won't know what's true until the actual battle pass has been released, so don't get angry at Epic if for some reason some of this stuff is not real.
A lot of the leaks being shared are from a leak shared by Tabor Hill and is based on information given to them by a credible source that predicted the Chapter 2 map change. Some of the leaks mentioned in that video have already been confirmed because they were part of the 12.50 Patch.
Season Theme
Based on the leaks it looks like the season will largely revolves around water! Which makes sense as we're heading into the summer months, and Epic has expanded the water mechanics in the newly implemented map. What also tips the scales towards believing this is the addition of some swimming animations that were added during the Travis Scott event. If you didn't get to see it in person, you can check out a video here.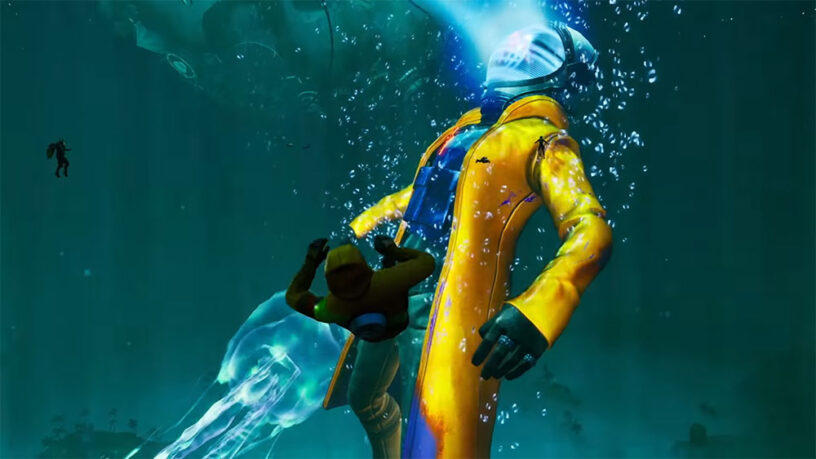 Part of the event had us swimming underwater around a huge version of the Astro Jack skin. This could've been a huge test for the upcoming underwater areas that might be added to the game. The leak talked about there being island like POIs you can get to with underwater spots that can be explored.
Fire
With the addition of the new engine to Fortnite it looks like Epic is going to start experimenting with more environmental type gameplay! Fire was mentioned in the leak in that it will be able to spread and potentially burn down builds, as well as damage players. This was also shown briefly in the Travis Scott event: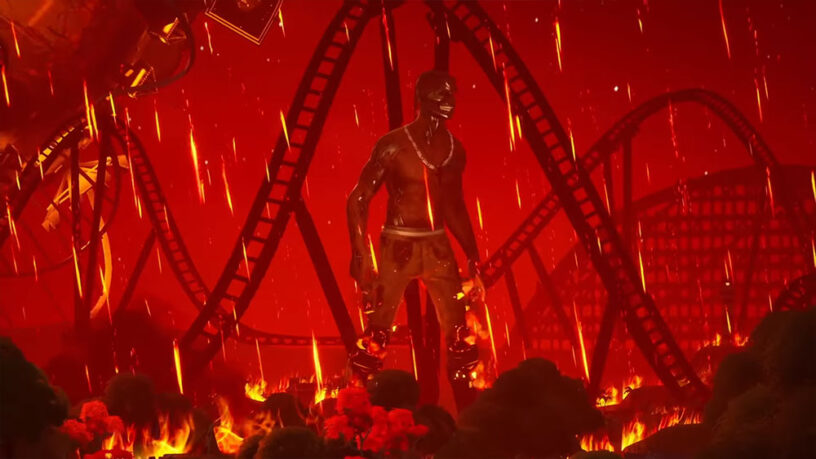 Fire would likely be spread via wooden houses, buildings, or player built structures. It could also possibly spread on grass, which is something done in The Legend of Zelda: Breath of the Wild.
Purely Speculation: This would open up for items like Flamethrowers or Molotov Cocktails to be added into the game. Wood would also be possibly weaker as a build option due to its flammability. This would make both brick and metal even more valuable. There's a lot that could be done if fire becomes something that Epic decides to add to the game.
Fireflies
If you love bugs then you'll be happy to know that the leak mentions that fireflies will be somehow apart of the new season.
Agency Taken Over by Shadow
It looks like in the story that The Agency which appears in the middle of the map will be taken over by the Shadow faction. These are the "evil" doers in the story, so they seem to win some kind of battle with Ghost to take over this headquarters.
New Weapons/Items/Vehicles
This section takes a look at the various guns, vehicles, and possible items that have been leaked.
Fishing Book
Some kind of book with fish in it will be making some kind of appearance. Not much is known about this one, but it could be a challenge or lead you to some spot to find a treasure. The possibilities for some kind of book you fish up are pretty endless.
Flare Gun
The leak mentioned the implementation of a flare gun. Hard to say what it could possibly do, but it could be something that spreads fire or it could even call down loot. The flare gun could have a lot of uses, especially if spreadable fire is actually added to the game. This weapon/item also ties in well with the idea of islands and a water themed season.
Shark Vehicles
While this sounds pretty crazy, it was revealed in the leak that one of the new vehicles to be added to the game would be a rideable shark! If there's a whole lot of water around, there's likely going to be some of your many toothed friend patrolling the waters. Well, you will then be somehow able to jump on top of one and ride them through the water. This kind of makes sense with the recent addition of gliders that we basically surf down to the ground. Riding on a shark feels like a natural extension to this concept!
Quadcrashers Return
Some kind of Quadcrasher type vehicle is supposedly going to return according to the leak. Mobility has been a topic of concern as of late, so don't be surprised if Epic addresses this with multiple different options that give you the ability to get around the map quicker!
Leaked Cosmetics
We'll be taking a look at all of the leaks in regards to skins in this section.
Aquaman Battle Pass Skin
One of the big leaks that is mentioned is the possibility of an Aquaman skin being part of the Battle Pass! It would make sense to me that it would be the "mystery skin" which would mirror Deadpool and his part in Season 2. Aquaman also pairs very well with an underwater themed season, and we could possibly see some additional DC type skins enter into the game! This would be similar to the X-Force skins we got during Season 2.
Fully Customizable Glider/Umbrella
If you enjoyed the Maya skin from Season 2 then you're going to get a chance to customize your own glider in Season 3. It will be interesting to see what they have in store for this because a glider seems like there would be less to be customized than a skin.
Robot Meowscles
The leak references that there will possibly be a robot Meowscles of some kind. This has led some to believe that it will be similar to the P-1000 skin that was for sale in the cash shop.
Female Black Knight
If you missed out on one of the earliest seasons of the Battle Pass then according to the leak it looks like you'll have a chance to earn a female Black Knight skin! The Black Knight is one of the more popular skins in the game, so getting players the ability to earn a variant again seems like it will be a popular decision unless you're an OG player.
Possible Female Dark Voyager
This one is a big vague, but some kind of Dark Voyager like skin that will be female but is pink!
The Engineer
A skin known as the "engineer" due to its code name in the game is supposedly going to be apart of the new battle pass. The image of this character shows up in Midas' Agency room and might be a storyline element of some sort in the future. Seeing her as a skin will not be a surprise, but whether or not it's part of the battle pass for sure will remain to be seen.