XP Coins are back, Fortnite fans! They have disappeared for a few Seasons, with plenty of people wondering and asking where they were. And all of a sudden, they sprung back into the game, and they should be here to stay until the end of Chapter 2 Season 5!
Fortnite Chapter 2 | Season 5 | Week 13 | XP Coins Locations
There are 10 XP Coins located over the Zero Point map each week, and they come in four different colors, Green, Blue, Purple, and Gold. The XP received from finding these coins depending on the rarity they are colored, so getting the Gold XP Coin will net you a lot more than finding the Green Coins.
Out of the 10 XP Coins on the map, four are Green Coins, three are Blue, two are Purple, and only one Gold Coin. For those who remember the Blue Coins, you no longer need to break an object to locate them; they all now spawn in water.
Green Coins are worth 5000 XP
Blue Coins are worth 6500 XP
Purple Coins shatter into multiple coins but in total are worth 10,300 XP
The Gold Coin is worth 15,000 XP
Total: 75,100 XP
Below you can see the Zero Point map, with all 10 locations on. Thanks to Fortnite GG for the use of the drawing function.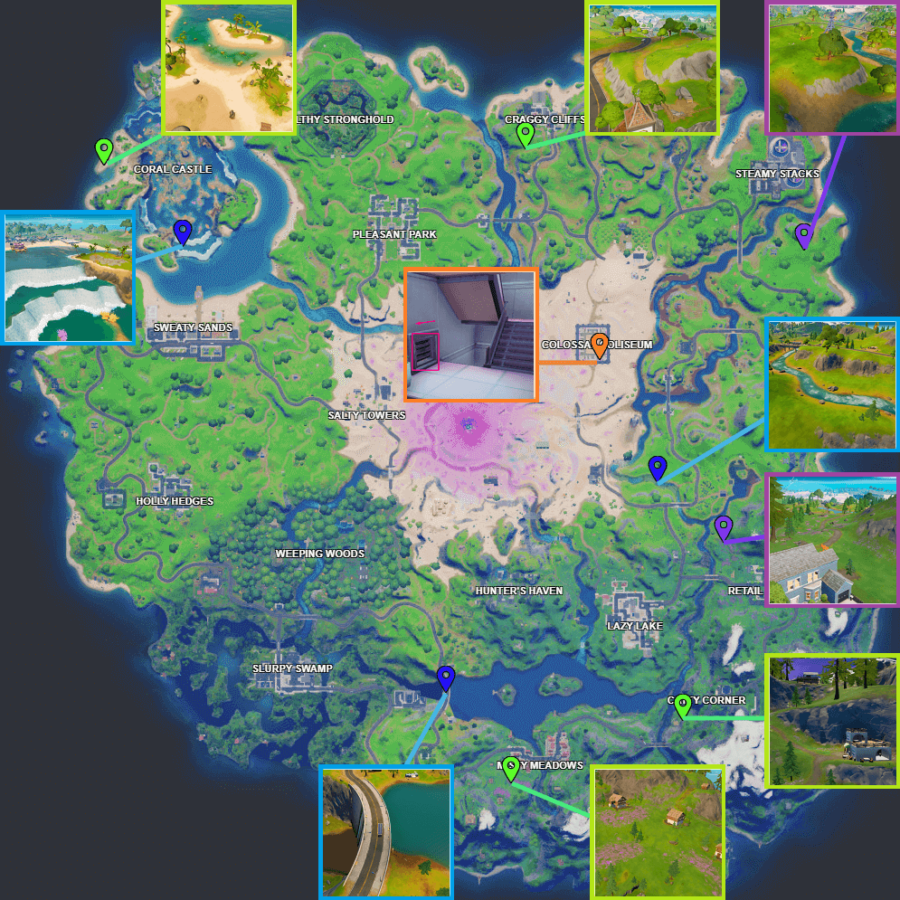 Descriptions are placeholders for the time being. They will be updated.
Green Coin Locations

Coin #1— On a small islet west of Coral Castle, at the edge of the main island.
Coin #2— Not far off the southeastern corner of Craggy Cliffs.
Coin #3— Among the scattered houses to the south of Misty Meadows.
Coin #4— Near the small shop to the south of Catty Corner.

Blue Coin Locations

Coin #1— Between the waterfalls to the south of Coral Castle.
Coin #2— Near the dam at Hydro 16.
Coin #3— In the shallow, twisting river to the southeast corner of the desert. The coin is North-by-Northeast of the T intersection.

Purple Coin Locations

Coin #1— Along the dirt road that is northwest of Retail Row, not far from the blue house.
Coin #2— In the field directly south of Steamy Stacks.

Gold Coin Location

At Colossal Coliseum. In the Southeast corner, you will find a staircase somewhat hidden that leads to the bunker below. Go down that staircase and you will see the vent on the right. When you enter the vent, make the first left, and you'll find the Gold Coin.
Head on over to our Leaked Skins page and see what will be coming in the future. The full list of information is here at our Fortnite Chapter 2: Season 5 Guide – Challenges & Information article!