Fortnite has changed the way Legendary Quests work for Chapter 2 Season 7. Instead of the accolades we saw in previous seasons, Legendary Quests for Season 7 are more like advanced Epic Quests. In this guide, we are covering the basic instructions to complete these quests as easily as possible.
Cheat Sheet Map
The map below provides the locations of all the spawns for this week's Legendary Quests with specific locations. Follow the instructions below the map if you need more detail.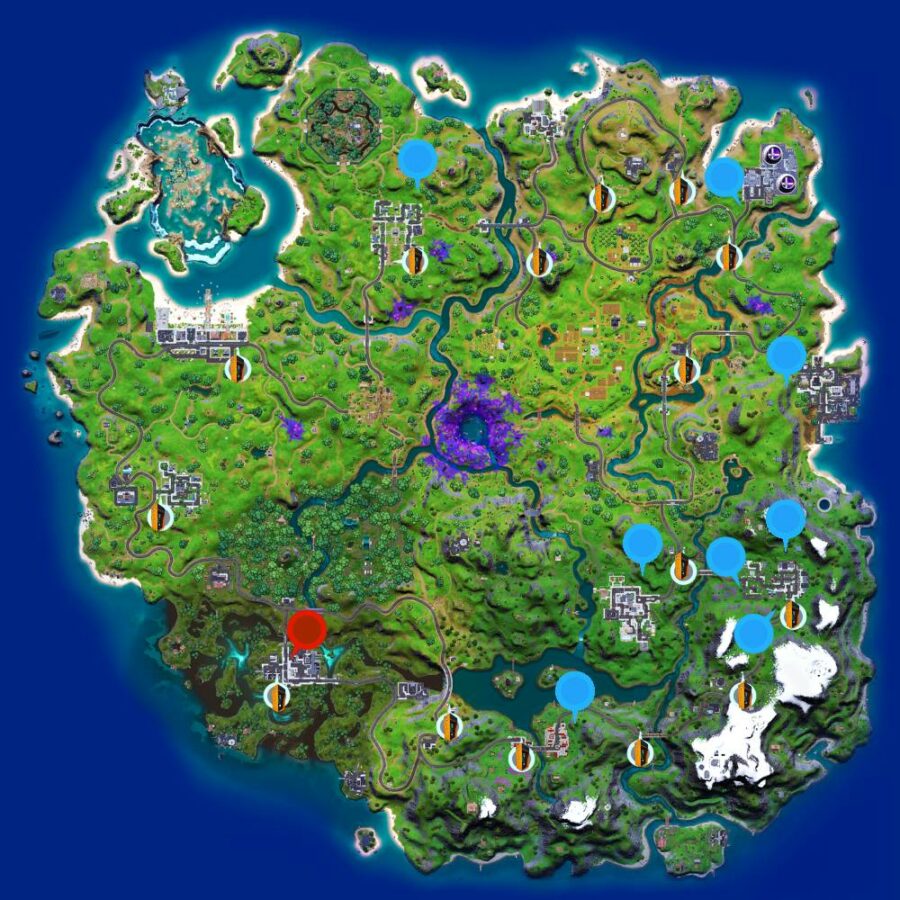 Related: Fortnite Chapter 2: Season 7 Guide - Challenges & Information - Pro Game Guides
Guides & General Tips
Get Slone's Orders from a payphone. [1]

The light blue markers on the map above show the locations where you can complete this quest. You only need to interact with one of them to complete the quest. Any payphone will work.

Damage an Opponent in the Slurpy Swamp Abduction Site. [1]

The red marker on the map above shows you where you can find the Slurpy Swamp Abduction Site. You can do this quest anywhere within the confines of the abduction beam, which covers the entirety of Slurpy Swamp.

Collect a Grab-itron. [1]

Grab-itrons can be found anywhere across the map as Chest Loot or Floor Loot. Try to land in a location with a lot of chests, such as Lazy Lake or Steamy Stacks, to increase your chances of finding one.

Place Video Cameras at Different Landing Ship Locations [3]

The blue markers on the map above show you where you can find the video camera locations. If you use the guide above, it shows you where to find three locations in Retail Row.

Visit an Abductor. [1]

Abductors are the large ships that are floating over some of the locations (not to be confused with the UFOs, which are smaller). These are present at the start of the match, so the easiest way to complete this quest is to land on an abductor when you jump out of the Party Bus.

Visit Slurp Factory inside the Mothership. [1]

Guide: How to Visit the Slurp Factory Inside the Mothership
The Mothership is the large ship hovering over the island. It can be accessed by going to one of the locations with an Abductor hovering over it and letting the ship abduct you. Once you are inside the Mothership, you can jump around to previous Fortnite locations, one of them being Slurp Factory. If you need further instructions on how to complete this task, use the guide above.
That's all the Legendary Quests for Week 3 of Chapter 2 Season 7! Be sure to check our Fortnite Homepage for the latest news, content, and guides for Fortnite!
Don't forget to check out our full Fortnite Chapter 2 Season 7 Guide, which covers all updates, mechanics, and features to Season 7!