We're heading into the fifth week of Fortnite Chapter 2: Season 4, and you are going to need to take a jaunt over to the Coral Castle to locate some rings. These aren't super difficult to find, but knowing where to go ahead of time will shorten the process and make things a whole lot easier. We've got exactly where you need to go in this guide, and will share some tips on how to get this challenge done quickly.
Coral Castle Ring Locations
To find the Coral Castle floating rings, you will need to head to the northwest portion of the map. This is the big sea area that Aquaman left behind after he exited Fortnite. This location appears to be formerly underwater, but we've learned very little about the lore of it. You will find four different floating blue rings on top of buildings when you head here.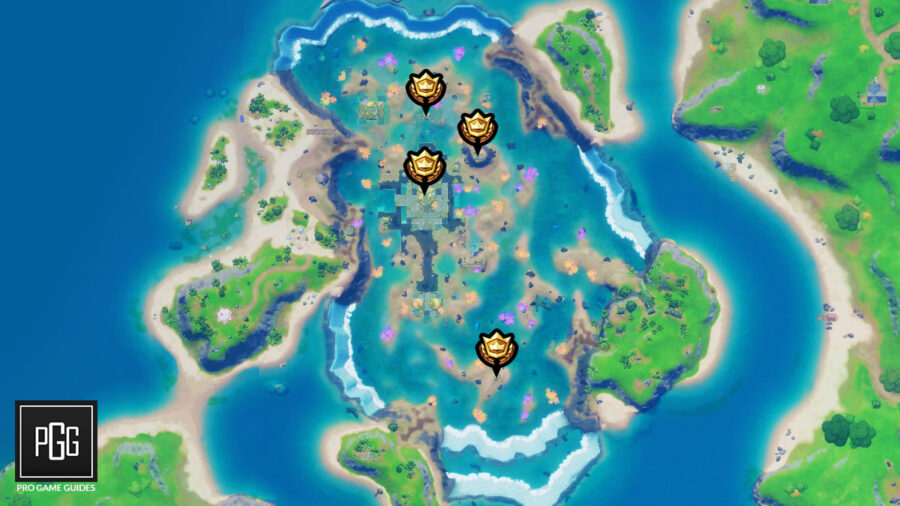 Most of the rings are towards the northern portion of Coral Castle. There is one to the very south, so you might want to save that for last. You will want to be careful because you are going to be pretty open to enemy fire as you collect these. I recommend heading into Team Rumble as the safest way to complete this challenge with little fuss. Your teammates might even build up the ramps to get to the coins for you!
These blue floating rings were pretty problematic for Epic in the previous season, but it appears that they have been fixed now. Even if that is the case, they seem to always include an extra challenge for each week just in case one of the official tasks is buggy!
You can find the rest of the challenges for week 5 below. We have a full guide on them all right here.
Search Chests at Doom's Domain (0/7)
Eliminations at Dirty Docks (0/3)
Drive a car from Slurpy Swamp to Catty Corner in less than 4 minutes without getting out (0/1)
In a vehicle, jump through the flaming ring at Salty Springs (0/1)
Make a Stark Robot dance (0/1)
Destroy Gorgers (0/1)
Deal damage to opponents at The Authority (0/500)