Tony Stark, aka Iron Man, has brought in some robots into Fortnite that are generally pretty unfriendly to players unless you can convince them to join your side. This can be done fairly easily, although you do need to have some weaponry at your disposal to make it happen. While we've been dealing with these robots over the past weeks, we now have to do something a bit different with them... and that's make them want to bust a move!
How to get a Stark Robot to Dance
To make a Stark Robot dance in Fortnite, you will need to first knock one down. This can be accomplished just by shooting them from afar, throwing grenades at them, or just pummeling with shotgun pellets. Once they are in the downed position, you can then choose to hack them. Be careful because this process take a bit to complete. Once they are hacked, they will fight with you. They will also dance with you as well, if you trigger an emote of your own! That's all you need to do to get them to dance, just use an emote while you have one hacked.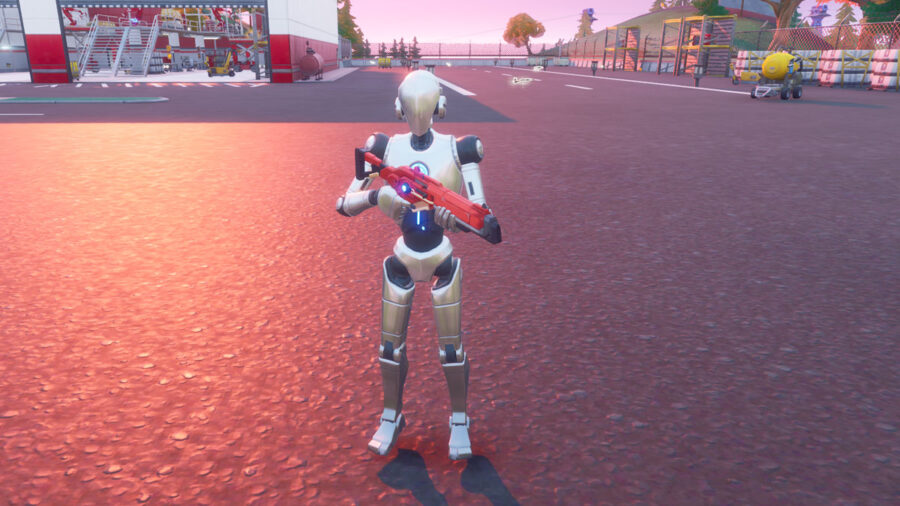 Stark's Robots can be found in multiple places. You can either head to the Stark Industries POI that largely replaced Frenzy Farms. There are quite a few that hang around that area, just watch out for Iron Man because he'll tear you up pretty quick if you aren't paying attention. You can also go to the Quinjet plane locations that spawn each round you play. It's important to note that the bots will not show up if you are playing in Team Rumble.
There has been some thought that throwing a Boogie Bomb on one of these robots could qualify as making them dance, but I'm not positive that will work or not. Once the challenge becomes available, we will try to see if this will count towards it. I think just hacking the robot will be a lot easier than tracking down a Boogie Bomb, but to each their own!
You can find the rest of the challenges for week 5 below. We have a full guide on them all right here.
Search Chests at Doom's Domain (0/7)
Eliminations at Dirty Docks (0/3)
Drive a car from Slurpy Swamp to Catty Corner in less than 4 minutes without getting out (0/1)
In a vehicle, jump through the flaming ring at Salty Springs (0/1)
Make a Stark Robot dance (0/1)
Destroy Gorgers (0/1)
Deal damage to opponents at The Authority (0/500)